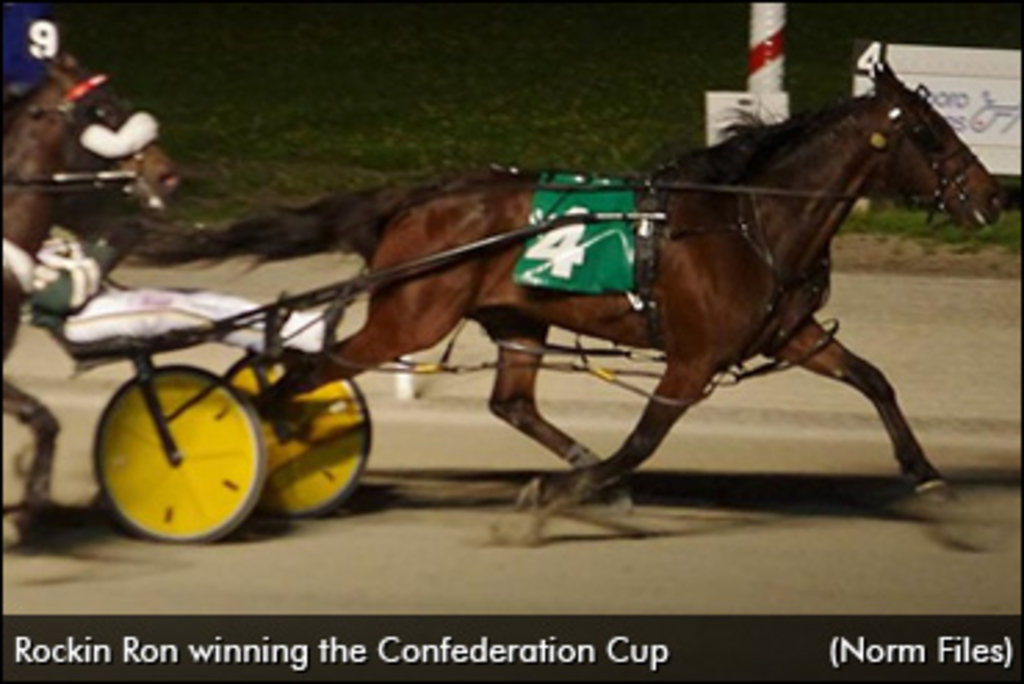 Published:
May 18, 2016 02:53 pm EDT
There is an old adage that says 'It's not how you start, it's how you finish.' Sometimes, though, how you start is how you finish. And in the case of Rockin Ron, how he starts and how he finishes are often fast.
Rockin Ron has reeled off 11 consecutive wins since joining the stable of trainer Ron Burke in November. He will try to make it 12 in a row when he faces eight rivals in Saturday's opening round of the Graduate Series for four-year-old male pacers at the Meadowlands Racetrack.
His most recent victory came in last Sunday's Confederation Cup, where Rockin Ron defeated 2015 Horse of the Year Wiggle It Jiggleit by three-quarters of a length in a Canadian-record 1:50.1 mile at Flamboro Downs. As has often been the case during his win streak, Rockin Ron grabbed the lead during the opening quarter-mile and never looked back.
It was the eighth consecutive race in which he paced his opening quarter in less than 27 seconds. It also was the second time in his last three starts in which he finished with a final quarter in less than 27 seconds.
Since becoming a member of the 'Burke Brigade,' Rockin Ron has been in first place at the first call in eight of his victories. Twice he was in second place and once he was in third.
In 19 career triumphs, only twice has Rockin Ron come from further back than third at the halfway point.
"A lot of our drivers, when they know a horse has speed like that, they want to use it," said Mark Weaver, who is among the owners of Rockin Ron. "I don't blame them. You don't see horses often leave in :26 and change, come right back to you, and then come home in :26 and change."
Rockin Ron and driver Yannick Gingras will start Saturday's $75,000 Graduate from post four. The remainder of the field is In The Arsenal, National Seelster, J Eagle Feather, Americanprimetime, Rock N Roll World, Split The House, Artistic Major, and My Hero Ron.
Rock N Roll World and My Hero Ron also are from the Burke stable.
"In a perfect world, I wouldn't mind seeing (Rockin Ron) race from behind this week," Weaver said. "It's his first time on a big track in a while; maybe change the tactics. They're not machines, you have to look after them a little bit. The first start we had him, we raced him out of a hole and he shook loose late and exploded. But who knows what will happen Saturday."
A son of Real Desire out of Im All A Roan, Rockin Ron has won 19 of 40 career races and earned $313,858. He is owned by the Burke Racing Stable, the partnership of Weaver and Mike Bruscemi, and RTC Stables. The group thought they had a deal in place to buy Rockin Ron in early 2015, but the sale fell through.
Last year, Rockin Ron won two divisions of the Indiana Sire Stakes and finished fourth in the event's Super Final, which was won by standout and future Breeders Crown champion Freaky Feet Pete.
"We love the Indiana-breds," Weaver said. "We've been a huge fan of the whole program.
"The secret is kind of out. When you look now, the best older pacers are Freaky Feet Pete, Wiggle It Jiggleit, Always B Miki, you could throw Rockin Ron in there I think, and they're all Indiana-breds. I think it's a great place; I love to try to buy horses and race them there. Rockin Ron looks like he's another one in that same line.
"The horses that race in Indiana, when you take them away from there, they produce. They're tough. To do what (Rockin Ron) has done is the extreme aspect of that, but maybe he's the type that likes Ronnie's training program and likes to be put into the race."
Rockin Ron is staked lightly this season, with the Ben Franklin Pace and Prix d'Ete also on his schedule.
"We usually try to take it easy with the four-year-olds," said Weaver, who has enjoyed success with past Pacer of the Year Award winners Foiled Again and Sweet Lou. "Midway through the spring we didn't have him staked at all. I don't think he was even on our staking list. After one of the races earlier this year at the Meadows, I asked if we might not want to try him in some of the four-year-old races. I'm glad we did.
"That was a pretty big mile (last weekend). We're anxious to see how he does Saturday and then we'll go from there. I'd be OK if Rockin Ron stepped up to be our best one, that's for sure."
---
This story courtesy of Harness Racing Communications, a division of the U.S. Trotting Association. For more information, visit www.ustrotting.com.