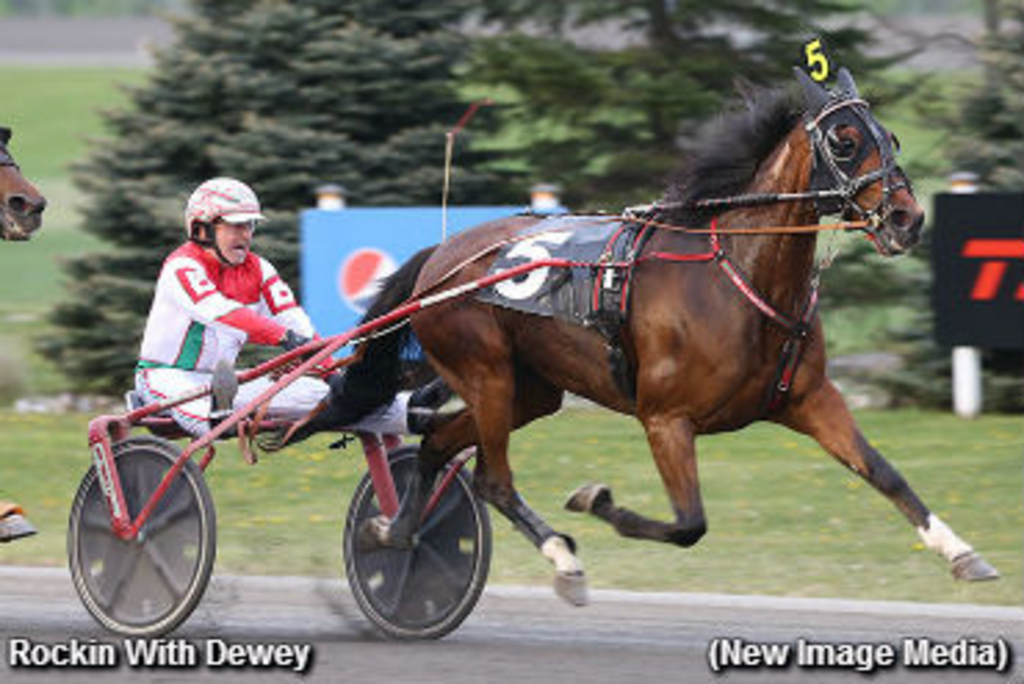 Published:
May 18, 2015 09:10 pm EDT

Seven of North America's top older trotting mares went toe-to-toe Monday evening at Mohawk Racetrack in the opening leg of the Miss Versatility Series, and for the second straight week Rockin With Dewey found herself in the role of the spoiler.
Rockin With Dewey, who erupted for a 14-1 upset over Charmed Life in last week's $27,000 Fillies & Mares Trot at Mohawk Racetrack, turned the tables on that foe – and six others – in Monday's $40,000 lone division.
Dorsay shot to the early lead before being pressed by Rockin With Dewey to the quarter pole in :27.2. Rockin With Dewey worked her way to the top and supplied the field with an opening half clocked in :56. Heavily favoured Charmed Life came first-over going to the half, and she pressed Rockin With Dewey to the three-quarter marker in 1:23.3. Rockin With Dewey found another gear turning for home and used her :28.2 closing quarter to win by three-quarters of a length over Dorsay. Charmed Life faded late and settled for third.
The five-year-old daughter of Deweycheatumnhowe-Silky Celine, who is a member of 'The Stable That God Loves', now boasts a 2-2-3 record from 10 seasonal appearances for trainer/co-owner Ben Baillargeon and co-owner/breeder Diane Ingham. The mare, who came within one-fifth of a second from matching Perfect Alliance's track record for older trotting mares, has banked more than $377,000 to date.
Daylon Magician capitalized on a second-over trip en route to winning the $34,000 Preferred Handicap for trotters in a solid clocking of 1:53.3 for trainer/driver Jack Moiseyev.
Cool Guy shot to the front and threw down fractions of :27.3, :57 and 1:24.3, but he couldn't seal the deal. Body Balance popped out of the pocket and Daylon Magician launched off cover in the lane, with the latter prevailing by one-quarter of a length over Body Balance. Cool Guy held on for the show dough.
It was the fourth win of the season in five trips to the track for Daylon Magician, who added another $17,000 to his bankroll that climbed to $1,847,797 with the win. The seven-year-old son of Kadabra-Daylon Marvel is a homebred owned by Daylon Farms Ltd of Komoka, Ontario.
Windsong Leo paced to his sixth straight win in an $18,000 conditioned assignment for trainer Danny O'Brian. Jody Jamieson picked up the 'live' catch-drive when Chris Christoforou opted for Sportskeeper, and Jamieson made the most of the opportunity.
Sitting third-over around the final turn, the three-year-old son of Jeremes Jet-Windsong Goldie fanned out wide turning for home and used a :26.4 closing panel to win by one-quarter of a length over Sportskeeper in 1:51.3. Big Moment was third.
Sent off as the even-money favourite, Windsong Leo improved his 2015 – and lifetime – record to 6-1-0 from seven starts for owner Everette Hanson of Maugerville, New Brunswick. The pacer has earned $46,500 to date.
Pepsi North America Cup-prepping Good Friday Three and The Spy took home the top two spots in their $17,000 conditioned assignment at the Campbellville, Ontario oval.
Good Friday Three, who is listed at 110-1 in Trot Magazine's Pepsi North America Cup Spring Book, edged out The Spy, who is listed at 60-1, by three-quarters of a length in 1:51.4.
Chris Christoforou worked out the winning trip for the Bill Robinson-trained three-year-old son of Mach Three-Smileallthewayhome. The homebred, who is owned by Bill MacKay, Dave Serwatuk and Rob Watts, improved his sophomore record to 2-2-1 from just six trips postward. He's stashed away close to $32,000 to date.
Another Pepsi North America Cup prepper, Physicallyinclined, cruised to an easy victory in 1:51.2 for driver Paul MacDonell. The Dr. Ian Moore trainee, who is 60-1 in the Pepsi North America Cup Spring Book, brushed to the top shortly past the quarter pole before throwing down middle panels of :55.4 and 1:24.2. A :27-second closing quarter sealed the deal for the speedster.
The three-year-old son of Mach Three-Artisticlyinclined is now 2-for-2 this season after going just 1-for-8 last year. Owned by Nova Scotia partners, Bruce Mc Gean and Sterling Feener, the pacer upped his lifetime earnings to $62,400 with the win.
Split The House, who is listed at 100-1 in the Pepsi North America Cup Spring Book, is now 2-for-2 following a 1:52.2 score in a $17,000 conditioned assignment for the tandem of driver Randy Waples and trainer James 'Friday' Dean.
The three-year-old son of Rocknroll Hanover-Shake That Junk rallied to the lead at the three-quarter pole before kicking home in a :28-second clip en route to winning by fourth lengths.
Dean shares ownership on the promising youngster with Peter Milligan of Mississauga and Scott Horner of Toronto, Ontario.
To view results for Monday's card of harness racing, click the following link: Monday Results – Mohawk Racetrack.