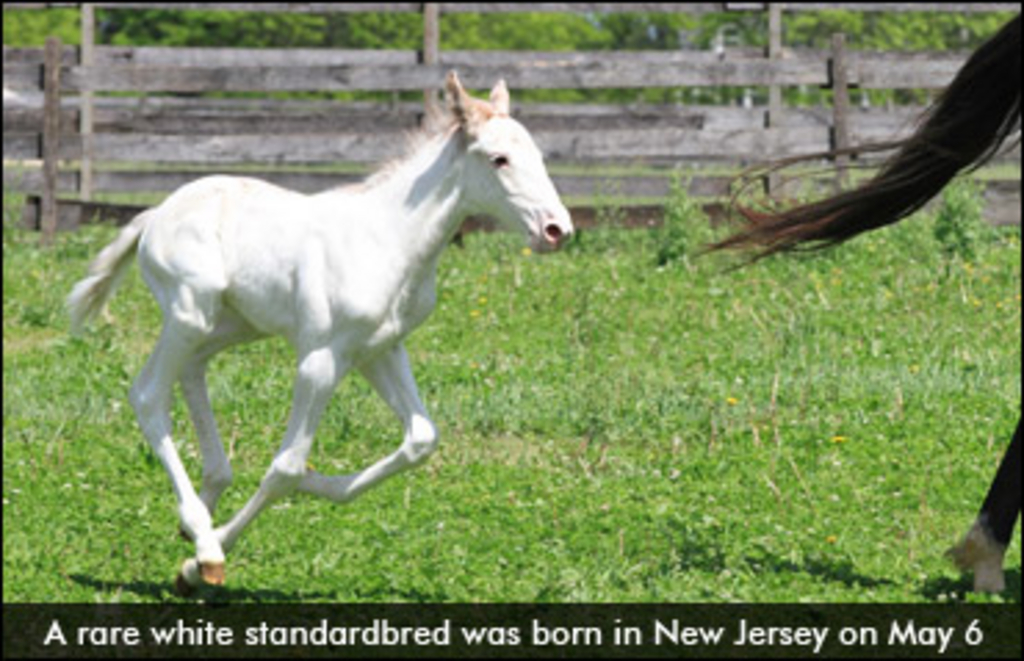 Published:
May 14, 2012 04:26 pm EDT

With each birth of a foal comes hope for greatness, for speed, for courage above all others. Among Standardbreds, those hopes usually come with long odds, as there are about 10,000 foals born in North America each year, virtually all in a plain brown wrapper
. While there are occasional greys and chestnut Standardbreds, they are the exception to the rule – brown or bay.
May 6, 2012 was the exception of a lifetime for owner Peter Congilose of Toms River, New Jersey, when his bay mare Coochie Mama, gave birth to a white colt by the bay stallion, Art Major, at Fair Winds Farm in Cream Ridge. The colt has a sprinkling of reddish brown between his ears and on his mane.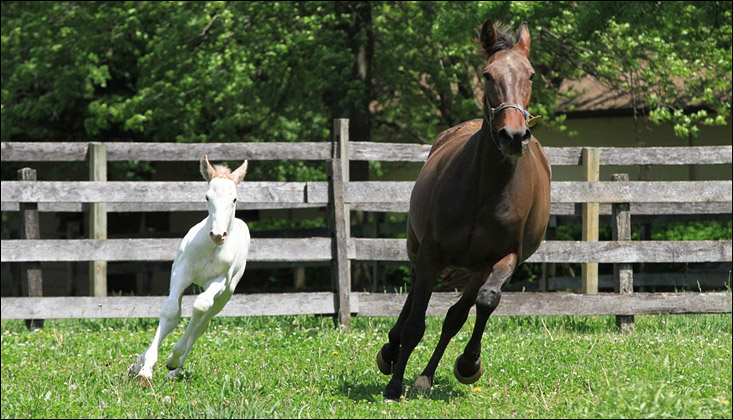 USTA registrar Janet Terhune has confirmed that the white foal is, in fact, the progeny of Art Major and Coochie Mama and that no interloping stallion was involved. "DNA testing indicates that Art Major and Coochie Mama qualify as parents of the white foal," says Terhune. "Parentage verification is a requirement of all Standardbreds before they can race, have registered progeny, or transfer ownership."
There have been about 200,000 Standardbred foals born of bay parents since the birth of a white filly named Historically Unique in Ontario on April 30, 1998. Racing fans and horsemen could easily go a lifetime and never see a white Standardbred.
Dr. Samantha Brooks, a geneticist at Cornell Veterinary School, says that the most likely root of this rare white foal is a genetic mutation. "It is literally spontaneous," says Brooks. "There are about 14 different unique mutations in a gene called KIT. For a reason we don't fully understand, many of these spontaneous white horses have one of these KIT mutations.
"We don't know why it happens so frequently in this one gene when there are literally dozens that could cause the same pattern, but in the horse that seems to be most often changed. Having the colour between his ears, that is typical of a KIT mutation. That is because the melanocyte precursors, the ones that are going to be producing colours, come from a place called the neural crest which runs down the mane."
Brooks says the sprinkling of red will likely stay with the colt. "It will probably stay with him, but they don't expand as they grow," says Brooks. "Frequently they (the coloured hairs) get lighter and more diffuse as they get bigger since they aren't proliferating to cover a larger horse as they would in a normal horse."
Should the white foal become a commercial sire, we may see a lot more white sprinkled in race fields, says Brooks. "If it does turn out to be a KIT mutation, which is the mostly likely explanation, it's a 50/50 chance [his progeny will be white]. He should have one copy of his KIT gene with this new allele on it, a new version, the other copy will be normal."
"Can you just imagine him being a great horse?," says owner Peter Congilose of the foal whose dam won over $100,000 on the racetrack and whose sire is himself a winner of $2.7 million and has almost 100 foals with more than $100,000 in earnings apiece.
"I was shocked, but I wasn't negative. Colour really doesn't have that much to do with it, but I can't wait to see him. When I saw him I said the same thing - you look at him color blind, he's a helluva nice colt. You couldn't put a lot of flaws on him. I've never seen a horse that can move like this horse. He can turn on a dime, he's agile, he's quick. Three days old, I've never seen a horse move like this."
Congilose is not yet sure if he will keep the colt or sell him at public auction, where the market is often not kind to horses of a different color. "I have no idea how he'd be received at the sales, but how do you sell a colt like this?" he says. "From a buyer's perspective, he's got four white feet, he's got white legs – all those superstitions come in. My thoughts are he probably wouldn't be received that well at the sales, so I'm more than happy to keep him and race him and I hope he becomes a great stallion."
The colt and his bay mother will meet the press at Fair Winds Farm, 74 Red Valley Road, Cream Ridge, New Jersey on Tuesday, May 22 at 2:00 p.m.
(Story, photos courtesy Vicki Wright/USTA)