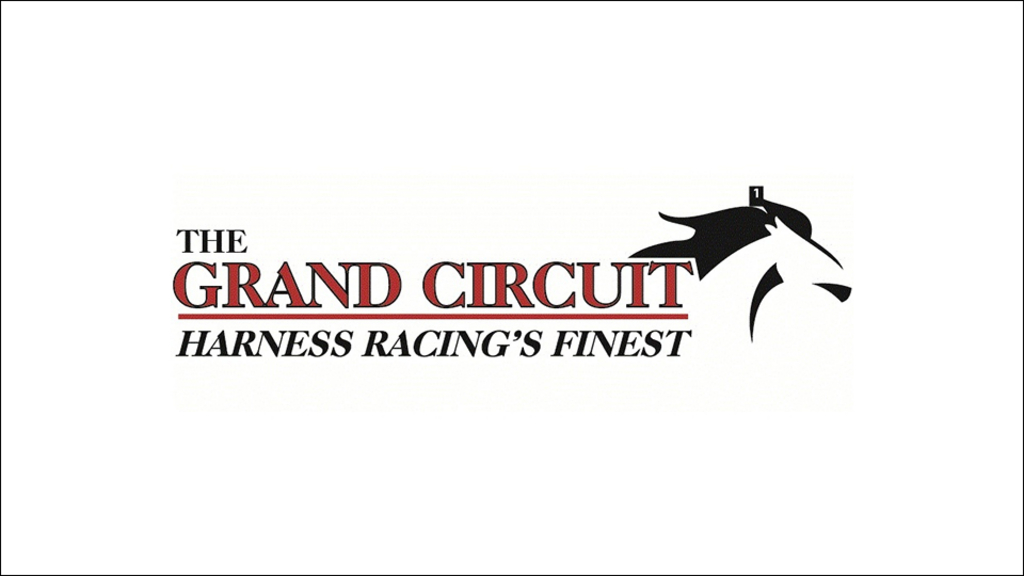 Published:
May 13, 2022 11:13 am EDT
The Grand Circuit's weekly overview highlights the upcoming races at  Meadowlands Racetrack and Plainridge Park.
This Week: Graduate Series first legs, The Meadowlands, East Rutherford, N.J., and the Battle of Bunker Hill, Plainridge Park, Plainville, Mass.
Schedule of events: The Meadowlands will host Grand Circuit action on Saturday (May 14) with a $40,000 Graduate Series opening leg for four-year-old mare trotters and two $25,000 divisions in the Graduate Series for four-year-old mare pacers.
Then on Monday (May 16) Plainridge Park will host the $100,000 Battle of Bunker Hill for three-year-old open trotters.
Last Time: Brave By Design braved rain and wind on a chilly afternoon at Freehold Raceway to win Saturday's (May 7) $150,505 Dexter Cup for three-year-old male trotters by 1-3/4 lengths over Justice in 1:57.2 over a track labeled sloppy. Pour Mea Double was third.
The top-three finishers were the only horses in the eight-horse field not to go off stride in the race, which was the season's first Grand Circuit event for three-year-old male trotters and kicked off the road to the Hambletonian Stakes.
Brave By Design, driven by Joe Bongiorno for trainer Jennifer Bongiorno, is eligible for the $1 million Hambletonian, which is Aug. 6 at The Meadowlands.
Earlier in the day, Little Pink Lies captured the $58,025 Lady Suffolk for three-year-old female trotters at Freehold. The filly is not eligible for the $500,000 Hambletonian Oaks, which is the Hambletonian's filly companion event.
In the Dexter Cup, Brave By Design grabbed the lead from post two as Grizzly Bare from post three, Bar Coins from post five, and Pretender from post six battled for position around the first turn. Grizzly Bare and 1-5 favourite Pretender went off stride, leaving Brave By Design, Bar Coins, and Justice in the top-three spots in a :29 opening quarter.
Justice, who started from post seven, and driver Ake Svanstedt made their move for the front heading to the half-mile point and cleared Brave By Design to lead as they hit the midpoint in :58.4. Justice remained on top through three-quarters, reached in 1:28, but was unable to hold off Brave By Design in the stretch.
"The race worked out really good," driver Bongiorno said. "With (Bar Coins) leaving out of there, it had (Pretender) out wide in the first turn and that one went off stride. At that point, I wouldn't have minded being on the front, but Ake kept coming. I know that horse from racing against him in the New York Sire Stakes last year and he's a nice horse, so I figured it was OK to follow him.
"Up the backside, it looked like he wasn't doing it as easy as I thought he would be, so I decided to put a little pressure on him in the last turn and it worked in our favour."
Brave By Design, who was making his 2022 debut, is owned by the Brave By Design Stable. A son of Walner out of Nuvola, the gelding was bred by Al Libfeld. He has won two of five lifetime starts and earned $98,802.
"He's Hambletonian eligible, but he's got to prove a lot more to be that caliber of a horse," Bongiorno said. "But let's enjoy today and we'll worry about tomorrow tomorrow."
Sent off at odds of 7-1, Brave By Design paid $16.20 to win.
Grand Circuit Standings: In 2022, the Grand Circuit leaders in three categories (driver, trainer and owner) will once again be tracked on a points system (20-10-5 for the top three finishers in divisions/finals and 10-5-2 for the top three finishers in eliminations/legs). Winbak Farms is the sponsor for the 2022 Grand Circuit awards.
Here are the leaders (through the races on May 7):
Drivers: 1. Jordan Stratton – 131; 2. Jason Bartlett – 106; 3t. George Brennan – 100; 3t. Yannick Gingras – 100; 3t. Dexter Dunn – 100.
Trainers: 1. Ron Burke – 143; 2. Jen Bongiorno – 67; 3. Cory Stratton – 55; 4. Jeff Gillis – 54; 5. Erv Miller – 53.
Owners: 1. Jesmeral Stable – 60; 2. The OK Corral – 57; 3. Mark Ford – 40; 4. Team Tritton Inc. – 30; 5t. Karen Hauver – 27; 5t. Ricky Bucci – 27.
Looking ahead: Grand Circuit action will take place next week at The Meadowlands with the Arthur Cutler Memorial for open trotters.