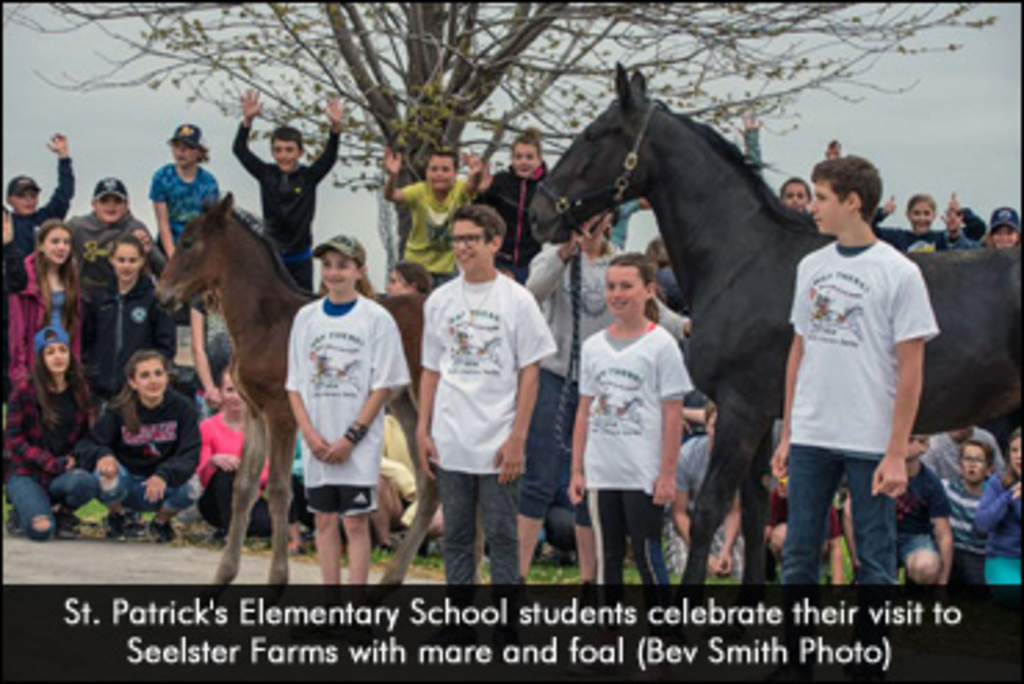 Published:
May 13, 2018 11:09 pm EDT
The 2018 Youth Literary Derby kicked off its opening day festivities on schedule May 10 at Seelster Farm's Standardbred nursery in Lucan, Ont., followed by a busy weekend of visits by eager young horse-loving wordsmiths to eight other Standardbred nurseries across the province, keen to greet newborn foals during the prime foaling season in May and June.
One hundred aspiring young writers from St. Patrick's Elementary School in Lucan converged on the Seelster farm anxious to meet some of the 120 foals born on the prime 590-acre breeding site in 2018.
"It was great to see such excitement from the students towards the foals. We have some lifelong fans in the making here," said Seelster Farm Manager, Ann Straatman.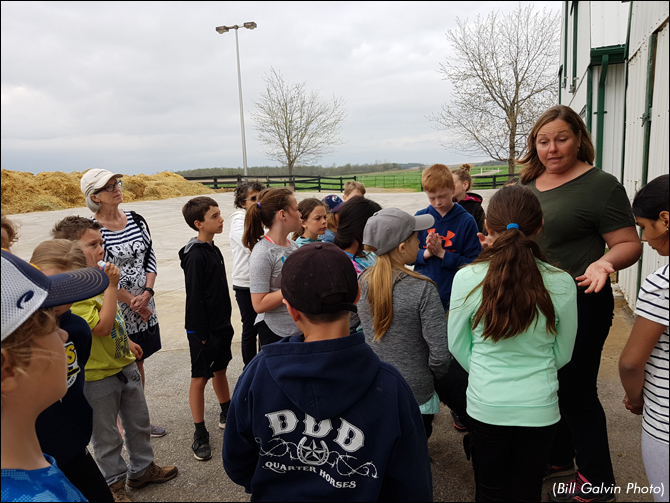 Farm Manager Ann Straatman answers a myriad of questions from students on their visit to Seelster Farms,
where they met newborn Standardbred foals. (Bill Galvin Photo)
Twenty Ontario Standardbred breeding farms are opening their gates to students participating in the Youth Literary Derby, a juried, horse-themed writing contest designed to encourage writing and literacy skills for Ontario students in grades 5 to 8.
There will be 1,400 Standardbred foals born at Ontario nurseries in 2018 and their greeting to visiting Derby hopefuls will be "Hey, Look Us Over." They will challenge students to express their perceptions of them and their natural beauty, agility, intelligence and warm friendship in prose or verse for a portion of the $2,000 prize and free tuition for youth equine courses at the University of Guelph.
The Derby Trail continued Saturday, May 12 with stops at Caroline Thornton's Oak Knoll Stables in Campbellcroft, Susan and John Clark's Clark Equine in Caledonia, Dr. Garth Henry's Hamstan Farm in Russell, Peter Clements' Farm near Dobbinton and the Bert Moore Farm near Sarnia.
On Sunday, May 13, the Derby trail had stops at Mac Lilley's Farms near Dutton, David Heffering's Port Perry Tara Hills Stud and Mike Wilson's Warrawee Farm. Warrawee, a familiar name of horses bred on Wilson's Rockwood nursery, is an Australian aboriginal greeting meaning "come and visit."
"It was a fantastic and rewarding day here at Mac Lilley Farms," said Ruleen Lilley.
"We watched a small child reach across the fence to pet a newborn foal. A fuzzy muzzle, a tiny hand create a bond that lasts a lifetime."
More than 200 children were among the estimated gathering of 350, all anxious to run home and pen their up-close and personal encounters with newborn foals for the Youth Literary Derby.
Students are invited to visit the program's website at www.YouthLiteraryDerby.ca for complete contest details, including a map of Ontario showing the locations and addresses of all participating Standardbred breeding farms.
ENTRIES MUST BE SUBMITTED BY MIDNIGHT OF JUNE 15, 2018.
For additional information, contact Bill Galvin at [email protected].
(Youth Literary Derby)