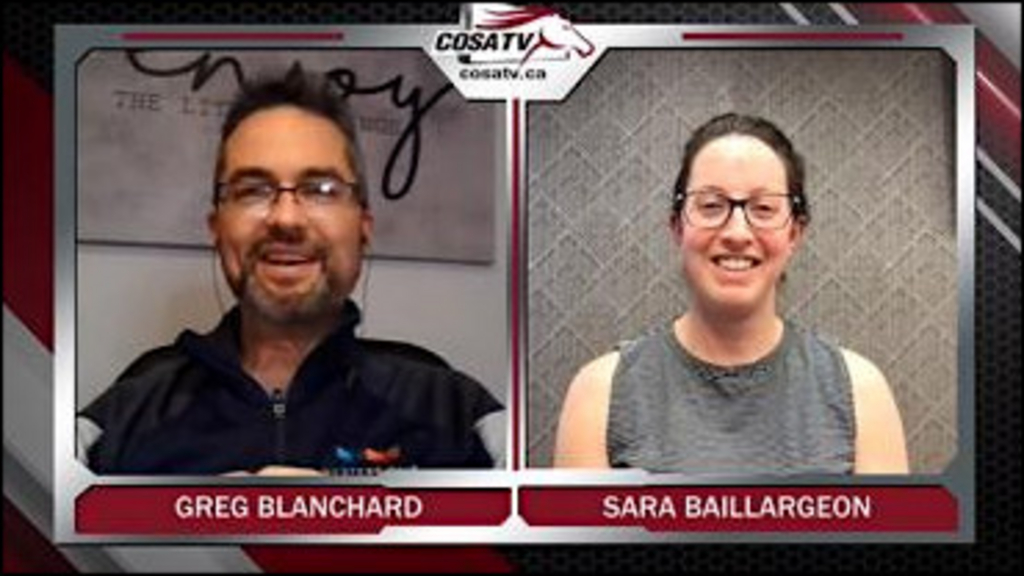 Published:
May 10, 2021 07:59 pm EDT

Trainer Sara Baillargeon — like many horsepeople stymied by the temporary shutdown of racing in Ontario — has taken part of her family's stable south into the United States, where she will bunker for the foreseeable future.
In a feature for COSA TV, Sara Baillargeon spoke to host Greg Blanchard about her move from Ontario and how she has adjusted to the culture of racing stateside. She brought down nine horses from her father Ben Baillargeon's barn and is currently stabled at Magical Acres in Chesterfield, N.J. However, the decision to ship the stable was anything but a simple one.
"It was definitely conversations, more conversations, more conversations over a couple of weeks," Baillargeon said. "It was a very difficult decision for my dad to make. He's very protective of the horses, of the whole operation; he oversees every detail. And it's tough racing over here — it's different styles of racing, something that our horses aren't used to. It's very much foot-to-the-pedal and 'let's go' over here. So you're taking horses that haven't raced in weeks, they're not as tight as they should be, and you're going to send them to The Meadowlands. So it was a difficult decision.
"It's also very expensive to race here," Baillargeon also said. "The shipping and the tolls add up. It's a completely different way over here, so we had to weigh all the pros and the cons and which horses would benefit from coming here and which should stay home. It was very difficult. Lots of conversations, that's for sure."
Team Baillargeon was quick to strike on their move to the east coast. In her first start at The Meadowlands, Baillargeon sent Sheswildnfree to victory in an $18,000 overnight race on April 30. As of May 8, she has collected two victories from 14 starts and $23,015 in purses. Baillargeon is open to more of the Ontario stable coming south, although she admitted her operation is currently short-staffed. Of their team, only Tanya Mitchell came down to the states, for whom Sara had high praise.
"She's excellent," Baillargeon said. "I brought her here because I knew everything would be done right. I could leave to go race, everything would be taken care of. She loves horses more than anything. I can rely on her 100 percent, and she takes care of them like they're her own. Of the nine I have here, three of them are hers, and she looks after the rest of them like they're all hers. She's great, she's fantastic. You can't beat her. She hustles in the morning, I can tell you that. Every time I come in with one, my next one is ready. She just keeps me rolling.
"I wish I could've given the opportunity to others in my barn as well, because it's thrilling to come race at The Meadowlands or Grand Circuit. And I hope I get to give them that opportunity at some point; to hit the road once this whole COVID thing slows down. Tanya's been there, she's done that, and so it just made sense to bring her with me."
Baillargeon also admitted, with the hustle and bustle of the racing routine on the east coast, that she has a newfound respect for both the trainers in the area as well as her father.
"I've been on the road before; I've taken horses on the road before. But this is entirely different in that I'm fully in charge," said Sara. "I'm fully in charge of entering, the driver changes, the vet work that needs to be done and the track work. It's been very different this week. I found a new respect for my dad in that I'll never rush him out of the barn ever again. If you come in with a horse and you need five minutes, you need to be on your phone, you need to write something down or you need to just compose yourself, I will never, never rush him out of the door again because now I feel it. I'm out there jogging and I'm like 'Oh, I've got to do this when I get back' or 'I've got to write this down' or 'I've got to do this later today.' The mind is constantly going; you don't want to forget anything. You're stressing about things that are just the small things — you can't control them, but you're still stressing about them. So I have found a new respect for all trainers out there. I'm glad I only have nine, I wouldn't want 40 right now."
Although she only has nine, Baillargeon said that she's open to more of the Ontario stable coming down to race. Horses from the stable that Baillargeon brought down include Zig Zag, Bautista, Refi, Ontario Sires Stakes Champion Rhythm In Motion, and HP Napoleon. She said that two of the Baillargeon stalwarts, Torrin Hanover and Traceur Hanover, stayed in Ontario with her father, although the decision to keep them there may change based on whether racing can return to Ontario.
Sara is one of many Ontarians stationed in the Tri-state area. Trainer Mark Steacy is also stabled at Magical Acres while other trainers who came down include Gregg McNair, Luc Blais and Jared Bako. On the driving side, James MacDonald and Doug McNair are also in the region, and Sara said the Canadian crew keeps in contact with each other as they compete away from home.
"We check in on each other and I make sure my boys [James MacDonald and Doug McNair] are going to show up to drive," Baillargeon said. "We're keeping busy; everybody wants to do well. Mark Steacy's crew is stabled at Magical as well, so I'll jog with the guys and we talk about back home and what not. In the paddock actually, The Meadowlands groups all the trainers' horses together, that way there's less movement around the paddock and you can bring fewer employees at night as well. Race nine in The Meadowlands paddock they call it 'Toronto'; people walk by [and] they're like 'Hey, it's Toronto.' Because you've literally got Mark Steacy's crew, myself, Jared Bako's down here, Luc Blais, McNair's crew is here. We definitely get to hang out Friday, Saturdays."
In terms of upcoming talent for Team Baillargeon, Sara made note of a couple horses she's excited for from the barn.
"There is a three-year-old back home, a Wheeling N Dealin, that I own with my dad," noted Baillargeon. "And I am so excited to see him race whenever we get back to it. He'll be in OSS Gold for sure. He qualified like a freight train last year, then he cracked a knee the night of the first Gold. He's coming back great; he's training great, so I'm very excited to see him go this summer — given we have a season this summer back home. Fingers crossed for that.
"There's a couple babies — there's a Walner filly, a two-year-old. She's all go, just can't get enough. Always ready, all trot. There could be a hurricane outside [and] she doesn't care. She's all trot.
"There's a Royalty For Life that trots exactly like HP Royal Theo, and that's another one that's coming back at four too. He had a season cut short due to an injury, but he trained back great. He's definitely ready to qualify. We've got some nice stock. You can't leave out Voelz [Delight]. She's great… she'll come back as a three-year-old. Loves the half, loves Mohawk. So she'll be exciting. Definitely aiming for the big dances with her."
Another big dance the Baillargeons could be pointing towards is the Hambletonian with their Father Patrick gelding Lucky Rascal. Sara said that, while she's unsure of how long she'll stay in the U.S., the gelding's schedule leading to the August classic could keep her in the states for a few months.
"Everyone's asking me how long I'm here for, and I ask them 'Why? You want to get rid of the Canadian girl already? I just showed up,' Baillargeon said. "I honestly don't know, that's what I tell them. I don't know how long I'm here for – it could be month, it could be two. We'll see how things are at home. There's a trotting colt that's here, so let's say I get him qualified, a couple races into him and then racing starts back up at home… well then, we're going to reach that threshold, like do I bring him home and then bring him back to Jersey just before [the] Hambletonian? It's already 20 degrees here in the morning when you get up, it's 35 and humid in the afternoon. You don't want to put horses through that.
"I would like to be here until Hambo, if he goes to the Hambo," Baillargeon continued. "It would just be very beneficial to him just to stick to a routine, stick to the weather down here, the track surfaces down here, the racing styles down here. The barn does not revolve around him because there are 40 of them, and dad's very protective. He likes to handle every little detail, so it all comes down to him for sure."
Though she does not know the duration of her time racing south of her home province, Baillargeon expected that her stay could be a long one.
"I'm kind of okay with that. A change in scenery is good," Baillargeon noted. "You get to different racetracks, different people, different routine. So when I packed up last week, I said I was packing up for quite some time and I was ready. Dad calls the shots, but I like it here. It's a little hectic. Definitely a change in routine – Fridays are sleep deprived – but it's okay. It's fun, it's exciting, it's a challenge. I'm definitely okay with staying here a while."
The COSA TV feature on Sara Baillargeon is available in its entirety below: