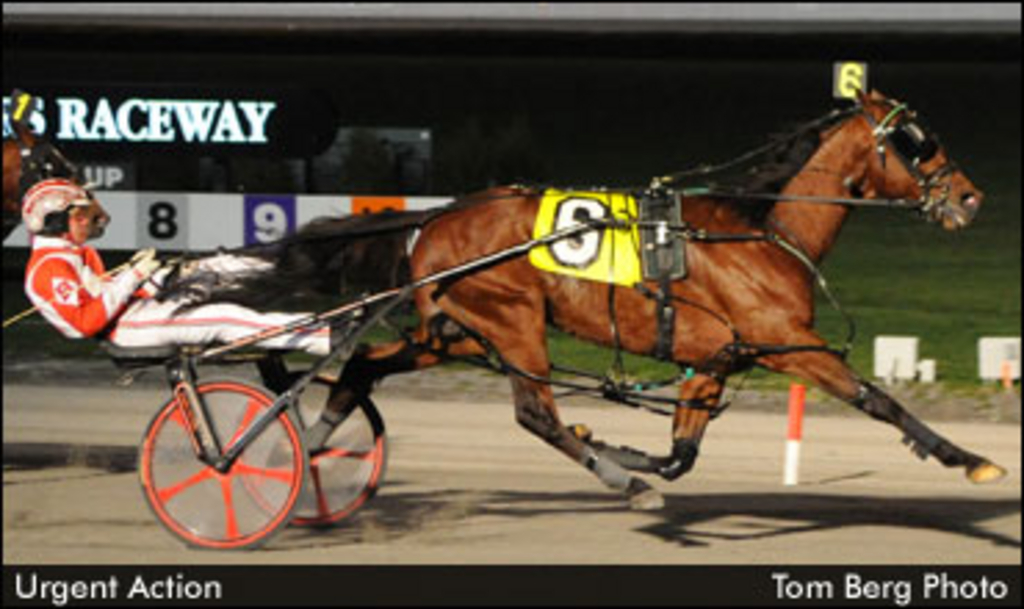 Published:
April 9, 2011 11:36 pm EDT
Yonkers Raceway offered its richest race of the season to date Saturday night, with the $67,200 final of the Sagamore Hill Pacing Series for three- and four-year-old colts and geldings. As was the case with Friday night's final of the Petticoat Pacing Series, the human connections of that victress, Full Picture, were at it again
.
Urgent Action, owned by Marvin Rounick, trained by Jerry Silverman and driven by Jason Bartlett, employed the exact same MO her barn buddy did the night before...take it right down the road.
Leaving from post position No. 6, the 2-5 choice was three-wide early, moving around Starspangledpanner (Cat Manzi) before a :28.2 opening quarter-mile. He then found a :57.2 intermission as Kid Cruiser (Jim Pantaleano) left the cones from fourth. That one provided just token pressure in and out of a 1:25.4 three-quarters.
Urgent Action owned a length-and-a-half lead turning for home, needing to hold off just the pocket pursuer. He did, beating Starspangledpanner by a length-and-three-quarters in 1:53.4. Kid Cruiser, a from-last DVC Gifted Indeed (George Brennan) and Tuff Enuff Hanover (Tim Tetrick) completed the cashers.
For Urgent Action, a four-year-old son of Artsplace, he returned $2.80 for his fourth win (a Sagamore sweep) in 11 seasonal starts. The exacta paid $9.50, with the triple returning $37.80.
"I've raced on the lead throughout the series because I though he was the best, and he didn't disappoint me," Bartlett said. "To have a horse who was second to Rock N Roll Heaven last fall here in the Messenger in this series (non-winners of four races and/or $40,000 through last Dec. 1) I thought made him the one to beat."
Saturday night's stakes agenda also included the third round of the George Morton Levy Memorial Pacing Series.
The opening event was won by 3-10 favourite Blatantly Good (Bartlett) in 1:52.1. Leaving from the pole and wanting no part of seat behind Versado (Yannick Gingras), the people's choice retook in turn two (after a :28-second opening quarter) and went on (:56.1 half, 1:24.2 three-quarters) to prevail by a couple of lengths. Forensic Z Tam (Pat Lachance) out-finished Lahaye (Brennan) for second, with Doubletrouble (Jim Pantaleano) and McApulco (Tetrick) in a dead-heat for fourth.
For Blatantly Good, a seven-year-old son of Albert Albert trained by Mark Kesmodel for owner Jeffrey Bamond, he returned $2.60 (third win in 11 seasonal starts). The exacta paid $14.80, with the triple returning $56.50.
Saturday night's second series event saw Real Nice (Brennan) finally get some luck with the draw and some results to show for it.
Leaving from the pylons--after a seven-hole and an eight-hole--Real Nice stuffed Malicious (Dave Miller) in behind, then rolled through intervals of :28, :56.3, 1:24.2 and 1:52.1.
Real Nice defeated the long, first-over chase of Atochia (Gingras) by two and a half lengths, with Malicious, Aliveandwell N (Manzi) and Dymond Joe Mindale (Bartlett) rounding out the payees.
For Real Nice, a six-year-old Real Artist gelding trained by Rich Banca for co-owners Beverly and Gary Paganelli and Anthony Scussel, he returned $4.60 (second choice to the Atochia/Dymond Joe Mindale entry) for his fourth win in seven seasonal efforts. The exacta paid $8.60, with the triple returning $17.
Saturday night's third division was won by 14-1 Valentino (Pantaleano), who found room late and snapped pace-setting Legal Litigator (Miller) by a neck in a 1:52.3 blanket finish. The entire seven-horse field was separated by just a length-and-a half at the wire.
Leaving from post No. 2, Valentino was velcroed to the cones through fractions :27.1, :56 and 1:23.4. Legal Litigator tried to wire his foes, but came back to them late and Valentino--who walked home last week as the 8-5 choice--was the beneficiary here. Trueys Legacy (Mark Lewis), 17-10 choice River Shark (Tetrick) and Go Go Solano (Dan Dube) also made money.
For Valentino, a four-year-old son of Rocknroll Hanover co-owned by J L Benson and KDM Stables and trained by Nick Surick, he returned $31 (sixth choice) for his second win in six '11 tries. The exacta paid $129.50, with the triple returning $590.
The evening's fourth series divide offered a Kodak moment, with Southern Allie (Gingras) just getting Gallant Yankee (Bartlett) on the wire in 1:52, which marked the fastest local mile of the season.
The latter, as the 7-10 choice, threw down fractions of :27.3, :55.4 and 1:23.4. The former, leaving from post No. 5, swung wide early behind a dull Wholly Louy (Miller). With better than two lengths to make up in the lane, "Allie" prevailed by a head. A closing Mainland Key N (Eric Goodell), Foreign Officer (Pantaleano) and Sharks Legacy (Brent Holland) grabbed the remainder.
For "Allie," a four-year-old Allies Western gelding trained by Ron Burke for co-owners Burke Racing and Weaver Bruscemi, he returned $6.50 (second choice with entrymate McCedes) for his third win in 11 seasonal starts. The exacta paid $13.20, with the triple returning $76.
Saturday's penultimate Levy contest found 4-5 This Is Wyatt (Goodell) put in a strong brush by the quarter (:28.1), rate gently (:58.1), then finish it off (1:25.3, 1:53.2) by three-quarters of a length. Leaving from post No. 4, he worked his way around Dreamlands Art (Gingras), who wound up chasing him home. Classic Rock Nroll (Dube), Erics Legend N (Tetrick) and Corky Baran (Lachance) grabbed the small change.
For This Is Wyatt, a four-year-old Astreos gelding co-owned by trainer Josh Green, David Rovine and VIP Internet Stable, is now six-for-nine this season. The exacta paid $9.90, with the triple returning $25.40.
The evening's final series grouping presented a public workout by Foiled Again (Gingras), the two-time defending series champ and only perfect (three-for-three) participant in this season edition.
Leaving from post No. 5 as the 3-10 chairman of the chalk player, he stepped around Real Gentleman (Brennan) and waltzed through ridiculously soft early fractions of :28.4 twice (:57.3 half). A :55.1 back half (1:25.3 three-quarters) ended in a 1:52.4 effortless effort. He defeated Real Gentleman by a couple of a lengths, with Giddy Up Lucky (Goodell), a placed-fourth Blueridge Western (Tetrick) and a placed-fifth The Mohegan Pan (Bartlett) came up with the remainder. Note that Sand Savage (Jordan Stratton) was fourth-placed-seventh for breaking and bothering.
For Foiled Again, a seven-year-old Dragon Again gelding trained by Burke for co-owners Burke Racing, Weaver Bruscemi and JJK Stables, he returned $2.30 (three-for-four for this season). The exacta paid $9.10, with the triple returning $20.20.
A $25,000 consolation for the Sagamore Hill was won by Code Word (Gingras, $2.50) in 1:53.3, a tick faster than the final.
Saturday night also began Yonkers' involvement in the U.S. Trotting Association's Strategic Wagering program. Yonkers, which is offering a $15,000 guaranteed pool on the late Pick 4 (Races 7 through 10) every Saturday and Monday, had a pool of $19,761. Buoyed by Valentino's upset in his Levy event, the late Pick 4 returned $2,963.
By handle contrast, the first Pick 4 (Races 3 through 6) had a pool of $10,511.
(Yonkers Raceway)