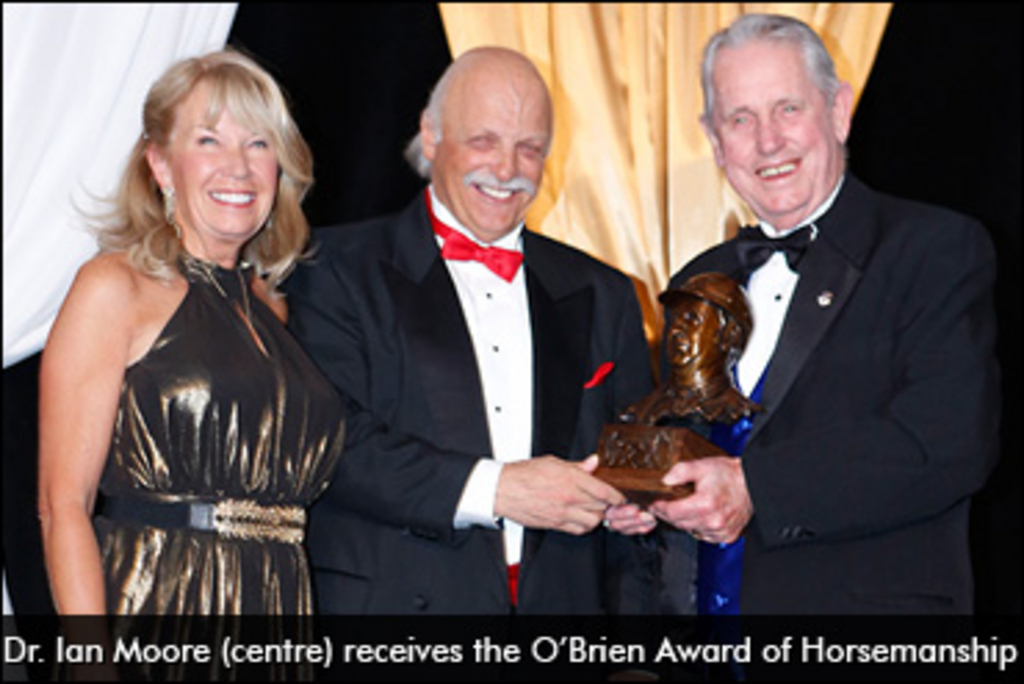 Published:
April 28, 2016 09:05 am EDT
The winner of the 2015 O'Brien Award of Horsemanship has returned from Florida loaded for bear with a six-pack of pacers set to make seasonal and Canadian debuts this Saturday night.
Dr. Ian Moore hasn't made many starts in 2016, but those few starts have been sensational. Six starts, two wins and four seconds reads the summary, resulting in a staggering 0.703 UTRS. He put up a record of 63-30-25 from 199 starts in 2015, with $2.15 million in purses earned and a 0.442 average. His starts, wins, purses and UTRS were all personal bests en route to his first individual O'Brien Award.
This coming Saturday night, Moore will look to bolster those strong numbers with six horses in at Mohawk Racetrack. Saturday's $34,000 Preferred Handicap will feature 2013 O'Brien Award winner Arthur Blue Chip (PP5, Chris Christoforou listed), who has put up a 2-3-0 record in five seasonal starts at Pompano for Moore and co-owners R G McGroup Ltd. and Serge Savard.
Also involved in that contest, making his first start of 2016 is State Treasurer. Canada's reigning Horse of the Year has been assigned the outside post nine with Arthur Blue Chip and seven other standouts brave enough to drop in the box. State Treasurer's first mile of 2016 was a jaw-dropping 1:49.4 qualifier at Southern Oaks Training Center with Moore at the controls.
"I used to drive as you know and I've had a lot of horses pulling on me but I've never had one pull quite like him," Moore told Trot Insider after the qualifier. "When he decides he's going, he's going."
Owned by Sally & Paul MacDonald, State Treasurer won nine of his 19 starts in 2015, banked more than $986,000 and swept older pacing horse honours in Canada and the U.S.
Here's the field for Saturday's Preferred Handicap Pace, slated as Race 10 on the card:
1. Idole Duharas (James MacDonald/Sean Mehlenbacher - 9/1)
2. Mohawk Warrior (Jonathan Drury/Richard Moreau - 10/1)
3. The Rev (Doug McNair/Gregg McNair - 12/1)
4. Cool Rock (Rick Zeron/Rene Bourassa - 12/1)
5. Arthur Blue Chip (Paul MacDonell/Dr. Ian Moore - 9/1)
6. Nickle Bag (Trevor Henry/Bill Robinson - 3/1)
7. Ellis Park (Randy Waples/Tony O'Sullivan - 9-2)
8. Boomboom Ballykeel (Sylvain Filion/Richard Moreau - 5/1)
9. State Treasurer (Chris Christoforou/Dr. Ian Moore - 7/2)
Moore will also add his share of competition to the second leg of The Diplomat Pacing Series, sending out Some Gold (PP2, Paul MacDonell) in the first division as well as Worthy Art (PP3, Randy Waples) and Sutton Seelster (PP5, Phil Hudon) in the second. Henry is also slated to drive stakes winner Rockin In Heaven (PP1, Trevor Henry) in the evening's fourth race. The four-year-old son of Rock N Roll Heaven, who counted the Empire Breeders Classic and a division of the Somebeachsomewhere among his stakes victories as a sophomore, made his seasonal debut on April 10, finishing second at Pompano.
To view the full entries for Saturday night's card at Mohawk, click the following link: Saturday Entries - Mohawk Racetrack.