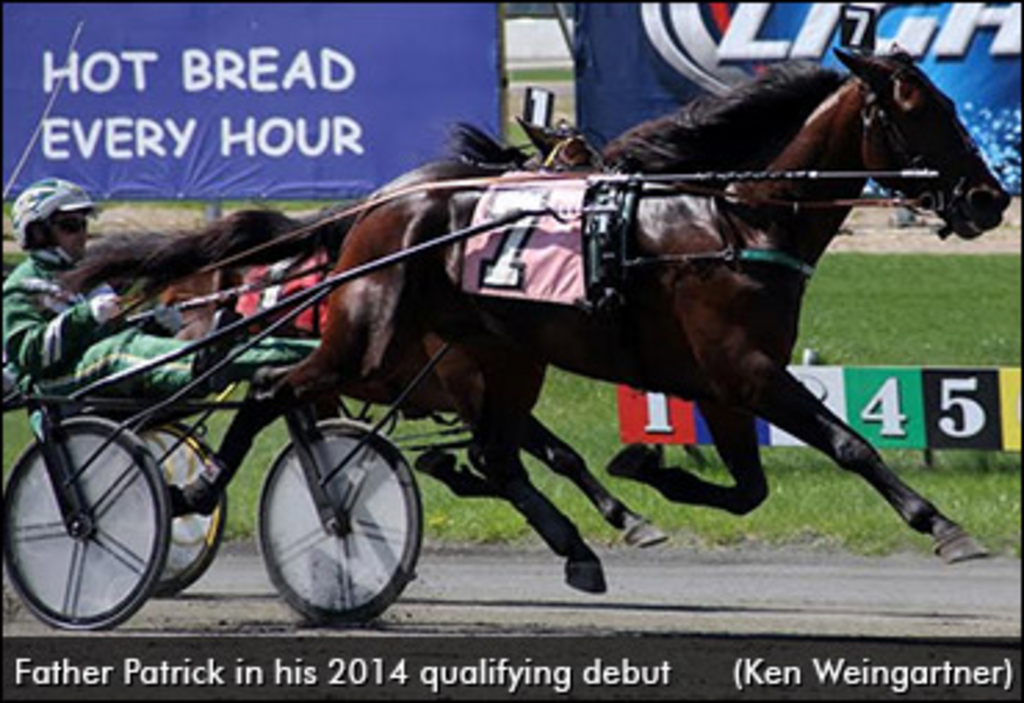 Published:
April 26, 2014 01:50 pm EDT

Saturday morning qualifiers at The Meadowlands were conducted over a track that was dry but dulled by overnight rain with spring-like temperatures and a steady 10-15 mph breeze from the west, prompting horses to race against the wind in the homestretch.
The first race for three-year-old filly trotters and Lifetime Pursuit led virtually all the way to win in 1:58.4 for Yannick Gingras. She was one of 14 programmed to qualify this morning from the Jimmy Takter stable.
Brittany Farms bred and owns the Cantab Hall filly, who made $270,000 and took a record of 1:52.3 as quietly as could be, facing the deepest group of trotting fillies in memory last season.
The queen of that crop, Shake It Cerry was up next and she held off a challenge on both sides to win in 1:58 for Ron Pierce. Takter conditions her for Solveig's Racing Partners. Highest Peak and Scream And Shout threatened the winner in solid efforts.
Takter swept the early pick three (which would have paid around $8) with Trixton, and he was really powerful today for Jimmy. Martiniwithmuscle left from post 10 and set fractions through the 1:29.2 three panels when Takter edged Trixon from the pocket and rolled on by under no urging in 1:57.2.
The highest priced trotting yearling of 2012 at $360,000 was a striking but at times immature looking baby last season that has clearly grown into a man. Nuncio, also now a Takter trainee, was quite settled in his soph debut sitting comfortably in third for John Campbell and offering a mild close.
The fifth race for three-year-old colt trotters looked like a Hambo elimination. Father Patrick made his debut here for Takter and caught a loaded field with the headstrong Odds On Amethyst dragging Tim Tetrick through hot numbers of :27.4, :56, and 1:24.3 with Father Patrick guided into an early tuck third by Gingras. Odds On Amethyst was well clear into the stretch and held for the 1:54.1 win though visibly tiring in a solid effort. Father Patrick was shown racetrack only in the last eighth, closing willingly to be second in a purposeful mile. Valley Victory stake winner Muscle Network made his first appearance, was taken back with willing trot late in what amounted to a charted workout.
Older trotters took the track next and Corky was another winner from the Takter barn. Jimmy drove the four-year-old in his third qualifier and sat the pocket behind Fico, tipped as they straightened up and went by under his own power. Dorsay sat in comfortably throughout and gained late for second.
Swedish champion Sebastian K, a stunning individual on the track, followed along and had trot in the stretch under no urging from Swedish trainer Ake Svanstedt, who was making his first appearance at The Meadowlands this morning.
After a warm-up break in the action, one of the day's marquee match ups, a battle of the sexes pitting Market Share against Maven came around. On this day Maven struck a blow for equality with a 1:54 win over her male rival. Gingras sent her right to the top and sailed along through the 1:25.2 three panels with Market Share on his back. Tetrick never tipped Market Share, had a clear shot up the inside but did not gain while maintaining a comfortable hold with Maven under confident handling and well within herself.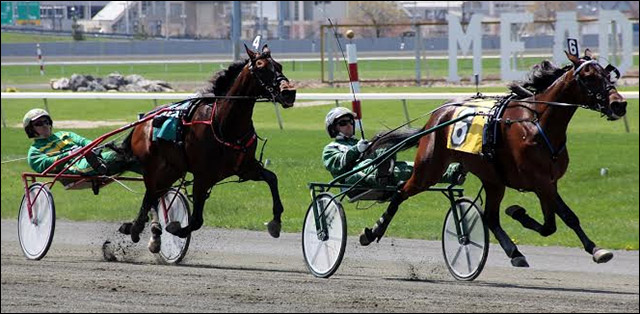 Maven (6) holds off Market Share (4) in a Saturday morning qualifier. Ken Weingartner Photo.
With sun and wind making the track faster as the morning wore on, next up were the pacing portion of today's races. Hunger Games held off Uffizi Hanover in 1:54 for Ron Pierce, home in :27.3 in the first of these. She's a Somebeachsomewhere lass, who accomplished little at two but trainer Linda Toscano has her looking like a winner this year.
Gettingreadytoroll won another qualifier for Takter/Gingras in 1:53.4 and was once again visually impressive. She had but a single start last year but surely has the look of a stakes filly. Sanbetweenurtoes and Ken Doll J followed her under the wire, both offering solid efforts.
Capital Account is back. The American Ideal colt was given a respite after his second in the Buddy Gilmour final and looked good and safe this morning, winning in 1:54 for driver Gingras, trainer Takter and owner Brittany Farms. Somewhere Fancy (Toscano) was a good second in this one.
North America Cup eligible Western Vintage made his 2014 debut this morning and won from well off the pace in 1:52.4 with his individual last quarter in around :26 flat under no urging at all. Gingras drove for trainer Nancy Johansson and owners Perry Soderberg and Marvin Katz. Maxi Bon closed to be second and Sweet Talkin Clyde was a restrained third after a couple of moves in a good effort. Western Vintage is ranked as the sixth choice, at odds of 14-1, in Trot Magazine's 2014 Pepsi North America Cup Spring Book.
In the 12th race, Scott Zeron directed Thats My Opinion to the front from his outside post with Tellitlikeitis (Gingras) on his back through the :56.1 half and 1:24.2 three-quarters. In the stretch, Gingras drew from the pocket and away they went mano-a-mano through a :26.4 last quarter with Tellitlikeitis getting the nod over Thats My Opinion in 1:51.1. Takter trains the winner.
Warrawee Needy is a very fast horse. Actually, he is one of three (Somebeachsomewhere and Holborn Hanover the others) to hold the World Race Record of 1:46.4, taken last season at The Big M. After two preps at Pocono, he went 1:50 this morning for Tetrick, looking powerful under just a few gentle reminders through the stretch. He appears ready for the wars off that effort.
Sweet Lou wrapped up the day's events with an uneventful 1:52.1 tour on the front on his own. Odds On Equuleus looked good and passed the top mare Drop The Ball late in the stretch to be second.
Live harness racing continues tonight at 7:15 p.m. with the Reynolds Memorial Grand Circuit stake and the $30,000 final of the Legends vs Phenoms drivers' competition.
To view the charts from Saturday's qualifiers, click the following link: Saturday Qualifiers - Meadowlands Racetrack.
(Meadowlands)