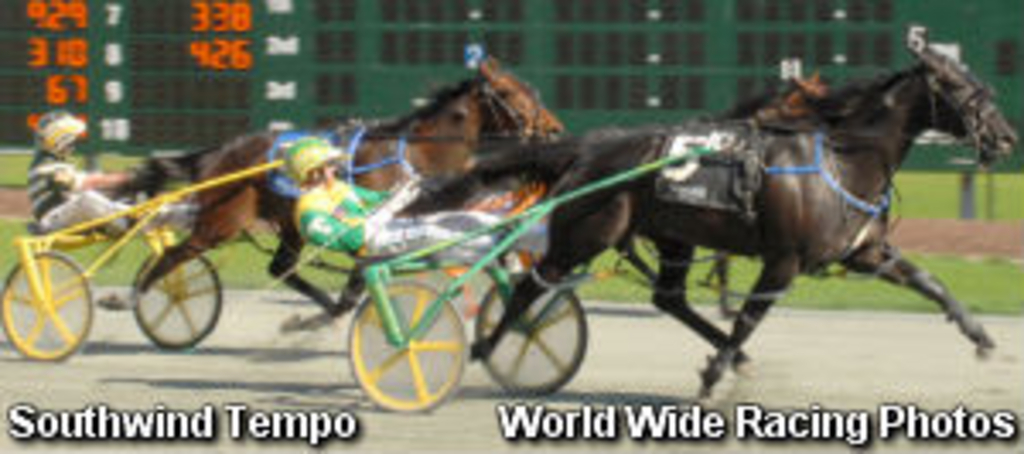 Published:
April 26, 2009 04:56 pm EDT
Southwind Tempo defended her crown in the Betsy Ross at Harrah's Chester Racetrack on Sunday, and her 1:48.3 clocking makes her the sport's fastest female pacer of all-time on a five-eighths mile oval
.
The five-year-old daughter of Bettors Delight demolished the former mark of 1:49.4 set earlier this year by fellow five-year-old, Esmeralda Semalu, at Pompano Park. Benear (2007 Harrah's Chester Racetrack) and U All BB (2008 – Pocono Downs) co-hold the four-year-old mark of 1:49.3 for pacing mares, and Southwind Tempo also shared the 1:49.3 standard when she toured Pocono Downs' five-eighths miler as a three-year-old.
Southwind Tempo- 2009 Betsy Ross

Southwind Tempo, who was allowed to settle near the back of the pack in the early stages of the mile, watched Four Starzz Meliss and My Little Dragon go toe-to-toe to the quarter pole in :26.2. Four Starzz Meliss won that battle and proceeded to sprint the filed to the mid-way point in :54.3.
Martha Maxine rolled three-wide around My Little Dragon going to the half, and she quickly engaged and overtook Four Starzz Meliss as the field neared the final turn. She tripped the teletimer at the three-quarter marker in 1:21.1 with Darlins Delight coming at her in the first-over position.
Tim Tetrick and Southwind Tempo, in the meantime, shook loose from early traffic woes and moved into a perfect, second-over position going into the final turn. Martha Maxine, Darlins Delight and Southwind Tempo were stacked up three-wide at the head of the lane before the latter got up in the final strides for the 1:48.3 decision. Martha Maxine and Darlins Delight finished in a dead-heat for second.
"There was a lot of speed in the race, and I was hoping for a lot of fractions and it worked out for me," said driver Tim Tetrick. "I planned on pushing out of there, but I took back and got lucky by saving a lot of ground. It was an amazing mile. I've been fortunate to drive this mare. Ross [trainer Ross Croghan] made a few equipment changes with her, and she really was an amazing mare today."
Croghan conditions the 27-time winner, who found her way to victory lane for the first time this season. The career winner of $1,440,626 is owned by Jerry Silva of Long Beach, NY and Let It Ride Stables Inc. of Delray Beach, FL.