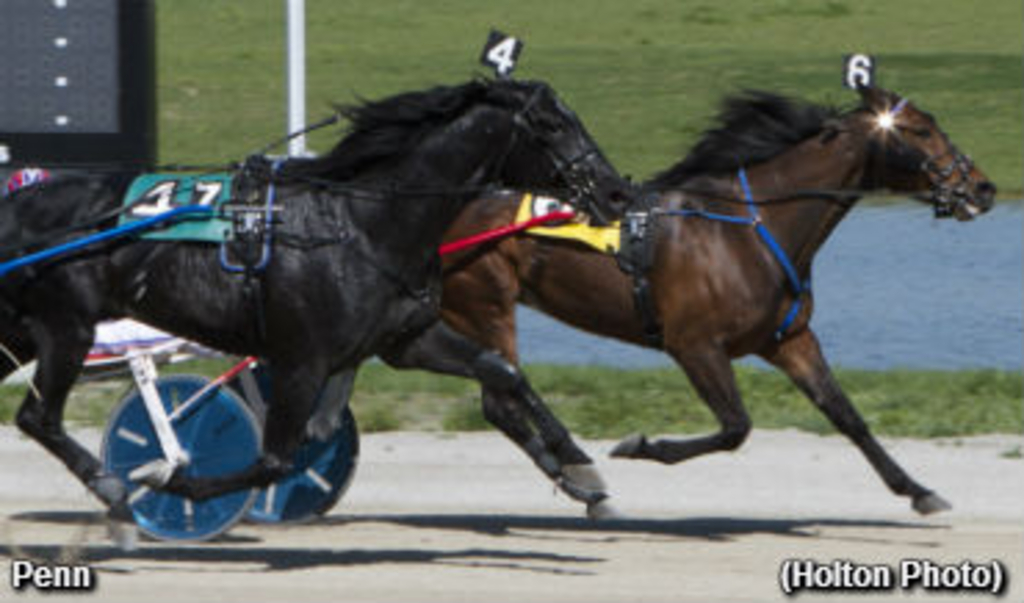 Published:
April 24, 2016 06:24 pm EDT
Penn pinned his sixth defeat in eight 2016 tries on the best trotters at Miami Valley Raceway on Sunday afternoon, winning the $20,000 Open Trot to increase his seasonal earnings to $63,700.
Trainer Bobby Brower has been starting Penn every other week for the past two months in an effort to keep the six-year-old Master Glide gelding fresh and the plan has worked to near perfection. Driver Josh Sutton hustled Penn off the gate, as has been his custom, reaching the quarter on top in :27. Ladys Dude (Chris Page), who set the all-age Miami Valley track record with a 1:52.1 score in last week's feature trot, also left alertly and dropped into the two-hole early.
Penn got a breather the second quarter but once the :56.2 half was reached Southwind Pepino (Sandy Beatty) came calling on the outside. Southwind Pepino was still lapped on to Penn as they sped past the 1:24.3 three-quarter pole and kept up all the way to the wire in 1:53.1. Boffin (Tyler Smith) found a seam late to edge past Ladys Dude for third.
Barkley Counts of Tennessee owns Penn, who has won 34 times in just 71 career starts.
The $15,000 championship leg of the R. J. Brown Memorial trotting series, for non-winners of two races or $15,000 lifetime at time of nomination, was also contested on Sunday.
Heavily-favoured Fantasy League (Kyle Ater) completed a three-week sweep with a 1:55.1 score, a tick better than his own divisional track record taken a week ago. Owner-trainer Mike Sowers' prized possession topped Chip Or Don (Tyler Smith) by open lengths with Simplyamonster AS (Chris Page) garnering the show dough.
Fantasy League's next start is expected to be in first leg Ohio Sires Stakes action at Miami Valley Raceway on Saturday, May 7.
(Miami Valley Raceway)