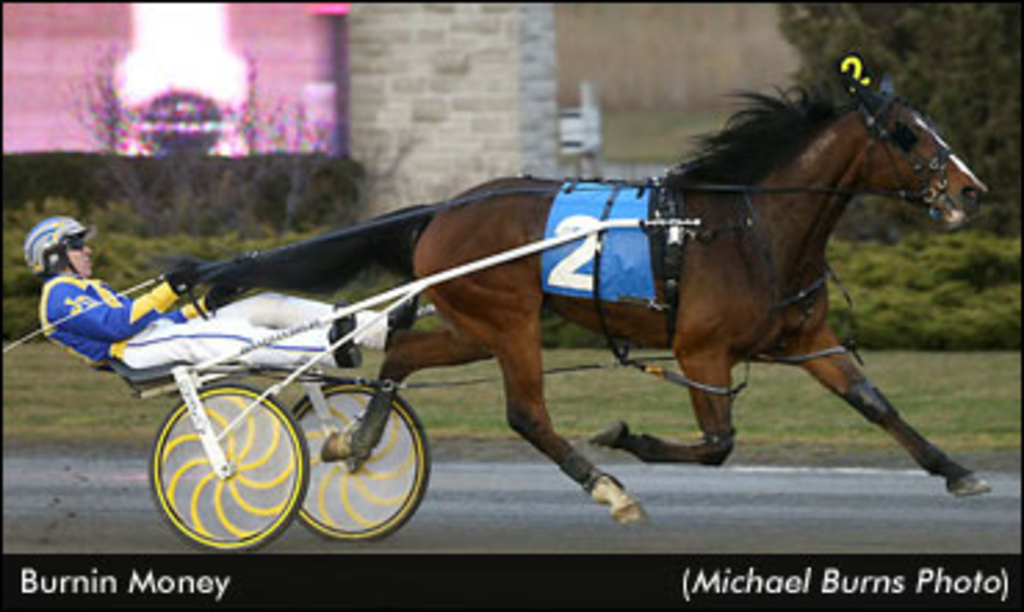 Published:
April 24, 2013 06:49 pm EDT

With the help of an alternative training routine, aspiring stakes trotter Burnin Money has gone from $15,000 claimer to Maple Leaf Trot eligible in a span of just a few months for trainer Carmen Auciello.
Burnin Money was claimed in early September 2012 at Mohawk Racetrack from a $15,000 claiming race by the Mississauga-based Wheelhouse Racing Stable ownership group and moved into Auciello's Port Perry, Ont. stable three months later.
"I'd heard a lot about him and his ability, but also heard that he had major issues with tying up and wasn't quite reaching his potential," Auciello told Trot Insider. "Wheelhouse Racing Stable thought he might benefit from a change of scenery, a different routine, and a few new sets of hands and eyes. I have to give them all the credit for scooping this horse for $15,000 last fall... I think he's worth a lot more than that now!"
Auciello said he didn't make any major changes with the five-year-old trotter until after getting him shod for the first time.
"I noticed he could be a little unsteady when changing gears on the track," he explained. "I've had a lot of luck adding toe weights to a trotter that feels like that so I screwed on a set of 2 oz. weights and they really seemed to help."
Burnin Money's past issues with tying up weren't apparent in his first three starts for Auciello so the rising 32-year-old conditioner used the same routine as his other trainees, slapped the trotting hopples on tight and away he went straight into a $15,000 claiming condition at Georgian Downs on Dec. 17, which he won by more than four lengths in 1:57 flat.
"He was very impressive that night and has gotten better with every start throughout his rise up to the Preferred ranks," said Auciello.
Along the way, Burnin Money also appears to have overcome his issues with tying up as Auciello implemented a new routine for the trotter.
"He began tying up on me around the 1st of January," explained Auciello. "Over the years tying up has never been a big issue for my horses so rather than having a concrete plan for him I began with trial and error, but nothing seemed to work. If you looked at him the wrong way, he would tie up! We eventually put him on Brooks Un-Ti horse feed and changed his routine so that all he did was walk every day in the Equiciser for one hour. My theory was not too many horses will tie up just walking. It worked, and after walking for three weeks leading up to his first start of 2013, he raced well and didn't tie up.
"I decided one more week of walking and his blood would probably be back to normal, and it was. He raced even better and didn't tie up again. I figured that since he wasn't tying up and was starting to race better I would just keep him on the same routine. The next start, he won, and now three months later his routine hasn't changed. He never a sees a harness between starts, never steps foot on a track, never breaks a sweat. It's pretty incredible, really."
Burnin Money has put together a solid record reading 6-1-3 in 12 starts while banking $87,760 so far this season. Auciello said the trotter's biggest strength is determination and "wicked closing speed," a quality he noticed watching replays of Burnin Money's races even before arriving in his stable. But his main weakness is his inability to spring off the gate with that same speed.
"He still gets steppy and can't be asked to trot until he levels out," noted Auciello. "If he ever develops the ability to leave in :26 and change, he could be very dangerous.
"I have to give Jonathan Drury a lot of credit for the way he has handled this horse. He's had some breaking issues in the past, but J.D. seems to have really figured him out. I'll always hold my breath for those first few strides off the gate and until he gets around the first turn, but I know once they hit the backstretch he's home free, and in good hands."
Burnin Money's quick turnaround has impressed his connections enough to nominate him to one of harness racing's most prestigious trotting events on the North American stakes calendar.
"My dad Rocco made the suggestion of paying him into the Maple Leaf Trot so I approached the owners soon after his win on March 2nd," said Auciello. "He had made a lot of money already this year and I figured it would be worth a shot, thinking that if he had flow into a very fast three-quarters of a mile he could trot in [1]:52 or better. They thankfully agreed."
The Cash Hall gelding has since reassured his connections of their early assessments with a 1:53 career-best victory on March 25 at Woodbine Racetrack – a national season's record at the time, just eclipsed this past Monday by Take My Picture in the Preferred.
"He could have gone in [1]:52 that night," noted Auciello. "It proves that when he's firing on all cylinders he can trot with anybody."
But Auciello knows that in order to compete against the open stakes trotters, Burnin Money still needs to improve before the July 20 event.
"Three months ago I never would have dreamed that we would be in this situation and that he would be one of the fastest trotters in Canada so far this year," said Auciello. "Many things have surprised me in this business over the years and if he were able to step up and compete with the best trotters in North America I wouldn't be shocked, but let's say I'd once again be pleasantly surprised. He has never had the opportunity to chase horses into a very fast pace and I'm hoping that when the time comes he can still flash his patented late-closing kick and at least give us all some excitement for our money."
Burnin Money has been dominating the Don Mills Series as of late with back-to-back victories in the opening legs, including a 1:55.1 score amidst a single round two division featuring a full field of 11 last weekend. He will start from post four in Saturday's $44,000 final with Drury in the sulky.
Following the series, Auciello said Burnin Money will get a week off from racing before returning to the Preferred ranks at Woodbine.
"He isn't really staked to anything else this summer so hopefully he doesn't have to leave his home turf at all," said Auciello. "Horses that tie up sometimes have issues with long travel so if we don't have to travel we won't. With his exercise routine (or lack of), I can't really give him any more than one week off unless he needs it."
As Burnin Money and company continue to chase a dream victory this summer, Auciello continues to grow his stable. Fresh off his first million-dollar season in 2012, Canada's third leading money-earning trainer this year and soon-to-be father of two, credits Wheelhouse Racing Stable along with his father and longtime owners Denarben Stables and Robert Burgess for his success as a trainer despite a rocky year for the horse racing industry in Ontario.
"We decided about a year ago that the only path to survival in Ontario over the next few years is to focus mainly on WEG caliber horses and mix in some nice young horses to still try to hit the home run," he said. "Every one of them has agreed to this strategy and so far it seems to be working out.
"We are collectively continuing to look for better horses, young or old, because the fastest route to the winner's circle, in my opinion, is behind a very talented athlete. I am just thankful to finally be in a position where I can actually try to buy horses that I wouldn't even consider in the past, and Burnin Money has definitely helped me get there."
To view Saturday's harness racing entries, click on the following link: Saturday Entries - Woodbine Racetrack.