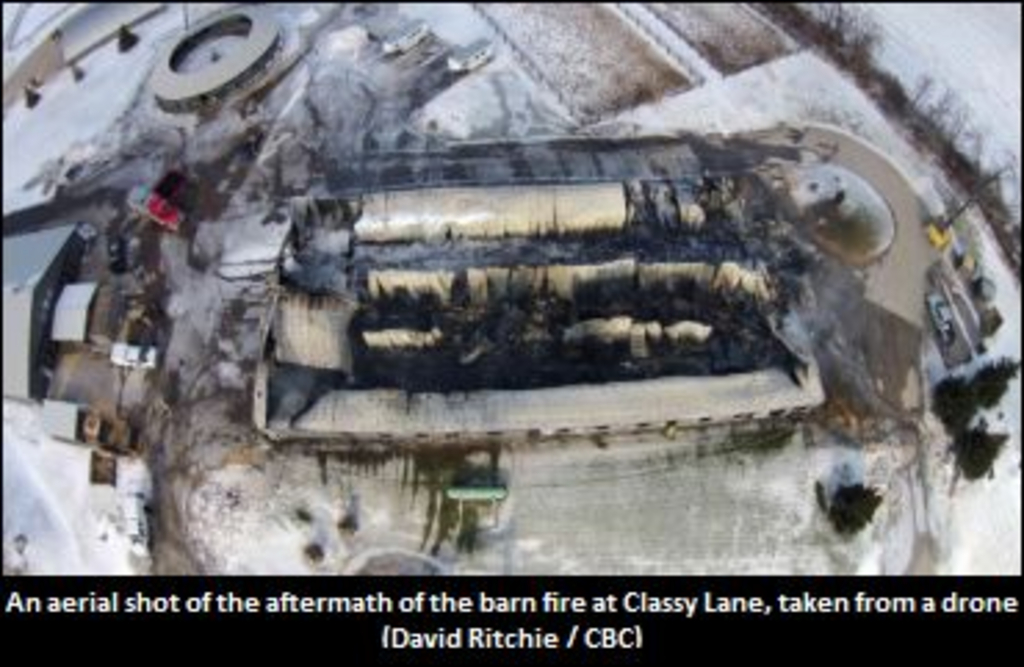 Published:
April 20, 2016 02:24 pm EDT
After receiving 1,950 donations totaling over $710,000 (Cdn) to aid those impacted by the January 4 barn fire at Classy Lane Stables in Puslinch, Ont., the Central Ontario Standardbred Association has concluded its GoFundMe campaign.
COSA President Bill O'Donnell said he has been overwhelmed by the generosity and can't begin to properly thank everyone who donated to the fund.
"The whole thing has been astonishing," O'Donnell said. "In the beginning, when we first put it up, we were hoping to get $80,000 and set $100,000 as a goal hoping just to help people replace equipment. It hit $112,000 in about 10 hours. It was wild."
Trainers Ben Wallace, Roger Mayotte, Chantal Mitchell, Kris Di Cenzo, Dan Lagace and Floyd Amos lost virtually every horse they train and most of their equipment in the blaze, throwing them and their staff out of work.
COSA's GoFundMe campaign was so successful O'Donnell said every person connected to the tragedy that gutted Barn 1 and killed all 43 horses received financial reimbursement thanks to the generosity of people from around the world, but particularly the horse racing community far and wide.
"I was flabbergasted how many people came to everybody's rescue," O'Donnell said, adding there were a number of heartwarming donations. "We had a group of preschoolers in Belleville, from Little Rascals Child Care, who sent in a cheque with a note that said 'our children have been doing fundraisers, bake sales, pizza and workshop sale items to give donations to an organization of their choice. When they read and talked about the fire it was a unanimous decision.'"
Wallace, who lost all 17 horses he had in Barn 1 at Classy Lane, said he and all those affected are tremendously grateful to everyone who donated to help them and to COSA for organizing the fundraiser.
"Not one of my caretakers — or anybody's caretaker, for that matter — was financially challenged due to the fire. They got paid right through," Wallace said. "There isn't one caretaker that could say that they were left out of the mix. I feel very, very good about that."
COSA established a seven-member committee to decide how best to allocate the money. Joining O'Donnell on the committee was Woodbine Entertainment Group Executive Vice-President Jamie Martin, Clinton Raceway General Manager Ian Fleming, Horsemen's Benevolent and Protective Association President Sue Leslie, Karen Breen, owner of Tackmaster, and horsemen Jim Wellwood and Dave Drew. Breen was on a committee that helped determine how best to allocate money after a fire in 1992 at Mohawk that killed 69 horses and destroyed Barn 3. Leslie sat on a similar committee after a fire in 2002 at Woodbine that killed 31 Thoroughbreds.
"The group was more than helpful with their guidance about how to distribute the money in a fair way," O'Donnell said, adding "the committee recommended that we start by getting professional appraisals." O'Donnell contacted Bob Boni, David Reid and Brian Webster about the value of the horses lost at Classy Lane.
"You couldn't get three better guys to do it," O'Donnell said. "We took the three appraisals, added them all up and divided by three to get an average per horse."
The owners of the three ponies killed in the blaze were compensated, as were the owners of the 35 Standardbreds that were not insured.
"The money is all gone. It's been distributed between grooms, trainers and owners," O'Donnell said with the exception of the funds that will be collected next year from the stallion auction that raised approximately $75,000 on live foals.
O'Donnell gave thanks to the media for covering the story and made special mention of Standardbred Canada for keeping the GoFundMe campaign near the top of its website news items for weeks.
"They did a great job of leaving that story up at the top. It could have slid down to the bottom of the page and people would never have seen it," O'Donnell said.
(COSA)