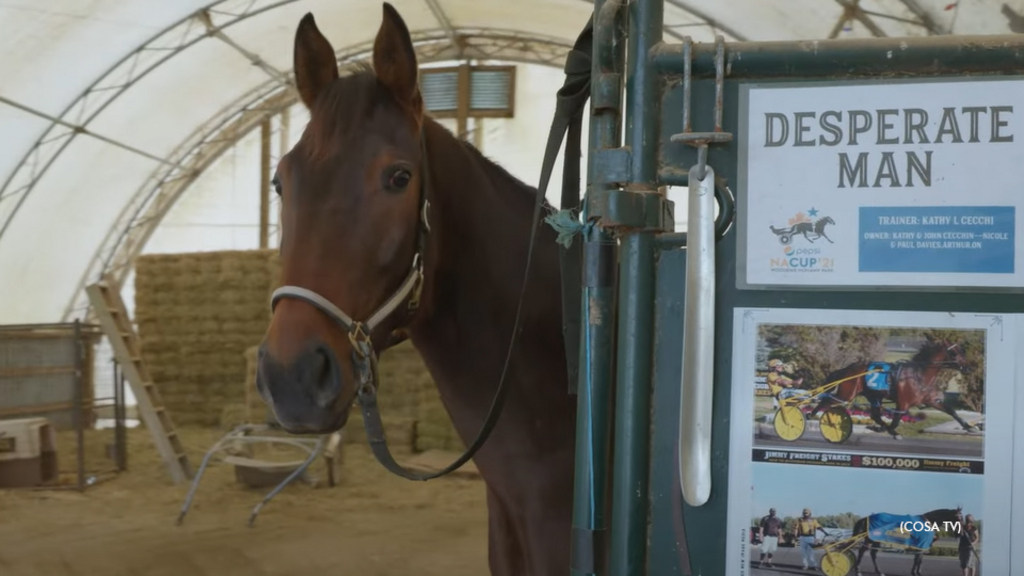 Published:
April 12, 2022 03:30 pm EDT
Canada's reigning Horse Of The Year, Desperate Man, is preparing for his upcoming four-year-old season with one of his first major tests expected to come in the inaugural Charles Juravinski Memorial Cup at Flamboro Downs.
COSA TV, which will present live coverage of the Juravinski Memorial Cup (formerly the Confederation Cup) on Sunday, May 22, recently visited the pacer's Arthur, Ont. home for an update on his return to the track.
"He has been training back well I think," said trainer/co-owner Kathy Cecchin in the COSA TV feature. "He has really grown. None of his equipment from last year fit him and he was already a big horse. He's gotten really big and he's a bit heavy, but he seems himself. We've been in 2:05 a couple of times and we hope we're on schedule."
Cecchin noted half-mile track racing isn't necessarily Desperate Man's forte but it would be a great honour to win Flamboro Downs' signature race that was renamed for the Canadian Horse Racing Hall of Fame builder and philanthropist who passed away this winter.
Cecchin also reflected on Desperate Man's dream season in 2021, including his Pepsi North America Cup victory and another emotional moment for the family. The full interview can be viewed below.