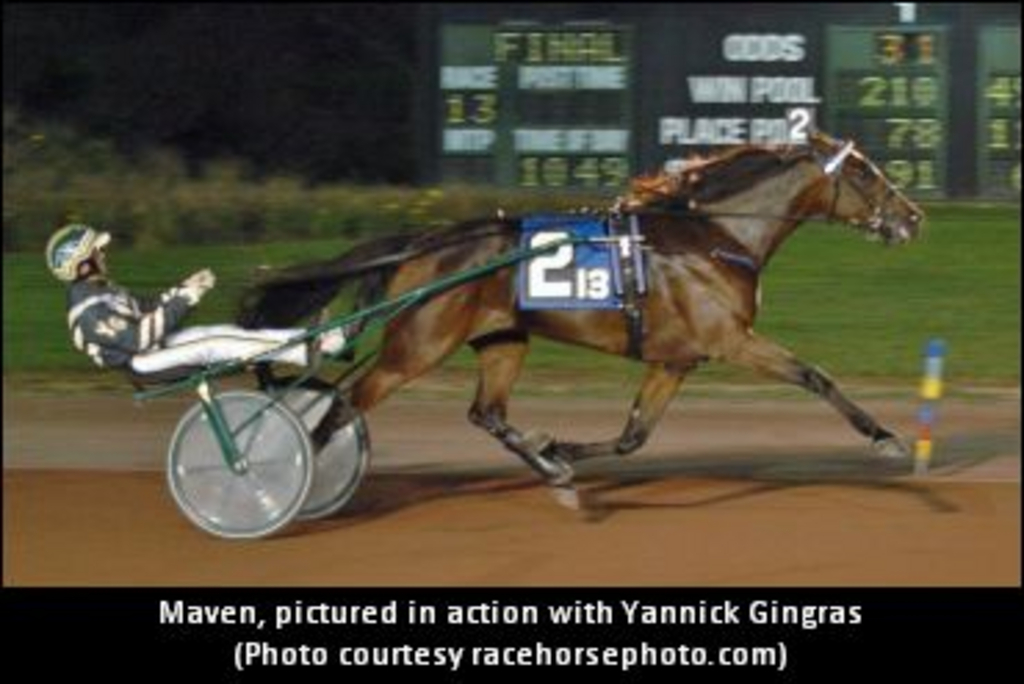 Published:
April 10, 2014 04:22 pm EDT
Trainer Jonas Czernyson is getting Maven ready to defend her division title among older female trotters, but last year's Dan Patch and O'Brien Award winner is not his sole focus as he prepares her for the stakes season.
Four additional older female trotters are receiving Czernyson's attention as he looks forward to the Miami Valley Distaff on May 4 at Ohio's new Miami Valley Raceway.
Joining the five-year-old Maven in the division for 'Team JC' are five-year-old Dorsay and four-year-olds Ma Chere Hall, Mistery Woman, and Coffeecake Hanover. All five were in qualifying action last week at the Meadowlands, and all should be returning there again Saturday morning for qualifying efforts.
"It's going to be an interesting year," Czernyson said. "We're unfortunately going to have to race against each other, but we just have to hope for the best. When you have horses that are that good, they're going to go up against each other."
Maven finished second by a half-length to older male trotter Uncle Peter in last week's qualifiers, timed in 1:56.1. Last season, Maven was the unanimous selection for the Dan Patch Award for best older female trotter after winning 10 of 14 races and $509,220 for owner Bill Donovan. Her wins included the Breeders Crown for older female trotters, Armbro Flight Stakes, and Miss Versatility Series championship.
She trotted the fastest race mile ever on a half-mile track in winning the Miss Versatility in 1:51.4 at the Delaware County Fair in Ohio.
"So far everything is very good," Czernyson said. "She did what we asked her to do (in her qualifier). We wanted to go somewhere between (1):56 and (1):57 and that's what she did. That was the beginning and we'll go from there."
Where she goes could be overseas. Czernyson is considering sending Maven to Sweden for the Elitlopp on May 25.
"We're thinking about that," said Czernyson, a native of Sweden. "We're trying to get some better shipping arrangements for that. That would be very fun. That would be very nice if we could go over there and win that race.
"She's coming back as nice as she did before, but we'll see how she does racing. That's when we'll make the full decision whether we're going or not."
For her career, Maven has won 25 of 40 races and $1.42 million.
Dorsay finished third in the qualifier with Uncle Peter and Maven. She trotted in 1:56.3.
Last year, Dorsay won four of 14 races and $189,928 for owner Consus Racing Stable. Her wins included the Muscle Hill Stakes and Ima Lula Series final and she finished third in the Breeders Crown.
Dorsay has won seven of 46 career starts and $348,335.
"She's her own worst enemy," Czernyson said. "Unfortunately, when the gate leaves, she wants to leave with it. Hopefully we can get her to settle down a little more. She's sure fast enough. She's a lot better now than she was at two; we just have to hope she keeps on maturing."
Ma Chere Hall finished second by three-quarters of a length to Archangel in her qualifier. She was timed in 1:56.4.
Last season as a three-year-old, Ma Chere Hall won nine of 17 races and $506,869 for owners Walnut Hall Limited, Aldebaran Park, and Joe Sbrocco. Her victories included the Matron Stakes and Kentucky Sire Stakes championship. She ended the campaign with a second-place finish in the Moni Maker Stakes, which was won by Horse of the Year Bee A Magician. She also was second in the Kentucky Filly Futurity.
For her career, Ma Chere Hall has won 12 of 29 races and $668,933.
"She's coming back very nice," Czernyson said.
Mistery Woman finished sixth in the qualifier with Ma Chere Hall, timed in 1:57.4. Last year, she won three of 15 starts and $292,323 for owners Millstream Inc., Misty Miller, Donovan, and Aldebaran Park. Her wins included the Dr. Harry M. Zweig Filly Memorial Trot and she was third in the Moni Maker.
Lifetime, Mistery Woman has won six of 20 career races and $380,500.
"She's also coming back very nice," Czernyson said. "(Driver David Miller) was happy with her. Hopefully she can step it up and go with the big girls."
Coffeecake Hanover is a newcomer to the Team JC Stable. She was purchased for $140,000 by Czernyson's wife, Christine, at November's Standardbred Horse Sale Mixed Sale.
Last season in the stable of trainer Ron Burke, Coffeecake Hanover won four of 16 races and $194,473. She captured a division of the Pennsylvania Sire Stakes and was second to Frau Blucher in the Buckette Stakes. For her career, she has won eight of 27 races and $359,816.
She finished fifth in her qualifier, one spot ahead of Mistery Woman, timed in 1:57.3.
"(Christine) bought her as a future broodmare also," Czernyson said. "We'll try to make some of our money back at the racetrack first, and then we'll go from there. So far she's been training down really good.
"I wish I saw better than a :30.2 last quarter in the qualifier, but there was a headwind and we didn't have her rigged right. We're going to make a few changes to her and hopefully she should be a little sharper for this week."
---
This story courtesy of Harness Racing Communications, a division of the U.S. Trotting Association. For more information, visit www.ustrotting.com.