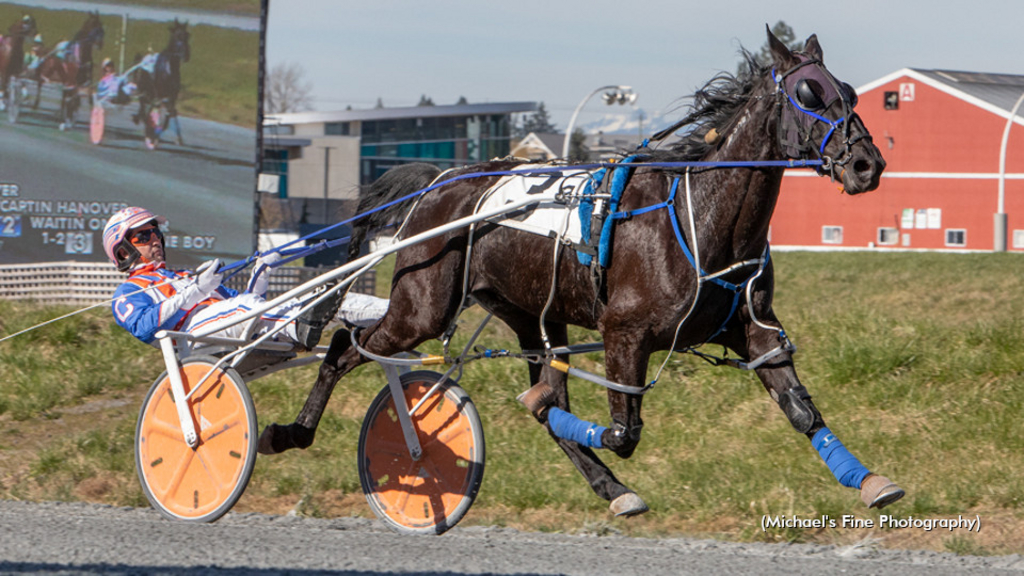 Published:
March 6, 2022 06:30 pm EST
Keith Linton Stakes champion Sunshine Boy was back in action on Sunday afternoon (March 6) at Fraser Downs and the speedy four-year-old pacer headlined the $12,000 Open for trainer/driver Brandon Campbell.
Tiempo Hanover (David Kelly), who won three Opens already this year, flashed his early gate speed from the outside to take command over insider starters Armycaptin Hanover (Scott Knight) and Waitin Ona River (Kevin Anderson), but his lead was short-lived as stablemate Sunshine Boy circled the compact field of four at the :27.4 quarter pole. He opened up a loose lead through middle splits of :55.3 and 1:23.1 and cruised home an easy 2-3/4-length winner in 1:51.3 -- just a tick off his lifetime mark and the current Canadian season's record he set last time out in the Keith Linton on February 20.  
Tiempo Hanover edged out Armycaptin Hanover in a photo for place to give the Campbell stable the 1-2 finish.
Sunshine Boy was the heavy 1-5 favourite among the field shortened to four with the scratch of Cenalta Express sick. He returned $3.10 to win and $2.10 to place. There was no show wagering.
The Sunshine Beach son, who opened his 2022 campaign with a victory in the Western Canada Pacing Derby, now boasts four wins from six starts and a pair of top three finishes to add $78,080 to his bankroll. A career winner of a dozen races and nearly $170,000, Sunshine Boy is owned by Alberta residents Jodi Loftus, Dana Shore and George Rogers.
To view Sunday's harness racing results, click on the following link: Sunday Results - Fraser Downs