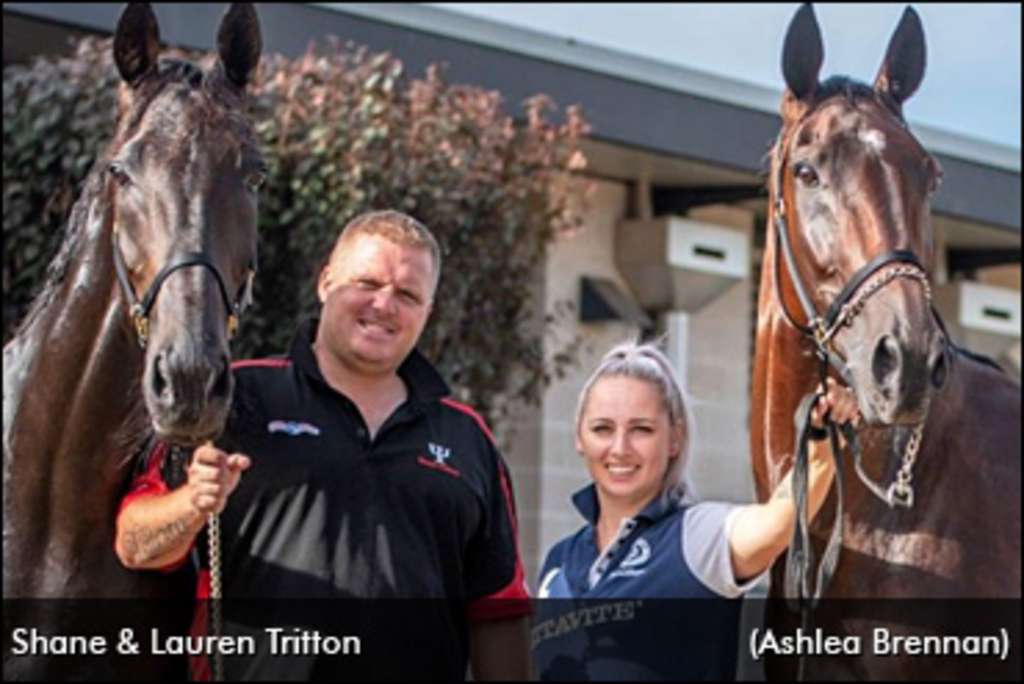 Published:
March 28, 2020 07:15 pm EDT
Moving halfway around the world is a daunting enough leap of faith on its own. To do so during the onset of a global pandemic is surely orders of magnitude more nerve-wracking, but Australian horsepeople Shane and Lauren Tritton are hopeful that the American Dream is worth every bit of the effort they've invested.
"We were planning to come out on the sixth of April, but things started to shut down and America closed the borders to Europe," Shane explained to Trot Insider. "So we said, 'If we're gonna go, we're gonna go.' So we booked a flight, and four days later we were on a plane. I think we left on the 18th of March and just came straight over. It was all very, very fast."
Despite initially aiming to relocate later in the spring, the Trittons were already knee-deep in the transition process when March arrived. But when the spread of the novel coronavirus ballooned in the past fortnight, their hand was essentially forced to either commit full-on to the move or abort entirely.
And commit they did.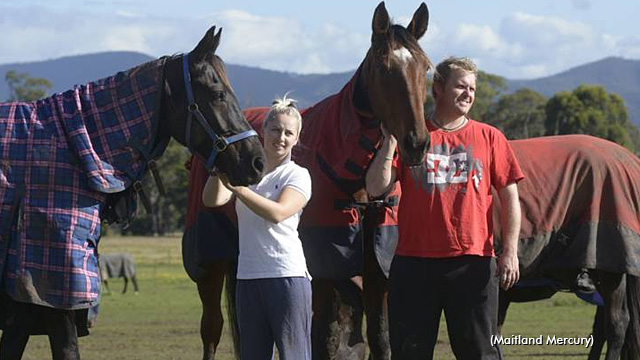 "We had sold a lot of our stuff at home, winding down the horses and sending horses to other stables, and then the pandemic hit. So we pretty much had to go all-in and get on the first flight out. We sold everything we owned in four days and got on a plane. It was very scary for me, my wife Lauren, and our two-year-old son. We got here, and have had six days to see whether our horses would get out. They just landed in the States, which is a big relief for us. I'm sure it's going to be a good story in a few years, but certainly the last three or four weeks have been chaotic."
The current shutdown of Standardbred racing in North America will give the Trittons -- and the 12-horse stable they imported -- a chance to acclimate to their new surroundings in Pine Bush, N.Y., where Shane's father, Peter, also bases his stable.
Success on the racetrack runs deep in the Tritton family: Peter conditioned Bit Of A Legend N, who won 52 races and banked well over $2 million through an illustrious four-year run in North America, while Shane and Lauren have teamed up to campaign some of Australasia's brightest pacers in recent years. But their success Down Under turned into a double-edged sword.
"Once you become a metropolitan horse, you're pretty much stuck into one night's worth of racing," explained Shane. "We got to the point where we were taking 18 horses to one meeting, which was making it pretty tough to place your horses."
The restrictive nature of horse classification in New South Wales paired with the Trittons' success with milers in particular made the move to North America a no-brainer.
"We've predominately been a stable that's performed better at the Menangle mile than any other distance and any other track," Shane continued. "We had 12 individual starters in the Miracle Mile in the last five years, and we're proud of that, but it also meant that we were probably handicapped in a lot of other major races, because 80 per cent of them are over distance. Certainly any horses that we have that we've done well with generally are suited to mile racing. It's something we obviously thought a lot about."
Of the dozen horses the Trittons brought with them to New York, three in particular will look to build upon already impressive résumés: Yayas Hot Spot won the Group 1 Newcastle Mile in February 2019 along with 25 other races in his career; Flaming Flutter has banked over $800,000 (AUD), earned two minor placings in Interdominions, and was timed in 1:49.3 at Menangle as recently as January; and 20-time winner Salty Robyn appeared in the Miracle Mile a few years back, as well.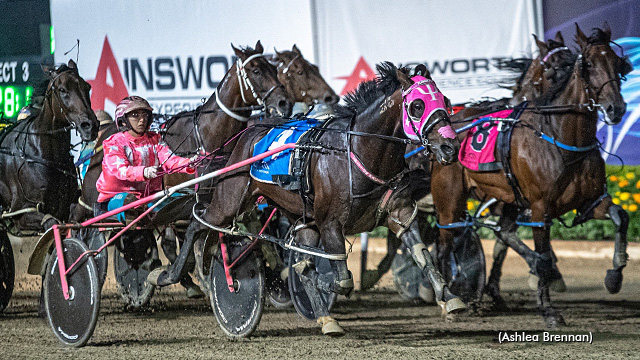 Lauren Tritton guides Flaming Flutter to victory at Menangle
The opportunities for them all to continue racing at a high level are plentiful in North America, and while that was a driving force for the Trittons' relocation, some first-hand knowledge of the scene didn't hurt, either.
"(My dad) always said that he's done well here," related Shane. "He just wanted me to come at a point where he was still capable of showing us the ropes, and it seemed to be a perfect time a few months ago to see how America operates, especially with a lot of Australian and New Zealand horses coming here and doing so well. It's just been a completely different opportunity of how to race horses.
"Over here, you can place your horses a lot better and keep them racing for a long period of time. There's no good time to (move), but we chose to do it in the middle of a pandemic, which is probably just another part of the story. But for the sake of moving to America, the decision was fairly easy from a business point of view but tough from a family point of view. We've had to leave some really important people back home, but without their understanding, there's no way we could have done it, either."
Thankfully, neither the novel coronavirus nor the stress of a transpacific relocation has kept the Trittons -- who are safe, sound and healthy -- down.
"We've been pretty healthy," said Shane. "We were in a pretty safe zone, but obviously we're locked down in the state of New York. We can still get out and look after the horses, but we're spending a lot of time indoors.
"The horses are probably in a better position than we are! You don't want to start working them if they're not going to race in six months, and we don't really know what's going on. At this point in time, we've just got to roll with it and hope that the powers that be can sort it out. We don't know when we're going to race...do you give them another week off? Do you start work? I'm probably in a better position than most, because we were already going to take a couple months to get them back to the races. Hopefully by then, everything's sorted out."
Once things return to normal, will Yayas Hot Spot, Flaming Flutter or Salty Robyn be pointed to stakes races on this continent?
"At this point, we've got no plans," says Shane. "We just want to get settled in. You never know which ones are going to jump out of the ground. At this point, we're just happy to have them healthy."