Published:
March 28, 2017 10:00 pm EDT
A pocketed Never Say Never N (Jason Bartlett, $7.10) out-tripped 2-5 favourite Awesomeness (Scott Zeron) Tuesday night (March 28), winning Yonkers Raceway's $61,800 final of the Sagamore Hill Pacing Series over a 'sloppy' track.
The annual Teddy Roosevelt-A-Thon was open to three- and four-year-old pacers (guys only, girls went at in the Petticoat) who were non-winners of four races or $40,000 through last December 1.
Leaving from post position two, Never Say Never N tracked pole-sitting Prejudice (Jordan Stratton) from the outset. Meanwhile, Awesomeness tried to leave, but was wrangled back into a four-hole.
Those three were the only ones in the final who had each won both of their series starts (one scheduled leg was snowed out).
After early intervals of :28.1 of :58.2, Awesomeness was out and moving, trying to stomp out Prejudice in and out of a 1:26.2 three-quarters.
Prejudice owned a 1-1/2 length lead into the lane, but was surrounded. Awesomeness was resilient, but Never Say Never N had the shorter route and the bigger envelope. The latter whipped the former by a head in 1:54.2.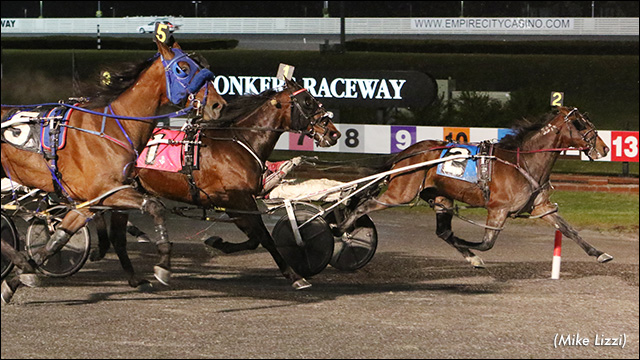 Never Say Never N pounces up the open stretch to capture the Sagamore Hill Pacing Series final
Prejudice was third, beaten a neck, with Sure Fired Bet (Yannick Gingras) and Artmagic (Brent Holland) settling for the remainder. Ideal Son (George Brennan), Wishiwasagigolo (Dan Dube, coupled with Prejudice) and Stirling Escort (Matt Kakaley) finished off the order.
"He's quick and fits this track very well," Bartlett said. "Ever since I qualified him, I've been impressed with him. I knew Jordan's horse (Prejudice) would take me to the lane, and it was up to him from there.
For second choice Never Say Never N, a four-year-old Down Under son of Bettors Delight co-owned by Gerard Stuchbury and Thomas Lazzaro and trained by Heidi Rohr, he's now 5-for-5 this season. The exacta paid $20.20, with the triple returning $30.80.
"His best stride has always been near the wire, but sometimes he shuts himself off, so they added a mini bit tonight and it helped."
As for Awesomeness, whose own win streak ended at six, "We lost a lot of ground in the last turn and Jason (Never Say Never N) was able to get the jump," Zeron said. "(Awesomeness) was out two turns and really running in, so I can't fault the effort."
A $30,000 series consolation was won by Magical Cowboy (Gingras, $5.40, part of entry) in 1:55.2.
(Yonkers Raceway)