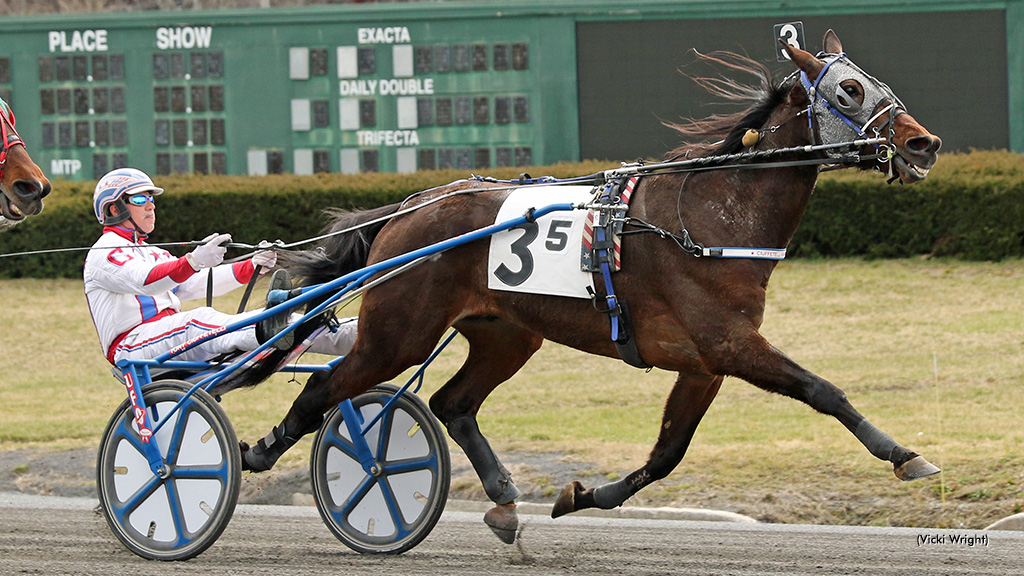 Published:
March 18, 2023 09:36 pm EDT
Both $9,000 divisions of the American Harness Drivers Club (AHDC) Trot at Freehold Raceway on Saturday (March 18) were taken in down-the-road speed jobs by both Tony Ciuffetelli and Yogi Sheridan.
In the first division, Ciuffetelli planted 8-5 favourite Trump This on point after a :29.4 first quarter and cut the mile while King Cast (driven by Jacob Stillwell) raced parked after a failed attempt to grab the lead from post eight. As King Cast dropped anchor through a :59.3 half, Trump This coasted along uncontested and clicked three-quarters in 1:29.2 before braving for home. Inukchuk Chuck (Joe Lee) launched a late bid after the leader but came a half length short at the end of a 1:59.3 mile with pocket-sitter My Big Kadillac (Mike Polansky) taking third and Vendor Bill (Maria De Bruijn) travelling a wide route to grab fourth.
Tony Ciuffetelli trains Trump This, a seven-year-old gelding by Airzoom Lindy, for owners Joseph and Albert Ciuffetelli. He paid $5.40 to win.
Yogi Sheridan took the top early with 8-5 favourite Drazzmatazz in the other division and stacked his competition to score a 1:59.4 victory.
Sheridan cleared control past a :29.1 first quarter from Finnick Odair (Melissa Arbia) while Southwind Frost (Bob Hechkoff) readied a first-over charge towards a 1:00 half. Shoemaker Hanover (John Calabrese) and Winneress (Anthony Verruso) tracked his challenge along the rim, though Drazzmatazz held his ground to three-quarters in 1:29.4 and all through the lane. Shoemaker Hanover kicked off cover to take second, beaten three-quarter lengths, from a stalled Southwind Frost and Winneress settled for fourth.
Terry Morgan conditions Drazzmatazz, a 10-year-old RC Royalty gelding, for owner Danbry Racing Inc. He paid $5.40 to win.
AHDC action returns to Freehold Raceway next Saturday (March 25). First-race post time is 12:30 p.m. (EDT). The AHDC will also be adding a weekly pacing division to its series starting Friday (March 24), which will run every Friday at Freehold through Memorial Day. 
(AHDC)