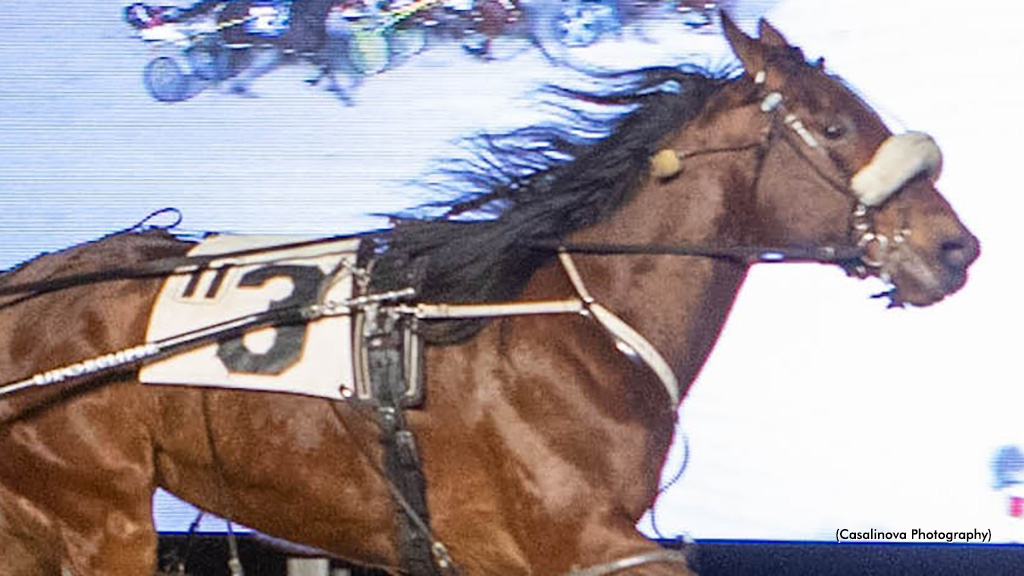 Published:
March 18, 2023 11:17 pm EDT
While several leavers and a torrid pace severely affected the favourites, longshot gate-to-wire winner Dudes Sweet Bet took advantage of the elements and scored a big victory against a stacked $19,000 Filly and Mare Open field on Saturday night (March 18) at MGM Northfield Park.
Eventual winner Dudes Sweet Bet and driver Chris Lems wasted no time clearing inside rivals, leaving alertly with a host of others into the first turn. There was a three-wide tussle to the opening quarter as Smothastenesewisky and Waitforever N challenged the leader. Following a stiff :26.2 opening quarter, the pair tried to work their way past the leader, but Lems was not about to give up the lead, quickly battling back around the second turn.
Into the stretch the first time, Dudes Sweet Bet continued to take no prisoners making it to the half in a contested :54.3. While Waitforever N moved into second-over position, Smothastenesewisky continued to pressure Dudes Sweet Bet into the clubhouse turn.
While there wasn't much movement into the backstretch for the last time, Blue Ivy was guided to the outside to begin a three-wide bid for the lead. At three-quarters in 1:23.3, Lems tried to get some separation from the rest of the field, leading by 1-3/4 lengths, but champion Blue Ivy continued to advance on the outside.  
Turning for home, Dudes Sweet Bet was kept to task, winning easily by a length in 1:53. Blue Ivy, who made up a lot of ground throughout the mile, dug in to be second while Coastal completed the trifecta.
The win was the 11th lifetime for Dudes Sweet Bet, a daughter of Dudes The Man who has now earned $239,002 for owner/driver Chris Lems and trainer Jordan Hope. She paid $22.40 to win.
Live racing resumes on Sunday evening (March 19) at 6 p.m. (EDT).
(With files from Northfield Park)