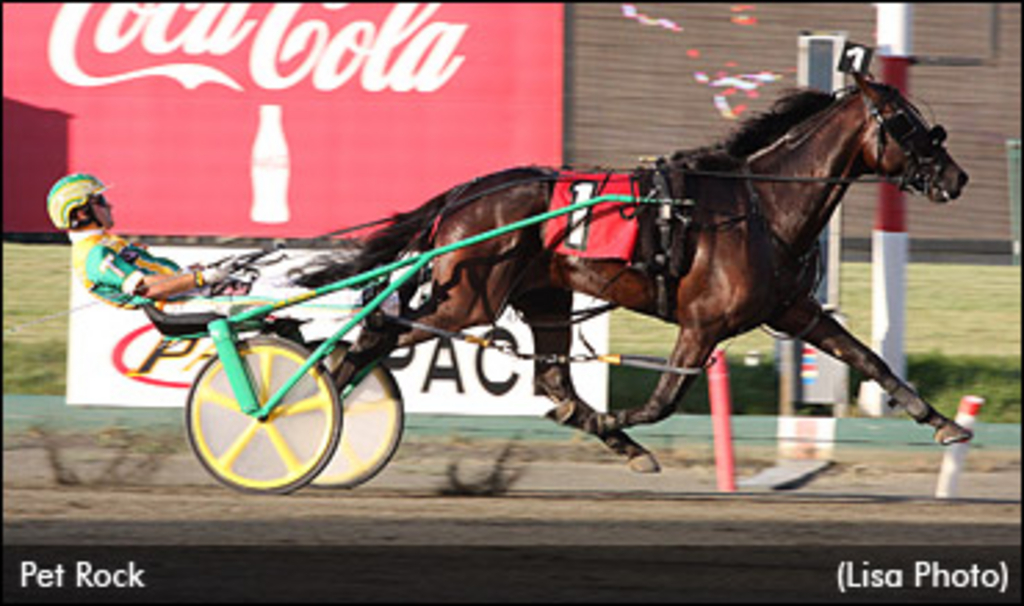 Published:
March 11, 2012 02:17 pm EDT

"He's under the radar a little bit. If you look at his five starts, with a couple of wins and around $70,000, he looks OK. But if you look at his lines and watched him race you might appreciate him more."
A quick look at Pet Rock's race summary from 2011 does not reveal much to attract attention: He won two of five starts and earned $76,866. Look a little deeper, though, and it is easy to understand why trainer Virgil Morgan, Jr. is excited about the colt.
Pet Rock, who is rated No. 13 in the inaugural Hoof Beats/TrackMaster Predictive Rankings for 3-year-old pacers, was a total of less than three-quarters of a length from being undefeated, with losses to highly regarded Sweet Lou, Simply Business and I Fought Dalaw.
Sweet Lou is No. 2 in the Predictive Rankings, which attempt to forecast this year's fastest performers, while Simply Business is seventh and I Fought Dalaw is No. 11.
Morgan first saw Pet Rock in a qualifier at Scioto Downs, racing for trainer Lester Clemmons. Morgan liked the colt, who won in 1:58 that day in June, and contacted Frank and Joe Bellino to see if they might be interested in buying the horse. They were, and did.
The colt's limited schedule last year was the result of being staked lightly. This year, the son of Rocknroll Hanover-Casual Beauty is eligible to all of harness racing's big events for 3-year-old pacers, including the North America Cup, Meadowlands Pace and Breeders Crown.
"It was a gutsy buy considering that he wasn't staked to many races," Morgan said. "The Bellinos have given him an opportunity. You never know after a qualifier in (1):58 whether they're going to be that good, but he was one that definitely caught my eye. He's got good conformation and he seems like the type that's not going to need any certain type of track to help him. He'll get around any size track. That's an advantage.
"Hopefully the fact he was lightly staked (last year) is going to be a blessing in disguise. Hopefully he's a little fresher than the rest. He's a gorgeous looking colt; very athletic. He's got a great attitude and loves to do his work."
Pet Rock has trained in 2:10 so far this year. Morgan expects the colt to qualify several times, beginning in April, and has the New Jersey Sire Stakes on May 19 at the Meadowlands as a target for his return.
"There's no emphasis on that whatsoever," Morgan said about the timetable. "Frank and Joe want him peaking at the right time. They've been through this before with (2010 Horse of the Year) Rock N Roll Heaven. They're great to work for; they definitely want what's best for the horse."
Pet Rock began his career with a half-length loss to Simply Business, who later won the million-dollar Metro Pace, in a division of the New Jersey Sire Stakes at the Meadowlands. He won his next start, also in the sire stakes, by four lengths over D Terminata, in 1:52.3 with a :26-second final quarter-mile. In the $175,000 New Jersey Sire Stakes final, Pet Rock lost by a nose to I Fought Dalaw in 1:50.4.
2011 NJSS Final - Two-Year-Old Pacing Colts

Two weeks later, he missed by a neck against Sweet Lou in a division of the Arden Downs at The Meadows, which went in 1:52 to equal the track record. Sweet Lou later won the Breeders Crown in a world-record 1:49 at Woodbine.
Pet Rock finished his campaign with a six length win over King Midas' Touch in 1:53.1 in the $24,783 Hoosier Stakes at Indiana Downs.
"He raced super," Morgan said. "Knock on wood, he's extremely sound. He put on some mass and some weight and he looks great. I can't say enough about him. He's just a very intelligent horse.
"Needless to say, I'm very high on him."
---
This story courtesy of Harness Racing Communications, a division of the U.S. Trotting Association. For more information, visit www.ustrotting.com.