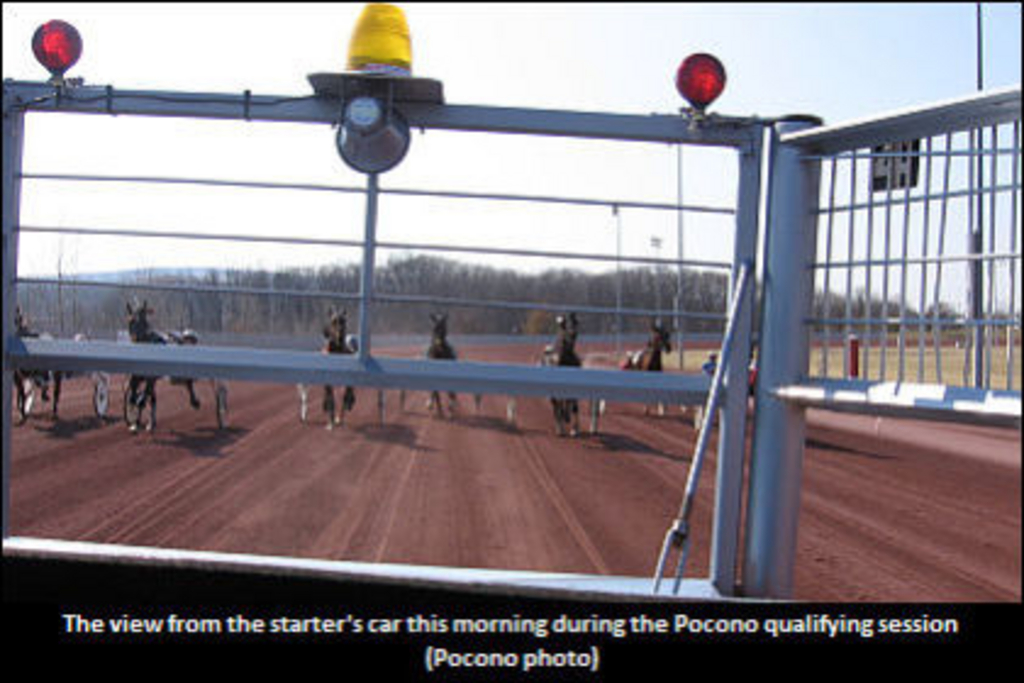 Published:
March 11, 2010 03:13 pm EST
With temperatures in the high 50s and a lightning fast track, speed was the order of the day as Pocono Downs held its first qualifying races of the 2010 harness racing season
this morning.
Race 1 produced the fastest clocking on the 10-race docket, as three-year-old pacer DVC Givemeattitude stopped the clock in 1:55.1 for driver Mike Micallef.
The morning's second race produced the fastest time of the session for a trotter. Indian Hill Rocket, driven by Jim Raymer, went wire to wire and stopped the timer in 1:56.3.
"This racing surface is lightning fast," said trainer Mickey Peterson. "It's a though we never stopped racing since the closing last November 21. It's hard to believe that the racetrack was just cleared off more than a foot of snow about a week ago. We also have great weather today."
Pocono regulars that were on hand for the qualifying session included Tom Jackson, Mark Gingrich, Tyler Raymer, Larry Stalbaum, Drew Chellis, Jim Taggart, Jr., and Jim Groff.
Jason Bartlett, one of the top drivers in North America, was in the sulky in almost every qualifying race. He said he'll be a regular on Wednesday nights during the upcoming season that opens Tuesday night, March 23, with a 6:30 p.m. first-race post time.
"I wish I could drive more," Bartlett added. "But my home base is Yonkers and they'll be racing on the other days Mohegan Sun at Pocono Downs is racing."
Other winners on the docket were Moiras Bliss (driven by John Plutino; 1:57.1), Fort Benning (Tony Schadel; 1:57.3), Shanghi Lil (Jason Bartlett, 1:55.4), Baby Boy Grin (Larry Stalbaum, 1:57.2), Arts Special Boy (John Bartlett, 1:56.4), Enjoy Your Tour (Larry Stalbaum, 2:00.1), Doubleshotascotch (Jason Bartlett, 1:56.1) and Slick Sylvester N (Mark Gingrich, 1:55.3).
Qualifying standards were 2:01 for pacers and 2:03 for trotters with a one-second allowance for three-year-olds.
(Pocono)