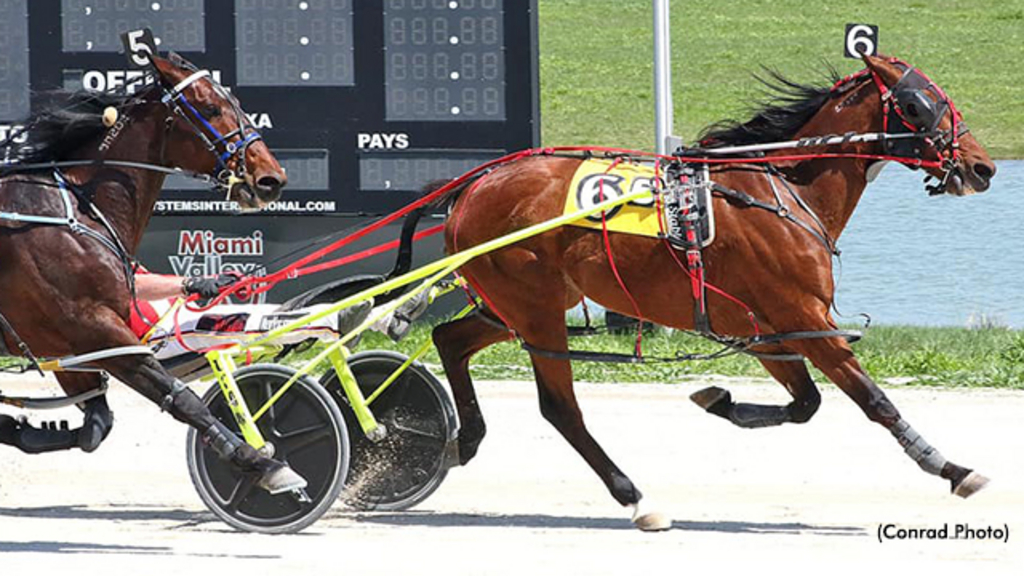 Published:
February 8, 2022 08:30 pm EST
Yacht Week drew the highest bid of the 2022 Blooded Horse Sale Winter Speed Sale, which took place on Tuesday (Feb. 8) at the Champions Center, in Springfield, Ohio.
Selling as Hip 51, Yacht Week — a six-year-old gelding by Somebeachsomewhere — brought a winning bid of $56,000 when selling to Terrence Smith of Lancaster, Texas. The gelding raced previously for Brian Witt and Chad Slone and in Larry Finn's stable. He won his most recent race, a wire-to-wire effort in a $15,000 overnight pace at Miami Valley Raceway on Jan. 25. 
Woodland Hill, Hip 172, sold for the second-highest price of the session when going for $50,000 to Owen Yoder of Goshen, Ind. The seven-year-old Muscle Hill mare is unraced and has no foals on record. 
A pair of horses tied for the third-highest sales of the day. First, Hes Gonna Getya, Hip 41 and a four-year-old gelding by JK Endofanera, sold for $35,000 to Brian Kleinberg of Madison, N.J. Later, Cupid Hanover, Hip 98 and a five-year-old gelding by Father Patrick, also sold for $35,000 when going to Michael Ribant of Chicago, Ill.
Despite snow and frigid conditions, horsepeople flooded the pavilion to restock stables and acquire broodmares.
"Horsemen are undaunted by the weather! They love coming to a sale to actually see and touch the horses they want to buy," said sale manager Jerry Haws. "It may take a bit more time and resources, but the dividends far outweigh the cost. Bringing horses to a venue of eager buyers is a tremendous marketing tool."
Full results for the Blooded Horse Sale are available at this link.
(with files from the Blooded Horse Sales Company)