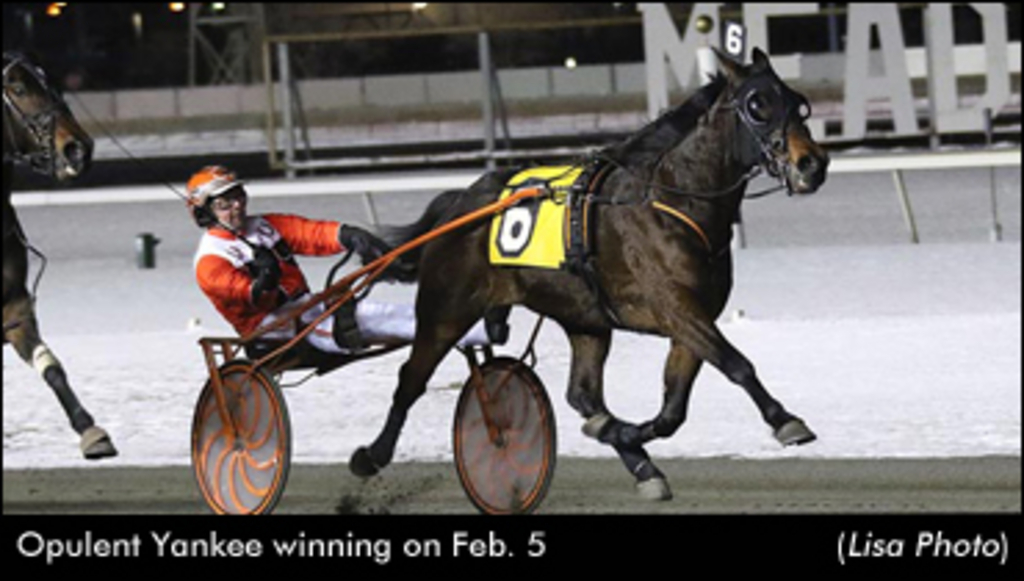 Published:
February 5, 2016 11:59 pm EST

Opulent Yankee ($5.40) is finding his best stride again, capturing Friday (Feb. 5) evening's featured $25,000 Open Handicap Trot at The Meadowlands in pillar-to-post fashion, digging deep to hold sway for a 1:53 triumph in the night's second of 14 races.
Andy Miller sent the five-year-old Muscles Yankee gelding immediately to the fore, stretched out a bit by Uva Hanover (Tim Tetrick) on approach to the first turn. Upon clearing, Opulent Yankee set uncontested splits of :27.4, :56.2, and 1:24.3, leading the septet throughout. Just above the eighth pole, Uva Hanover angled off the pegs to give chase, and Opulent Yankee sternly fought him off for the remainder of the stretch for a three-quarter length victory. A Little More Love (Joe Bongiorno) stayed on for third at 39-1 off a close and clear tracking trip, while Bourbon Bay (Corey Callahan) rallied mildly up the inside to save fourth.
Julie Miller trains 10-time winner Opulent Yankee for the partnership of Little E LLC, Arthur Geiger, Jason Settlemoir, and David Stolz.
The sub-featured seventh event was a $16,000 top-level distaff pace, and one of four driving wins on the program for Tim Tetrick. "The Bionic Man" teamed up with Clear View Hanover ($8.40), and the pair bobbed and weaved through traffic at head-stretch before finding clearance up the pegs in the final 150 yards. Clear View Hanover had just enough to nose out Gweneeee J (Scott Zeron) -- who had the aid of a textbook second-over trip -- in 1:52.2. Henrik Lundell trains the seven-year-old Clear View Hanover for Joie de Vie Farm and Guidetti Racing.
Tetrick's other winners on the evening were Mr Lover ($5.80, 1:56), Sheer Flex ($5.40, 1:55.1), and Andovers Touch ($2.40, 1:56.2).
With a carryover of $18,653 enticing over $140,000 in new money to Friday evening's 50-cent Pick 5 at The Meadowlands, a hefty dividend was a near certainty. Thanks to two significant longshots prevailing in the sequence, just one punter was able to select all five winners, and that player from Maine was rewarded with a dividend of $109,966.10.
In addition to Mr Lover ($5.80), Sheer Flex ($5.40), and Clear View Hanover ($8.40) giving Tetrick a hat trick in the Pick 5 sequence, longshots Sherkin Hanover ($35.80, Anthony Napolitano) and Never Ever Clever ($86.80, Corey Callahan) took their respective races and perplexed all but that one player from the Pine Tree State. Punters who selected four of five winners correctly earned a consolation dividend of $255.70.
Both Jackpot High 5s will carry over to Saturday's 14-race program. The seventh race High 5 will feature $16,452 in added money, while the finale will boast a $77,928 carryover.
Friday's program saw a third consecutive handle of over $3 million, with $3,132,380 in total handle representing a $397,990 increase over the corresponding Friday card in 2015.
Live racing returns Saturday (Feb. 6), with the first of 14 races due off at 6:35 p.m. Eastern time.
(With files from Meadowlands Racetrack)