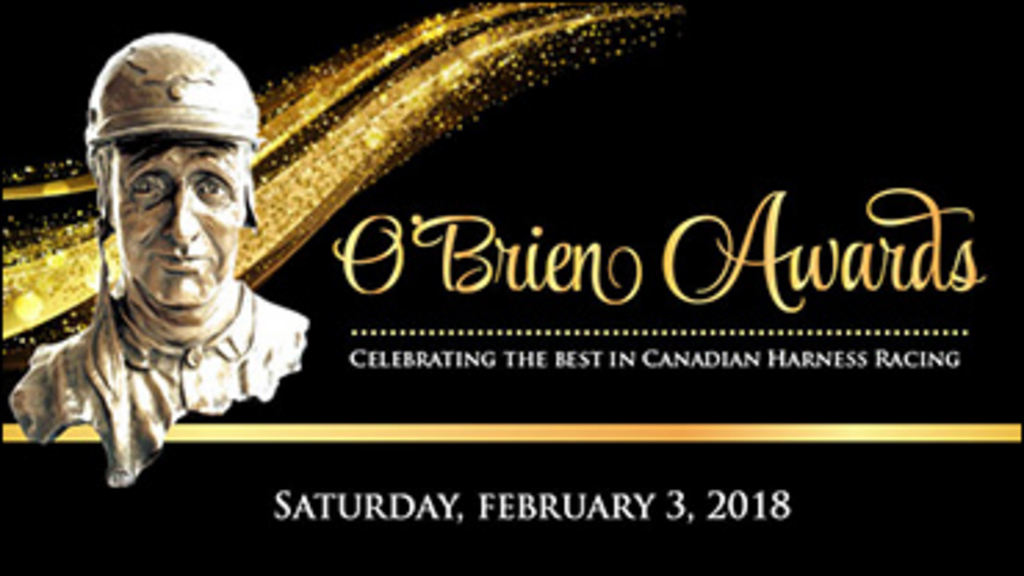 Published:
February 3, 2018 10:40 pm EST
On Saturday, February 3, Standardbred Canada announced the winners for the 2017 O'Brien Awards, at the 29th edition of the annual O'Brien Awards Black Tie Gala held at the Hilton Mississauga / Meadowvale hotel in Mississauga, Ont.
The O'Brien Awards honour Canada's best in harness racing over the past season and are named in honour of the late Joe O'Brien, an outstanding horseman and member of the Canadian Horse Racing Hall of Fame.
Richard Moreau, of Puslinch, Ont., was awarded his fifth consecutive O'Brien bronze in the Trainer of the Year category. Moreau led all Canadian trainers in the wins column with 277 victories to his credit and more than $3.7 million in pure earnings. Moreau's stable star, Sandbetweenurtoes was honoured as Older Pacing Mare of the Year.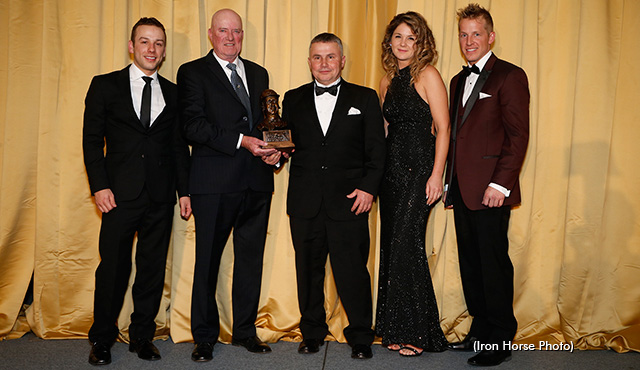 Owner Brad Grant of Milton, Ont., had a phenomenal night, taking home three O'Briens bronzes –- one each for his two-year-old pacing colt, Stay Hungry, his three-year-old pacing filly Bettors Up and his pacing mare, Sandbetweenurtoes. This was a monumental achievement for Grant who lost many horses in the tragic barn fire at Classy Lane Training Centre in January, 2016.
Al Libfeld of Pickering, Ont., and Marvin Katz of Toronto, Ont., took home two O'Briens –- one for Ariana G, voted the country's top three-year-old trotting filly and one as Breeders of the Year.
Dr. Ian Moore, a native of Prince Edward Island, and now a resident of Guelph, Ont., trains and co-owns two O'Brien winners -– Percy Bluechip, the divisional champion as Two-Year-Old Filly Pacer and Classic Pro, the Three-Year-Old Pacing Colt of the Year.
Driver Doug McNair won his first O'Brien as Canada's Driver of the Year following a career year. McNair, a resident of Guelph, Ont., was a finalist for this award in 2013. He topped the charts in earnings for drivers in Canada last year with more than $5.9 million in purse money, and $6.5 million in earnings in North America while driving 325 winners. McNair was also the regular driver for O'Brien winners Stay Hungry, Bettors Up, and Sandbetweenurtoes.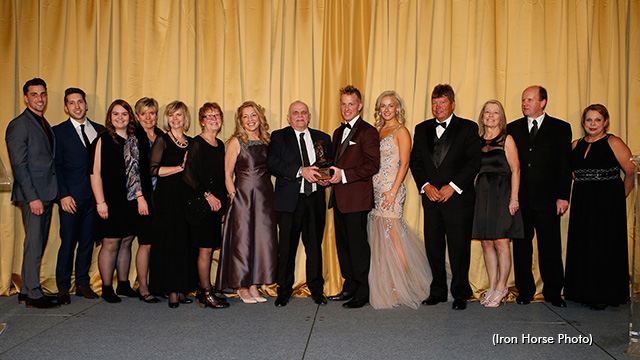 Marc Campbell of Winsloe, P.E.I. took his second O'Brien Award of Horsemanship after having a career year in 2017, which saw him top the charts for training and driving at both Red Shores properties –- Charlottetown Driving Park and Summerside. Campbell, who won this award in 2012, recorded 255 wins and more than $584,000 in purse earnings as a driver. On the training side, Campbell had 131 victories and more than $376,000 in earnings last season.
Hannelore Hanover was named Canada's Horse of the Year, and also won her second consecutive O'Brien Trophy as Older Trotting Mare. Her connections received the inaugural Somebeachsomewhere Horse of the Year Award. Hannelore Hanover won 10 of 17 races last season, over $1.1 million in purse money and scored victories against male rivals in an elimination and final of the Breeders Crown Open Trot, the Allerage, and the Maple Leaf Trot. She also swept the Armbro Flight.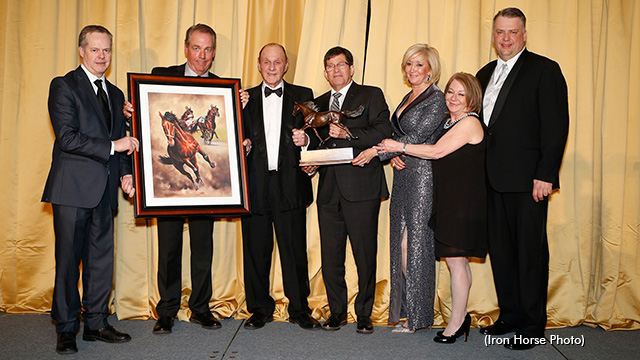 Percy Bluechip, Canada's Two-Year-Old Pacing Filly of the year is co-owned and conditioned by Dr. Ian Moore, who also managed her sire. The Shadow Play filly scored five wins in nine races on the season and racked up more than $440,000 in earnings. In addition to four wins in Ontario Sires Stakes events, including the season-ending Super Final. The talented filly also posted a wire-to-wire victory in the Eternal Camnation at Mohawk Racetrack.
Stay Hungry, a son of Somebeachsomewhere won the two-year-old pacing colt division. Last season he won six of nine races and bankrolled more than $557,000 during a season that saw him score wins in a Champlain Stakes division, and an elimination of the Metro at Mohawk Racetrack. His crowning moment came in a sweep of the Breeders Crown at Hoosier Park where he took a nose victory in his elimination and came back one week later to score a neck victory in the final.
The title of Three-Year-Old Pacing Filly of the Year went to Bettors Up. The daughter of Bettors Delight put together an outstanding season, finishing first or second in ten of her 17 races while adding more than a half million dollars to her bankroll. She scored a career best 1:49.4 effort at Mohawk Racetrack in the Fan Hanover Final.
Classic Pro was the winner in the three-year-old pacing colt division. Trained and co-owned by Dr. Ian Moore, Classic Pro won four of 14 starts and earned more than $293,000 on the season. Two of those wins were in Ontario Sires Stakes events and one of those gave the Shadow Play colt his mark of 1:51.
Older Pacing Mare honours went to Sandbetweenurtoes. The daughter of Somebeachsomewhere was a model of consistency, hitting the board in 24 of her 30 starts and earning in excess of $243,000, while primarily competing in the Fillies and Mares Preferred races at Mohawk and Woodbine Racetracks.
Sintra took Older Pacing Horse honours following a productive season where he won nine of 19 races and more than $617,000. The son of Mach Three captured Canada's oldest harness stakes event, The Canadian Pacing Derby at Mohawk Racetrack, to take home the lion's share of the $615,000 purse. He also won a leg and the final of the Graduate Series.
The outstanding trotting filly Kadabra Queen was the Two-Year-Old Trotting Filly champion. The Kadabra filly won five of 10 races and more than $328,000 on the season. All five of her victories were in the Ontario Sires Stakes, including a win in the season-ending Ontario Sires Stakes Super Final at Mohawk Racetrack, her final start of the season.
In the two-year-old trotting colt division, the winner was Alarm Detector. The Chapter Seven colt was almost perfect in his debut season, winning six of seven races and $276,000. Stakes victories included the Define The World and an elimination and final of the William Wellwood Memorial.
Ariana G won her second consecutive O'Brien trophy, this time as Canada's Three-Year-Old Trotting Filly of the Year. The Muscle Hill filly won 12 of 15 races during her million-dollar season. Her major victories included the Breeders Crown, Elegantimage, the Simcoe, the Hambletonian Oaks, the Delvin Miller Memorial and the New Jersey Sire Stakes final.
International Moni took the three-year-old trotting colt division after winning nine of 15 races and $620,000 in 2017. His victories included the Carl Erskine Memorial, a Breeders Crown elimination, a Kentucky Futurity elimination, the Bluegrass, a division of the Simcoe, an elimination of the Hambletonian and a sweep of the Goodtimes.
The durable Odds On Amethyst, was voted Older Trotting Horse of the Year. The son of Muscle Hill, scored 11 wins and more than $232,000 in earnings, primarily competing in the preferred and free-for-all trotting ranks.
In the Armstrong Breeder of the Year category, partners Marvin Katz of Toronto, Ont., and Al Libfeld, of Pickering, Ont., collected their third consecutive O'Brien trophy. The Katz-Libfeld partnership has evolved into one of harness racing's most respected breeding enterprises. From the ten horses bred by this partnership and that raced in 2017, there were 27 wins and earnings of more than $1.5 million. Their top horse was O'Brien finalist Ariana G, a winner of more than $1.1 million.
Brett MacDonald of Manotick, Ont., was named Future Star winner. In only his third season of full time driving, MacDonald posted some very impressive numbers, driving 114 winners and horses to more than $616,000 in purse money. The 21-year-old competes regularly at Rideau Carleton Raceway.
Chantel Gillis, 22, of Truro, Nova Scotia was presented with the Outstanding Groom Award.
Standardbred Canada also presented three Media Excellence Awards at the Gala, to recognize and honour exceptional work in covering Canadian harness racing.
A complete list of the winners and their respective owners follows.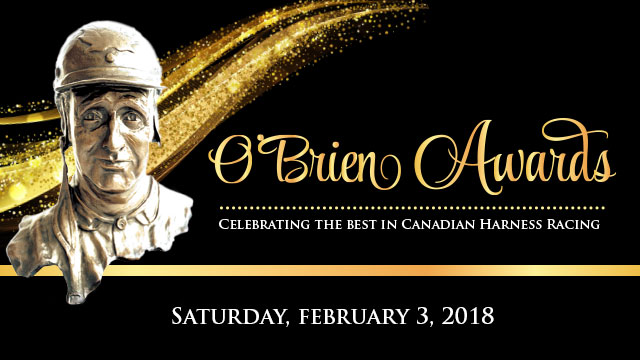 ---
2017 O'BRIEN AWARD WINNERS
PACERS
---
TWO-YEAR-OLD FILLY PACER
Percy Bluechip
Owned by Shadow Two Stable, Puslinch, ON; James & Wilma MacKenzie, Ennismore, ON; Hudson Standrdbrd Stb Inc., Hudson, QC
---
TWO-YEAR-OLD COLT PACER
Stay Hungry
Owned by Brad Grant, Milton, ON; Irwin Samelman, Las Vegas, NV
---
THREE-YEAR-OLD FILLY PACER
Bettors Up
Owned by Brad Grant & Teresa Davidson, Milton, ON; Michelle McEneny, Waterdown, ON
---
THREE-YEAR-OLD COLT PACER
Classic Pro
Owned by Dr. Ian Moore, Puslinch, ON; R G McGroup Ltd., Bathurst, NB; Serge Savard, St Bruno, QC
---
OLDER PACING MARE
Sandbetweenurtoes
Owned by Brad Grant, Milton, ON
---
OLDER PACING HORSE
Sintra
Owned by Brad Gray, Dundas, ON; Michael Guerriero, Brampton, ON; Menary Racing Inc., Rockton, ON
---
TROTTERS
---
TWO-YEAR-OLD FILLY TROTTER
Kadabra Queen
Owned by Harness Horsepower Inc., Campbellville, ON; Frank Monte, Markham, ON
---
TWO-YEAR-OLD COLT TROTTER
Alarm Detector
Owned by Thomas Rankin & Elizabeth Rankin, St Catharines, ON; Claude Hamel, Ayer's Cliff, QC; Santo Vena, Brampton, ON
---
THREE-YEAR-OLD FILLY TROTTER
Ariana G
Owned by Marvin Katz, Toronto, ON & Al Libfeld, Pickering, ON
---
THREE-YEAR-OLD COLT TROTTER
International Moni
Owned by Moni Maker Stable, Enfield, CT
---
OLDER TROTTING MARE & HORSE OF THE YEAR
Hannelore Hanover
Owned by Burke Racing Stable LLC, Fredericktown, PA; Weaver Bruscemi LLC, Canonsburg, PA; Frank Baldachino, Clarksburg, NJ; J And T Silva Stables LLC, Long Beach, NY
---
OLDER TROTTING HORSE
Odds On Amethyst
Owned by William Cripps, Acton, ON; Charles Gazzola, Waterloo, ON; Pat Hudon, Rockwood, ON; Adam Kean, Rockwood, ON
---
PEOPLE AWARDS
---
O'BRIEN AWARD OF HORSEMANSHIP
Marc Campbell, Winsloe, PE
---
ARMSTRONG BREEDER OF THE YEAR
Marvin Katz, Toronto, ON / Al Libfeld, Pickering, ON
---
DRIVER OF THE YEAR
Doug McNair, Guelph, ON
---
TRAINER OF THE YEAR
Richard Moreau, Puslinch, ON
---
FUTURE STAR AWARD
Brett MacDonald, Embrun, ON
---
ADDITIONAL AWARDS
---
OUTSTANDING GROOM AWARD
Chantel Gillis, 22, Truro, NS
---
MEDIA EXCELLENCE AWARDS
Outstanding Written Work – Dave Briggs for End of An Era
Outstanding Broadcast – Woodbine Entertainment Group for Hope and Resilience
Outstanding Photography – Kyle Burton for his photo Dusty Lane Appearance
---