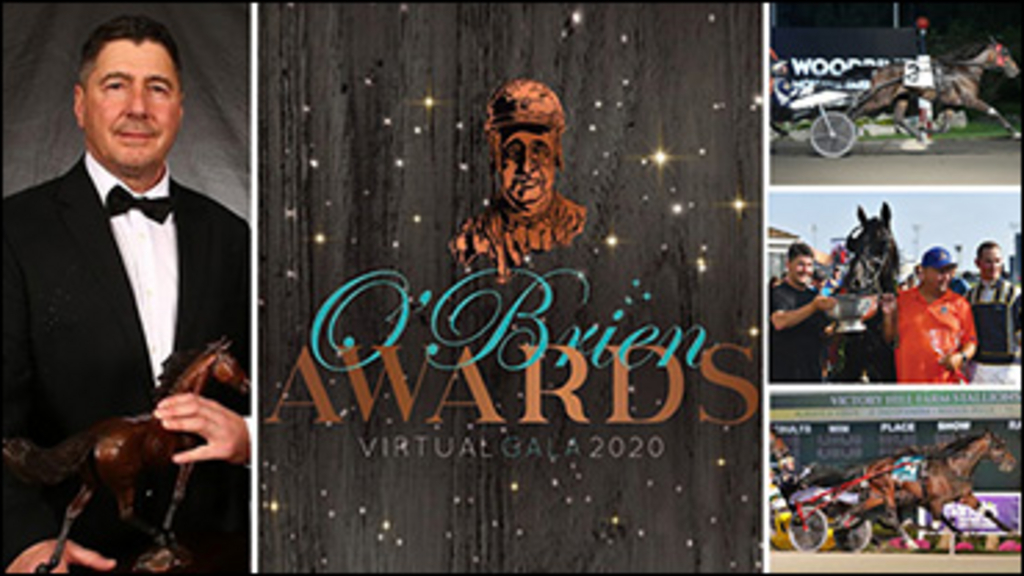 Published:
February 26, 2021 10:56 am EST

With two of his rising sophomores coming back from O'Brien Award-winning campaigns and a Hambletonian champion likewise poised to return, trainer Luc Blais has high hopes for his trotting stable in the upcoming 2021 season.
Blais, whose trainees Donna Soprano and On A Streak were recognized as Canada's top two-year-old female and male trotter at last month's virtual O'Brien Awards gala, hasn't wasted any time at all getting his stable stars primed for their respective three-year-old campaigns:
"I started them the first of February," Blais told Trot Insider. "I've gone with those — On A Streak, Macho [Martini] and Donna Soprano. They've come back very well from the little rest they got. They're growing, they're more mature, and you can see on the track that they stepped up from last year."
While success at two isn't an instant recipe for the same at three, Blais feels that the talented youngsters in his barn — also including the aforementioned Macho Martini, who was nominated alongside On A Streak for divisional O'Brien consideration — have matured amply during their short winter respite.
"Two-year-olds sometimes, when you've got the right horse — I don't want to say it's easy — but, if you got a mature horse at two, you can beat some," the Québécois trainer now based in Campbellville, Ont., explained. "But at three, you have to step up very high now. Physically, they're growing and feeling good and are very sound, feeling good on the track. I'm very pleased with the way they've come back."
Blais' trio of star three-year-olds have high expectations to maintain in 2021: Donna Soprano opened her career with a five-race win streak capped by a 1:53.3 score in the Peaceful Way, and then finished a game second to Venerate in the inaugural Mohawk Million.
On A Streak only won twice in 10 starts as a rookie, but he struck gold where it counted — in the William Wellwood Memorial and the Breeders Crown.
And, not to be outdone by either of his two O'Brien-winning stablemates, Macho Martini won eight of 11 starts as a juvenile, primarily on the Ontario Sires Stakes Gold circuit. Grand Circuit events — on both sides of the 49th parallel — are the target for all three of them this year, and Blais believes they've duly earned their places among North America's best and brightest.
"I think the way they showed last year, they pushed us to put them in the Grand Circuit," he said. "And the way they finished the season — maybe [with] Donna, she was a little tired at the end, but 'Streak' and 'Macho' were strong at the end and have come back good right now. I think we're going to race in the Grand Circuit.... I think the Goodtimes is the first Grand Circuit race; that's the plan for now."
Granted, Donna Soprano, On A Streak and Macho Martini made major names for themselves last year, but Blais wouldn't be surprised if one of his other 11 three-year-olds in training emerges as a major force despite only racing twice as a rookie:
"I raced a horse two starts last year, and he showed lots of things. A Muscle Hill — Mycrownmykingdom — he showed lots of talent. And he was a June 5 colt — was a bigger colt. I always liked him, but I gave him two starts and turned him out right away."
A brother to the great Bee A Magician and a $450,000 yearling Mycrownmykingdom failed to threaten in either of his August starts last year, but Blais is pointing him to an early start this season to help him get up to speed — should he fulfill his potential.
"He looks really good right now," Blais continued. "He's going to be ready before — I'm starting earlier with him to give him a few starts before the stakes start. He's a nice-looking horse. He's strong, big. Last year, he showed some talent. We'll see. He's got everything — the pedigree, the size. And a very good attitude, too."
In all, Blais has 33 horses in training — 14 two-year-olds, 14 three-year-olds, and a handful of older competitors, including 2019 Hambletonian winner Forbidden Trade, who is poised to return to the races after an abbreviated 2020 campaign. After considering test breeding the son of Kadabra this season, Blais and owner Determination opted to keep the millionaire trotter's focus solely on racing in 2021.
"He just started about a month ago, and he looks very good right now," Blais said. "I just hope he stays sound; he looks very sound. We gave him time to recover, and we're going to give him a chance. But he looks really good — looks really healthy, and I'm very pleased with him."
Young or old, Grand Circuit star or overnight warrior — one commonality stands out in every horse that races for the tandem of Determination and Blais: patience. And that patience has has enabled every horse in the care to achieve their absolute best.
"You can't push when they're not right," Blais explained. "Sometimes when you do that, they start to hurt themselves and change their attitudes and may never be the same. I don't know, that's the way I think. And I believe that, too. I played sports, and when you're young, you have no fear, but when you start to hurt, it's a different game. I think the horse is the same thing. But that's good to have Serge [Godin] understand that. And I think that's good, because a late bloomer can make a good horse too. Like you say, we've got nice pedigree and nice conformation, and sometimes they just need a little bit more time developing. We take them like individuals. Every horse is different — we try to give them a chance."