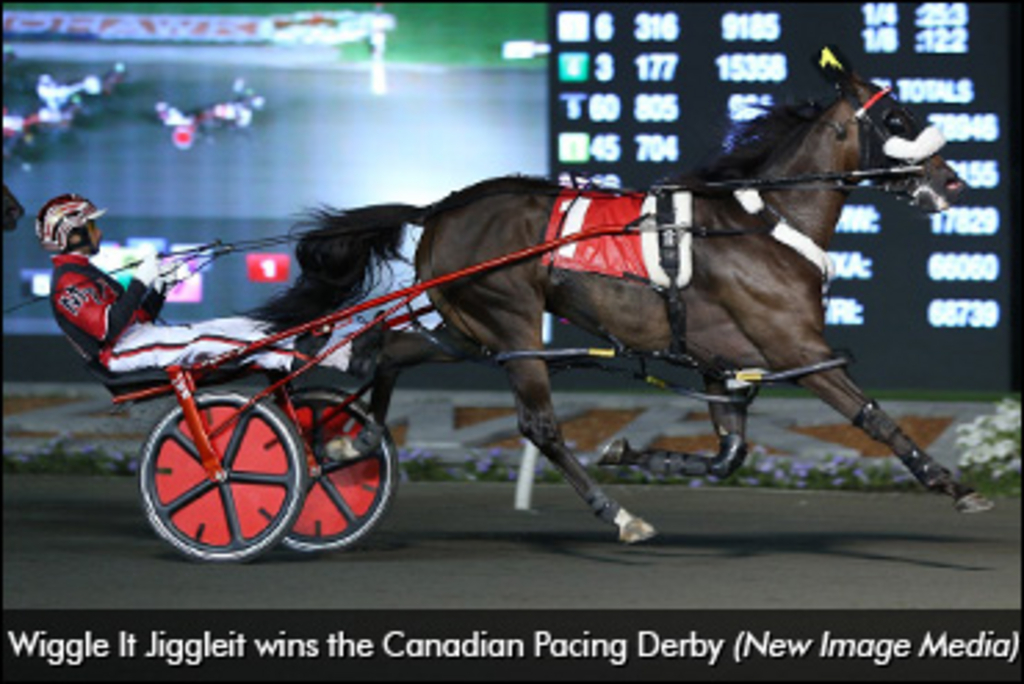 Published:
February 17, 2017 09:59 am EST
The harness racing industry has a well-documented and much-debated struggle with keeping its stars on the racetrack. So when one of the biggest Standardbred stars in recent memory takes time off, some start to worry. Some start to wonder if there's another reason for the hiatus.
Is Wiggle It Jiggleit injured? Will he race in 2017? Why is he not racing now?
Thankfully for harness racing, the owner of the pacing powerhouse is one of the most good-natured individuals one can encounter. And he takes all the speculation in stride.
"The expectations on him have always been huge, ever since that one start as a two-year-old and [he] came back as a three-year-old early. And rightly so," owner George Teague told Trot Insider this week. "I don't take it as anything other than a compliment to the horse's achievements over the years that people are so intrigued and interested in seeing him race. They really do miss him when he isn't racing."
Rest assured -- or for owners of older pacers, be warned -- Wiggle It Jiggleit is returning. He came back into the barn to start training for his five-year-old campaign this past Monday (Feb. 13). The popular son of Mr Wiggles last raced in the 2016 Breeders Crown in one of his many thrilling slugfests with archrival Always B Miki.
Wiggle It Jiggleit was set to avenge that loss in the TVG Final but wasn't entered due to a foot bruise and sickness. That minor injury likely stoked the fires of rumour when Wiggle It Jiggleit didn't start training back while others in his division were either racing or starting to prep. According to Teague, the plan was always to give the horse some much-deserved time off.
"That was always my plan; nothing more than that the horse had very little rest," said Teague. "By my calculations, I think he's had about three months worth of rest in two years. You can't dance every dance...I'd like to see the horse race four or five years. I'm not going to say it's going to happen, you never can tell."
Many in the industry had already planned Wiggle It Jiggleit's 2017 season for him, and they had him pointed to the George Morton Levy Series. Because of course, that's where he raced in 2016...so why change? And Teague often remarked that the horse loves his work, so why rest him?
The other side of that argument, as Teague acknowledges, these horses aren't machines. And while Wiggle It Jiggleit seemingly competes with robotic consistency and precision, his workload for a racehorse in the 21st century is nearly unprecedented, averaging 25 starts with Grand Circuit travel over the last two years.
"People act surprised and question that I'm not racing him now and I'm like 'this horse raced more than any three-year-old, and he raced as much as any four-year-old, and better than any three- and four-year-old I've seen in recent years'," stated Teague, "and everybody says 'there's something wrong with him' and I'm like 'if there is, I haven't noticed. The horse hasn't had a pimple in the last few months. If there's something wrong, I haven't seen it."
With the Levy not on Teague's radar, and a large gap in the schedule between the Levy and the next major event -- the 2017 Ben Franklin at Mohegan Sun Pocono -- Wiggle It Jiggleit will prepare for his five-year-old campaign with a reduced workload of races. Teague is fully aware the target will be on his back just as much if not more so than last year, and he'll need his stable star at his best come showtime.
"Starting him back is not like starting any other horse; these kinds of horses you want ready before they even hit the track because they've got to be. There's no partially-ready, you have to be ready."
The plan is to be ready for the Ben Franklin. Eliminations for that race are slated for June 24 at Pocono.
"I always planned on missing the Battle of Lake Erie (set for June 3 at Northfield) and going to [Pocono], and then just start him up from there, see what we do and end with the TVG."
A lighter schedule and later start date might not sit well with some in the industry but Teague is quick to point out how fortunate he is -- in this instance -- that he only has to answer to himself and the horse.
"That's the privilege of ownership though, man. Other than the partnership we developed with Jimmy Bernstein, nobody interferes with what I want to do," said Teague. "My total obligation is to the horse -- it's always been that way. He's always told me what he wanted to do, and it's been pretty simple to read him."
Teague is hopeful to get a start or two into Wiggle It Jiggleit prior to the Franklin but did state that the plan is for the Franklin to be his first 2017 stakes event. He was third in that race in 2016, another Race of the Year calibre effort from those involved.
Though the Franklin eluded him, Wiggle It Jiggleit's seasonal successes in 2016 outweighed his losses. The four-year-old never missed the board in 24 starts -- putting up a summary of 15-7-2 -- and banked $1.816 million to top the North American earnings charts. His efforts garnered him favour among O'Brien Award voters, who named him Canada's Older Pacing Horse of the Year.
"His greatness comes in more than just one aspect," observed Teague, who has seen his share of great horses. "His endurance is uncanny, his toughness is uncanny, his ability to rebound within six or seven days of shipping across the country and racing again is very uncanny, and the best part about him is that the horse has never thrown in a clunker. And that just doesn't happen. He's just an amazing, amazing horse."
Teague regretfully was not in attendance to accept the O'Brien Award as he had already planned a vacation with his family prior to the finalists' announcement in December.
"I always tell everybody, I've been to quite a few awards banquets and you guys up in Canada, you do it topnotch. It's a shame we had already planned a cruise a while back so we couldn't make it.
"It's a great achievement. When he won the Canadian Pacing Derby and beat Always B Miki that was a hell of an achievement. He was awfully good that night."
Throughout the past two years, Teague and his management team of trainer Clyde Francis and driver-son Montrell Teague have done an immaculate job of ensuring Wiggle It Jiggleit has been awfully good more times than not. His breeder-owner, however, defers the overwhelming majority of credit for that success over to the equine athlete.
"Great horses come, and I'm just lucky to breed him. I had the mom and the dad, and that's a triple-fun ride for me. But you still have to manage them. You don't want to just sit there and waste races, you don't want to sit there and waste time, you don't want to take chances...I want to make every race count for maximizing his career and still hopefully hold him up to the great status that he's been catapulted up to."