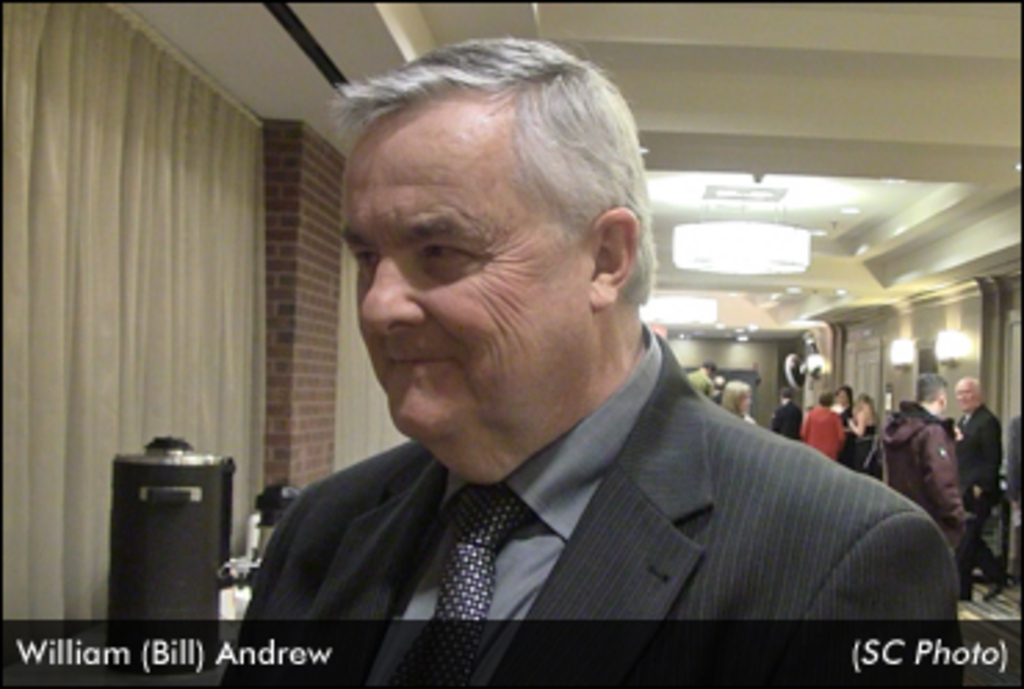 Published:
February 16, 2016 08:03 pm EST
This past weekend, the prestigious Cam Fella Award was presented for the first time since 2010 to William (Bill) Andrew in honour of his dedication and meritorious service to the Canadian harness racing industry.
"It's just an honour to win it. It's good to be recognized by progressive people in racing," Andrew told Trot Insider at Saturday's Black Tie Gala, adding, "It's not really me, I had a lot of help."
Andrew has coordinated charity stables Fun For Fans, Hurrah For Charity and most recently Cheering For Charity in Alberta, Prince Edward Island and Nova Scotia, where the purse earnings from his horses benefitted local charities and brought newcomers out to the races. He also donated the money from two yearlings he sold last year to local charities and provided financial support to the 2015 Atlantic Sires Stakes trotting events and the Matinee Racetrack Development Program in P.E.I.
The most rewarding part of the community outreach and charity programs for Andrew is introducing the next generation of fans to harness racing.
"It's seeing the kids out," he said. "We do the Boys and Girls Club and we do the 4-H. Seeing the kids out, that's the next generation."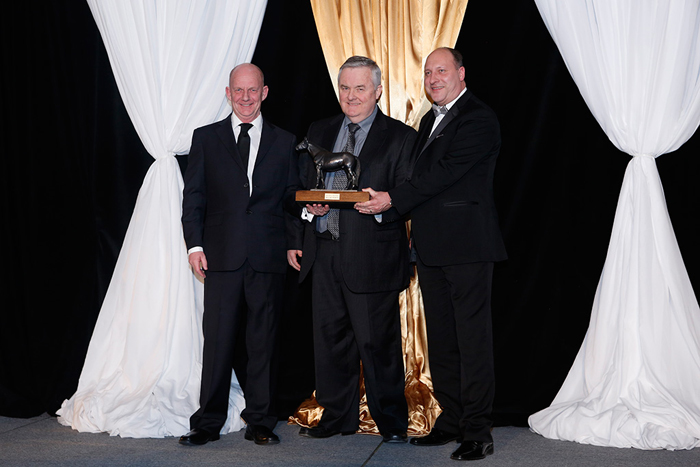 Making the presentation to Cam Fella Award winner Bill Andrew are: Fred Gillis, Executive Director of the Alberta Standardbred Horse Association (left) & Lee Drake, Manager of Marketing, Brands and PlayWise for Red Shores Racetrack and Casino, Charlottetown & Summerside locations (right).
Andrew's two breeding operations, based in the provinces of Alberta and Prince Edward Island, also enjoyed success earning his Meridian Farms runner-up honours in the Armstrong Breeder of the Year category at the national harness racing banquet. Not only was he the leading breeder in both provinces, but he also cracked the top 15 breeders in North America for earnings for the first time in 2015 with over $1.4 million. His highlights from the year span both provinces.
"I had two three-year-old colt pacers winning the championship in both provinces, which was exceptional," said Andrew, referring to Alberta Super Final winner Cool Cowboy and Atlantic Breeders Crown champion Dixieland Band. "It was a big year for us."
With racing returning to the new Century Downs Racetrack and Casino this past weekend for its second season, Andrew remains optimist about the future of racing in the province and says he plans to continue his community outreach and charity initiatives this year.
"I hope we can keep them going," said Andrew. "We're having a bit of a tough time in Alberta, but we hope we can recover [and keep everything going].
"I love the new track, I think the future of racing is bright," he added. "There's still some uncertainty in Northlands, but we'll work our way around it."