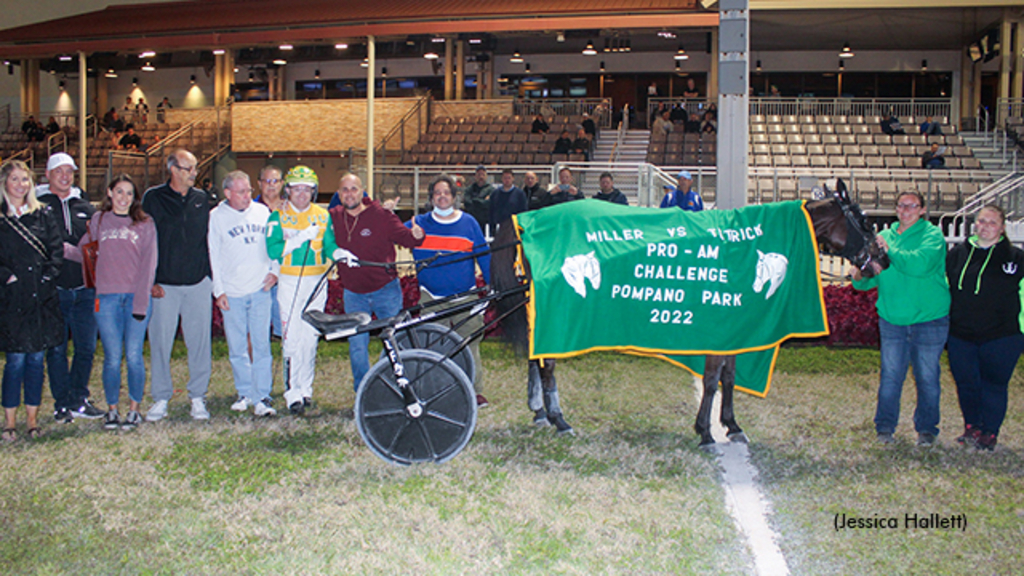 Published:
February 15, 2022 01:33 pm EST
The annual Pro-Am event between teams led by Hall of Fame drivers Tim Tetrick and David Miller, sponsored by the Florida Amateur Driving Club, took place Monday (Feb. 14) at Pompano Park with the Tetrick team winning the hotly contested, point-based competition in a photo finish by a "nose" -- 65 to 64.
The three-race event, benefitting Tetrick's charity, New Vocations, and Miller's Make-A-Wish Foundation, was decided in the final strides of the final race when Tetrick, himself, rallied Little Big Rigs to victory to set up the come-from-behind win.
In the first of the trio of Pro-Am events, the Team Tetrick's Steve Oldford got the jump when he guided his own trotting gelding A Royal Line ($14.60), trained by Maurice Goldschmidt Jr., to a photo finish win in 1:59.1 -- his margin a neck over Keystone Blade (Joe Pennacchio for Team Miller) with Shoshie Deo (Kevin Banting for Team Tetrick) just another nose back in third. Team Miller occupied the next four spots in the order of finish (Miller finishing sixth with the favourite) and, after round one, Team Miller had a 27-24 lead in the point standings.
In round two, it was Miller rallying with trainer Kelly Walker's Encore Encore trotter Dont Sass Me ($8.80) to score a one-length win over Swan Before All (Ron Cusimano for Team Miller) with Celebrity Serena (Tim Tetrick) next. Tetrick's team provided more point power with fourth and fifth place finishes to close the gap and, after round two, Team Miller had an extended lead of 55-47.
Going into the final round, Tetrick's team faced the challenge of having to finish one-two to have any chance to win the hotly contested battle with the outcome having to be determined with the complete official order of finish.
Tetrick took things into his own golden gloves giving the Chet Poole Jr.-trained, Johanna Calvert-owned Little Big Rigs to a 1:58.4 score over Mr Houdini (Jamie Marra for Team Tetrick). Miller finished third with Chav Hanover, with Muskingum finishing fourth making the final outcome determined on the next two finishers.
While the final tally was 65-64, New Vocations and Make-A-Wish finished in a "dead-heat" of their own with each receiving $5,000 for their very worthy causes.
The U.S. Trotting Association's Mike Tanner was in attendance for this event and added to the festivities with presence an $500 to each of the donations.
"This was something special to witness and shows what our great sport can do for charitable causes on a local, regional and national level," said Tanner after the final round. "I applaud the Florida Amateur Driving Club for their continuing effort benefiting these great organizations with their generosity!"
Representatives for both New Vocations and Make-A-Wish graced the winner's circle.
"This event is such a blessing for us and helps relocate so many horses when their racing days are over," said New Vocations' Winnie Nemeth. "We appreciate the amateur drivers so much and thank Mr. Tetrick for his help and generosity and caring for our efforts to protect our wonderful equine athletes."
In response, Tetrick said, "These horses give us everything they've got on the racetrack and it does my heart good to know that organizations like New Vocations are around to look out for their well being after their racing days are over!"
As for Make-A-Wish, Developmental Manager Kevin Fantis related, "Mr. Miller just made another youngster's wish come true. We make a wish come true for youngsters every 14 hours and it's so great that people like him step up and care enough about the children less fortunate to make another wish fulfilled."
After the event, Tetrick and Miller stayed in the winner's circle to autograph hats in celebration of this event.
The Florida Amateur Driving Club (FADC) has now donated more than $230,000 to worthwhile causes since its inception, made possible by the generosity of the entire membership donating all of their driving in FADC to their statement cause.
More FADC events are scheduled in the near future, including an event luring horsemen and women from overseas and an event between some of the greatest veteran drivers and the "future stars" of the sport.
Sooo Handsome, Rebellious Triumph In Opens
With Rick Plano's Toys For You asked to step aside for a week, Plano thought, "Well, maybe you can keep him down for a week, but you can't keep the whole stable down for a week."
Plano proved the point on Monday night in the $14,200 Open Handicap Trot by sending his two other big guns -- Sooo Handsome and Flagman -- winding up with a win and a third.
Very adequately subbing for Toys For You, Sooo Handsome used a ferocious late rally from last to win that feature for trotters in 1:55.1, exceptional considering the cool and windy conditions.
The nine-year-old gelded son of Cash Hall roared home in :28.2 to pin a one-length defeat on Max (David Miller) with another member of the Plano Stable, Flagman (Ricky Macomber Jr.), third, just another length away. Celebrity Pegasus, closing with alacrity, finished fourth after being last at the stretch call while Star Track Hanover picked up the nickel in a talented sextet.
At the outset, Max was alert off the wings with Four Wheelin (both at 3-2 odds) also on the prowl with the latter reaching the top at the opening marker in :27.2.
The leader was able to get a second quarter breather, breaking the half-mile beam in :57.1, before things began to accelerate on the backside with Max out to challenge at the third station in 1:26.
Four Wheelin and Max were at war until Max took charge, only to succumb to the surging Sooo Handsome a sixteenth out.
In a post race interview, Plano said, "There's an old saying, 'You can't keep a good man down,' and that might also apply to a good stable. Sooo Handsome might be a shade below 'Toys' but, since I have changed strategy with him racing off the pace, he's done right well for himself."
Trained by Plano for owner/wife Maryann, Sooo Handsome picked up his third win of the year and 49th lifetime, vaulting his 2022 earnings to $22,242 and lifetime bankroll to $422,130. Off at fourth choice at 9-2, Sooo Handsome paid $11.40 to win off of a 3-1 morning line.
The companion $14,200 Open Handicap Pace went to Rebellious, confidently handled by Wally Hennessey.
The eight-year-old altered son of Mach Three, assigned the six post in the septet, was dismissed at odds of 7-1 off of a 7-2 morning line and, once on top, was never seriously threatened in scoring a 1:51.1 decision over Maxdaddy Blue Chip (Plano) with Cinnamon Beach (Patrizio Ancora) third. Favoured Seeing Eye Single finished fourth while Actor Hanover earned the final award.
After Maxdaddy Blue Chip brushed an opening quarter in a brisk :26.3, Rebellious took over and carded subsequent panels of :55 and 1:22.4 before a :28.2 finale easily sealed the deal.
After the race, Hennessey said, "All I did tonight was steer. This horse is just amazing when it comes to his stamina and credit goes to Mike (trainer Deters) for getting him ready to perform at the top week after week. All I did was give him a chance to win and he did the rest."
The win was number 57 lifetime for Rebellious, sending his career bounty to $456,167 for trainer Mike Deters, who co-owns with Joel Warner.
Rebelious paid $17.20 to win.
Racing continues on Tuesday with a 13-race extravaganza with two popular Pick-4 offerings with $15,000 guaranteed pools and industry low 12 per cent takeout. Post time is set for 7:20 p.m.
 
(With files from FADC and Pompano Park)