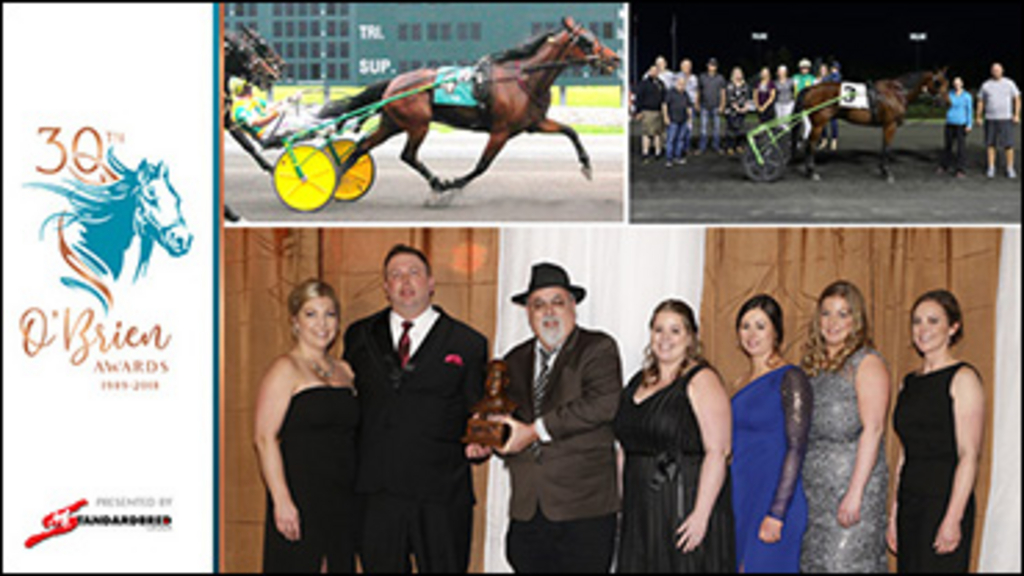 Published:
February 13, 2019 07:47 pm EST
In the first part of this decade, Jeff Gillis made what seemed to be routine appearances at the O'Brien Awards. And the horseman wasn't just a seat-filler; he was on stage and accepting awards for Canada's Trainer of the Year or picking up awards with older trotting champions.
Then there was a stretch where Gillis wasn't at the awards. Ask any competitor: once you've been to the mountaintop, that lull between visits -- in the case of Gillis, a five-year lull -- can feel like an eternity. The smile on the trainer's face after the 2018 O'Brien Awards, where he received Older Trotting Horse honours with Will Take Charge, revealed both joy and relief.
"It feels fantastic really. It's something that seemed like a regular thing for us for awhile. But it's been five years since I've been here and you start to appreciate how difficult it is [to win]."
Will Take Charge (Kadabra - Celebrity Angel) won nine races and more than $492,000 in 2018 for Gillis and co-owner Mac Nichol, eclipsing one million dollars in career earnings. He scored major victories in the Maxie Lee Memorial Invitation and the Crawford Farms Open Trot.
Gillis was most impressed with that win in the Maxie Lee, a lifetime best 1:50.3 score which went down as new track record for older gelded trotters. The performance also equalled the world record for an aged trotting gelding on a five-eighths-mile track, a mark previously held solely by Sevruga by virtue of his win at Mohegan Sun Pocono in 2013.
"It was a really strong field that day and he did it the hard way. Until that point he never had to come first up and, certainly against that bunch, I was very proud."
For the full interview, with Gillis discussing how came to obtain Will Take Charge, watch the video below.
This is the tenth in a series of post-event video interviews with O'Brien Award finalists, sponsored by Horse Racing Alberta.
On Saturday, Feb. 2, Standardbred Canada announced the winners for the 2018 O'Brien Awards at the 30th edition of the annual O'Brien Awards Black Tie Gala, held at the Hilton Mississauga / Meadowvale hotel in Mississauga, Ont. The O'Brien Awards honour Canada's best in harness racing over the past season and are named in honour of the late Joe O'Brien, an outstanding horseman and member of the Canadian Horse Racing Hall of Fame. To view the full list of 2018 O'Brien Award winners, click here.