Published:
February 1, 2020 10:43 pm EST
On Saturday, February 1, Standardbred Canada announced the winners for the 2019 O'Brien Award at the 31st edition of the annual O'Brien Awards Black Tie Gala held at the Hilton Mississauga / Meadowvale hotel in Mississauga, Ont. The O'Brien Awards honour Canada's best in harness racing over the past season and are named in honour of the late Joe O'Brien, an outstanding horseman and member of the Canadian Horse Racing Hall of Fame.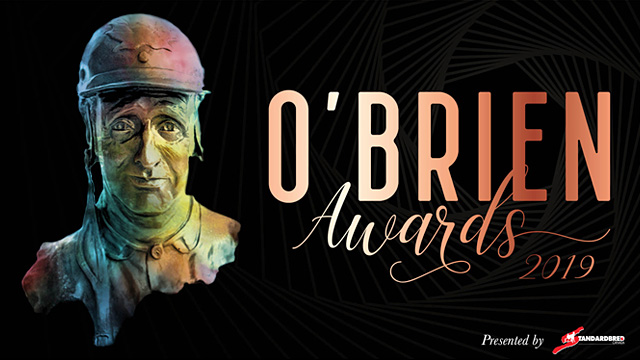 Richard Moreau of Puslinch, Ont., took home an unprecedented seventh consecutive title as Canada's Trainer of the Year.  Campbellville-based trainer Luc Blais, the runner-up in that category, had a major coup as his trainee Forbidden Trade took divisional honours in the Three-Year-Old Trotting Colt category as well as the most coveted award of the evening, the Somebeachsomewhere Horse of the Year.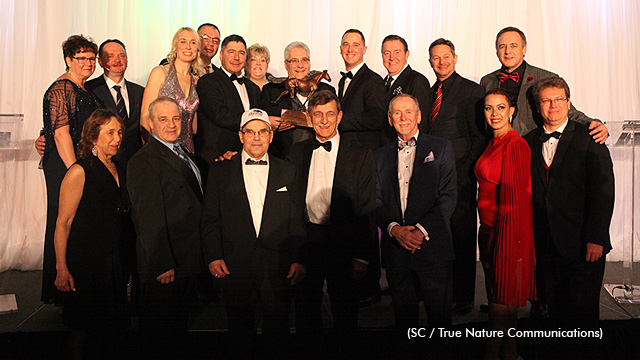 Louis-Philippe Roy of Guelph, Ont., won his second consecutive title as Driver of the Year, while Gilles Barrieau of Saint John, New Brunswick, was honoured with the O'Brien Award of Horsemanship.  The partnership of Al Libfeld & Marvin Katz was recognized as the top Canadian breeders with the Armstrong Breeder of the Year Award.
Last year, Richard Moreau trained 285 winners and trained horses to more than $4.5 million in earnings. He topped the trainer standings in earnings and wins in Canada, and at Woodbine Mohawk Park. He trained O'Brien finalist Double A Mint and the talented older pacing horse Jimmy Freight, a winner of more than $436,000.  One of Jimmy Freight's top performances last year was his Gold Cup victory on June 15 at Woodbine Mohawk Park.  Other top performers from the Moreau Stable included top pacing mare Sandbetweenurtoes, a winner of more than $127,000, older trotter B Yoyo, a winner of more than $197,000 and two-year-old pacing colt YS Mathis, a winner of more than $256,000.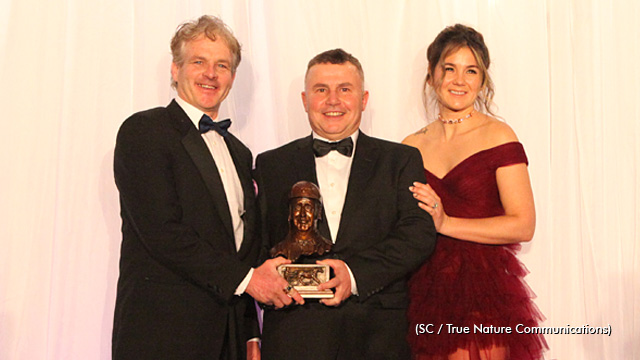 Moreau has surpassed $2 million in purse earnings for the past 10 consecutive years and banked more than $1 million for 20 consecutive years.
Five years ago, Louis-Philippe Roy was driving at the Quebec Fairs and his ascent up the driving ranks is almost unprecedented as the native of Mont-Joli, Que. won his second consecutive Driver of the Year trophy.  Roy's win was the result of another stellar year that included 293 wins and more than $6.2 million in purse earnings, which put him second best in the country. He's surpassed $5 million in earnings for the past three seasons and for the past three years he's shared his good fortune by donating a full card's earnings to a food bank in his hometown. Roy was the regular driver for two O'Brien Award winners -- two-year-old pacing filly Alicorn and two-year-old trotting colt HP Royal Theo.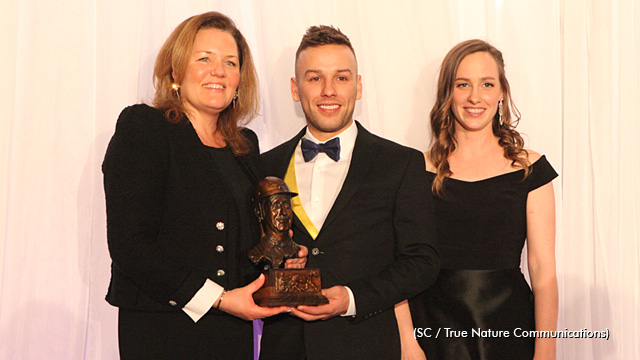 The partnership of Al Libfeld & Marvin Katz has evolved into one of the harness racing's most respected breeding enterprises and they continue to be at or near the top of the charts for Canadian breeders. The 2019 season  was no exception and for the fourth time in the past five years, they were recognized for their continuing contributions with the Armstrong Breeder of the Year Award.  
In 2019, horses bred by Libfeld-Katz won 39 races and earned more than $2 million in purses.  These 14 starters, which included millionaire Greenshoe, Soul Strong, O Narutac Perfetto and Bautista, averaged more than $148,000 in earnings per starter.  The sale of the sport's first million-dollar yearling, Maverick, a Father Patrick full-brother to Greenshoe, was another major breeding accomplishment for the Libfeld-Katz partnership. Horses they have owned and bred have accounted for victories in the Hambletonian, Kentucky Futurity, Canadian Trotting Classic and other world-class events. Libfeld & Katz were also the presenting sponsors of the 2019 Breeders Crown Championships at Woodbine Mohawk Park, and initiated the Breeders Crown Charity Challenge which raised more than $200,000 for area charities.
Gilles Barrieau took home the O'Brien bronze for the O'Brien Award of Horsemanship.  Barrieau is annually one of the top percentage drivers in the country and the Saint John, New Brunswick native posted a 0.401 UDRS in 2019 while competing regularly on the Red Shores circuit.  The veteran horseman, who also won this award in 2005, finished second in the driver standings for both wins and earnings at Red Shores Charlottetown & Summerside venues last year and ended his season with 151 victories and more than $435,000 in earnings.  In addition to catch driving, Barrieau continues to train a modest-sized stable that registered 40 wins and $178,000 in purse earnings last year.
The Future Star winner was Dave Kelly, a native of Sydney, Nova Scotia, who now resides and competes in Alberta. The talented young horseman enjoyed a career year in 2019, driving 108 winners and recording more than $672,000 in purse earnings while also topping the Century Mile driving charts in wins.  As a catch driver he reined many top performers including three-year-old pacing filly Rockin Mystery, who he teamed up with for several stakes wins including the Alberta Standardbred Horse Association (ASHA) Breeders Stake on June 15.  On the training side, Kelly conditioned 50 winners and horses to almost $275,000 in earnings.
The Cam Fella Award was presented to trainer-driver Anthony MacDonald of Guelph, Ontario for the innovative work he has done in promoting harness racing and attracting new horse owners with the launch and growth of TheStable.ca. This award recognizes meritorious service to the Canadian harness racing industry and is awarded only when warranted, not every year.
Through TheStable.ca, MacDonald provides an opportunity for anyone to purchase a 1 percent share (or more) in a racehorse, while enjoying 100 percent of the horse ownership experience in their fractional ownership groups. MacDonald's enterprise has attracted 760 people from 12 countries to horse ownership since its launch in 2015.
 
Alicorn was voted the O'Brien winner in the Two-Year-Old Pacing Filly division following a stellar season which saw her record four Ontario Sires Stakes victories and 11 top-three finishes in her 13-race campaign. The daughter of Bettors Delight scored her richest payday with a runner-up finish in the Shes A Great Lady, and her richest victory was in the Ontario Sires Stakes Super Final.  She scored her season's mark of 1:50.3 in an OSS event at Woodbine Mohawk Park and then repeated that time in an elimination of the Shes A Great Lady at Mohawk.
Tall Dark Stranger was the country's choice as Two-Year-Old Pacing Colt of the Year.  The son of past O'Brien Award winners Bettors Delight and Precocious Beauty won eight of nine races and more than $936,000 in earnings. His stakes victories included a leg of the Dream Maker, two Ontario Sires Stakes, a sweep of the Metro Pace, the International Stallion Stake and the Breeders Crown Championship.
In the Three-Year-Old Pacing Filly division, Sunny Dee was the voters' choice.  While unraced as a two-year-old, Sunny Dee was all systems go in her sophomore year as the Sunshine Beach filly racked up 13 wins and 21 top-three finishes in 23 races and her bankroll eclipsed $601,000. Her stakes victories included a sweep of the Standardbred Breeders of Ontario Association Stakes, two Ontario Sires Stakes events, and the USS Indianapolis Memorial.
Century Farroh's connections took home the bronze in the Three-Year-Old Pacing Colt category.  Last season the poster boy for the Ontario Sires Stakes won 12 of 16 races, including five in the provincial program and bankrolled almost $720,000 in earnings. The son of the late Mach Three kicked off his 2019 season with a four-race win streak, including the Somebeachsomewhere and an Ontario Sires Stakes Gold Division. He took his lifetime mark of 1:49.1 in the North America Cup Consolation and initiated another four-race win streak which included another OSS Gold division.  One of his more impressive victories came in the Simcoe Stakes where he tackled Grand Circuit competition with a 1:49.3 victory.  
A finalist in 2018, Caviart Ally had another impressive season in 2019 which earned her O'Brien honours in the Older Pacing Mare category.  She never finished worse than third while banking almost $760,000 and was a formidable force on the Grand Circuit adding many stakes victories to her glowing resume. Last year, her stakes victories included the Rainbow Blue, where she scored a season's best 1:48, the Milton, the Allerage, and the Breeders Crown which was her richest payday, before concluding her season with a victory in the TVG Mares.
McWicked, who swept Horse of the Year honours in both Canada and the U.S. in 2018 returned for another successful campaign in 2019 and collected his second consecutive O'Brien as Older Pacing Horse.  He won six of 17 starts and more than $1 million in earnings this past season with victories in the Gerrity, Roll With Joe, Jim Ewart Memorial, and the Dan Rooney Invitational.
One of his top performances of the season was his four-length victory in the Allerage where he stopped the clock in a season's best 1:47.2. After battling foot issues throughout the year, the son of McArdle ended his career with more than $5.1 million in career earnings, retiring as the richest stallion to ever stand stud.
In the Two-Year-Old Trotting Filly division, Dip Me Hanover won the O'Brien following a season which saw her win two of 12 starts and more than $307,000 in her rookie season. The daughter of Donato Hanover scored her richest payday at Woodbine Mohawk Park where she swept the Peaceful Way Stakes including a 1:55.1 lifetime-best effort in the elimination. While those were her only two freshman victories, she recorded top-three finishes in half of her 12 season starts.
HP Royal Theo, a son of Royalty For Life, put together a solid rookie season winning three races and banking more than $286,000, earning him the O'Brien Bronze as Canada's Two-Year-Old Trotting Colt of the Year.  One of his victories came in an Ontario Sires Stakes Gold event on October 1 at Woodbine Mohawk Park.  His richest payday came in the William Wellwood Memorial Final held at Woodbine Mohawk Park where he parlayed a perfect second over trip to get the job done in a lifetime best 1:54.2.
In the Three-Year-Old Trotting Filly division, Evident Beauty and Only Take Cash could not be separated in the voting which resulted in a tie for O'Brien Award honours.  Evident Beauty won 10 of 18 races and more than $617,000 in earnings. The Trixton filly's biggest win of the season came in the Elegantimage Stake where she overcame the outside post position 10 to get up for a neck victory. She also added wins in two divisions and the final of the New Jersey Sire Stakes, the Del Miller, a Casual Breeze division, and the Moni Maker to her impressive resume.
Only Take Cash was a model of consistency last season, scoring top-three finishes in 12 of her 13 races and earning more than $511,000. A wire-to-wire effort in the Ohio Sires Stakes Final was the Cash Hall filly's richest payday of the season. She also scored wins in a division of the Casual Breeze, and two Ohio Sires Stakes events.
There were no surprises in the Three-Year-Old Trotting Colt category as Hambletonian winner Forbidden Trade took home the O'Brien, and was also recognized as Horse of the Year. The son of Kadabra, owned by Determination Stable, trained by Luc Blais and driven by Bob McClure, provided his connections with a season of thrills and memories last year, highlighted by his victory in the $1 million Hambletonian. He was a top Grand Circuit competitor, scoring eight victories and over $1 million in purse earnings. Some of his noteworthy wins included an elimination of the Goodtimes, three Ontario Sires Stakes Gold events and the Ontario Sires Stakes Super Final, his final win on the season.  But it was a Saturday afternoon on August 3 at The Meadowlands where his most coveted win came as Bob McClure guided him to a masterful victory in trotting's Holy Grail in a lifetime best 1:51, providing his connections with one of their greatest career achievements.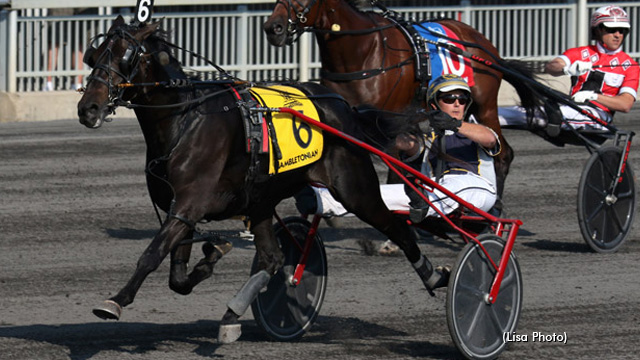 Atlanta took home her first O'Brien trophy as Older Trotting Mare of the Year on the strength of a solid season which included 13 top-three finishes in 15 starts, and almost $900,000 in purse earnings. On July 6 in the Graduate Final at the Meadowlands, the daughter of Chapter Seven toppled male rival Six Pack in a lifetime best and World Record (at the time) of 1:49.1.   Other trips to the winner's circle on her lavish resume included the Miami Valley Distaff, and the Charlie Hill Memorial Trot at Scioto Downs.  
In the Older Trotting Horse category, fan favourite Musical Rhythm, a winner of seven races and more than $206,000 in earnings, was voted the winner.  After recovering from a life-threatening infection in 2018 -- thanks to the incredible efforts of caretaker Sara Baillageon and trainer Ben Baillargeon -- he resumed racing in 2019 and found his way back into the winner's circle. Not only did he recover, but the son of Cantab Hall was a seven-time winner and missed only one cheque in 17 starts, earning more than $206,000. He put together a six-race win streak that kicked off on April 17 in the preferred trotting ranks at Woodbine Mohawk Park. The powerhouse also equaled the track and Canadian record for older male trotters with a 1:50.4 mile on June 17 at Woodbine Mohawk Park.
A complete list of winners and their connections follows.
---
2019 O'BRIEN AWARD WINNERS
PACERS
---
TWO-YEAR-OLD FILLY PACER - ALICORN
Bettors Delight – Mythical – Artsplace
2019 Summary: 13 - 7-4-0 -- $536,907
Mark: 1:50.3s
Owners: Windermere Stable LLC, New York, NY; Robert Muscara, Ivyland, PA
Breeder: White Birch Farm, Allentown, NJ
Trainer: Chantal Mitchell
Driver: Louis-Philippe Roy
Caretaker: Chantal Mitchell
---
TWO-YEAR-OLD COLT PACER - TALL DARK STRANGER
Bettors Delight – Precocious Beauty – Art Major
2019 Summary: 9 - 8-1-0 -- $936,868
Mark: 1:49.1s
Owners: Crawford Farms Racing, Syracuse, NY; Marvin Katz, Toronto, ON; Caviart Farms, Vienna, VA; Howard Taylor, Philadelphia, PA
Breeder: James Avritt, Lebanon, KY
Trainer: Nancy Takter
Driver: Yannick Gingras
Caretakers:  Katie Remmerswaal & Yomara Valladares
---
THREE-YEAR-OLD FILLY PACER - SUNNY DEE
Sunshine Beach – West of LA – Western Hanover
2019 Summary: 23 - 13-5-3 -- $601,617
Mark: 1:49.4s
Owners: Robert McIntosh Stables Inc., Windsor, ON; C S X Stables, Liberty Center, OH; Al McIntosh Holdings Inc., Leamington, ON
Breeders: Robert McIntosh Stables Inc, Windsor, ON; C S X Stables, Liberty Center, OH; Al McIntosh Holdings Inc, Leamington, ON
Trainer: Robert McIntosh
Driver: Trevor Henry
Caretaker: Darryl Wayne
---
THREE-YEAR-OLD COLT PACER - CENTURY FARROH
Mach Three – Beachy Girl – Real Desire
2019 Summary: 16 - 12-0-2 -- $719,451
Mark: 1:49.1s
Owner: Ratchford Stable NS, North Sydney, NS
Breeder: Century Spring Farms, Gorrie, ON
Trainer: Ian Moore
Driver: Sylvain Filion
Caretaker: Dustin Boyd
---
OLDER PACING MARE - CAVIART ALLY
Bettors Delight – Allamerican Cool – No Nukes
2019 Summary: 19 - 9-7-3 -- $759,169
Mark: 1:48
Owner: Caviart Farms, Vienna, VA
Breeder: Hanover Shoe Farms Inc, Hanover, PA
Trainer: Brett Pelling
Driver: Andrew McCarthy
Caretaker: Agata Hejnik
---
OLDER PACING HORSE - MCWICKED
McArdle – Western Sahara – Western Ideal
2019 Summary: 17 - 6-3-3 -- $1,053,576
Mark: 1:46.2
Owner: S S G Stables, North Boston, NY
Breeder: Andray Farm, Punxsutawney, PA
Trainer: Casie Coleman
Driver: Brian Sears
Caretaker: Tyler Schlatman
---
TROTTERS
---
TWO-YEAR-OLD FILLY TROTTER - DIP ME HANOVER
Donato Hanover – Dancing For Money - Muscles Yankee
2019 Summary: 12 - 2-2-2 -- $307,372
Mark: 1:55.1s
Owners: Camelot Stable Inc., Freehold, NJ; Dreamville Stable, Cambridge, ON; R And I Farms Llc, Brookville, NY
Breeder: Hanover Shoe Farms Inc, Hanover, PA
Trainer: Linda Toscano
Driver: David Miller
Caretaker: Jaime Lemus
---
TWO-YEAR-OLD COLT TROTTER - HP ROYAL THEO
Royalty For Life – Mikas Mazurka – SJs Caviar
2019 Summary: 9 - 3-2-0 -- $286,040
Mark: 1:54.2s
Owners: Claude Hamel, Ayer's Cliff, QC; Michel Damphousse, Louiseville, QC
Breeder: Claude Hamel, Ayer's Cliff, QC
Trainer: Ben Baillargeon
Driver: Louis-Philippe Roy
Caretaker: Dany Milette
---
THREE-YEAR-OLD FILLY TROTTER - EVIDENT BEAUTY (TIE)
Trixton – Struck By Lindy – Explosive Matter
2019 Summary: 18 - 10-2-3 -- $617,050
Mark: 1:52.2
Owners: Melvin Hartman, Ottawa, ON; Little E LLC, New York, NY; R A W Equine, Burlington, ON
Breeder: White Birch Farm, Allentown, NJ
Trainer: Richard Norman
Driver: David Miller
Caretaker: Kelley McNiven
THREE-YEAR-OLD FILLY TROTTER - ONLY TAKE CASH (TIE)
Cash Hall – Armbro Affair – Garland Lobell
2019 Summary: 13 - 7-4-1 -- $511,726
Mark: 1:53.4f
Owners: Robert McIntosh Stables Inc., Windsor, ON; Dave Boyle, Bowmanville, ON; Mardon Stables, Loretto, ON
Breeders: Robert McIntosh Stables Inc, Windsor, ON; C S X Stables, Liberty Center, OH
Trainer: Robert McIntosh
Drivers: Trevor Henry / Aaron Merriman
Caretaker: Mary Henderson
---
THREE-YEAR-OLD COLT TROTTER & HORSE OF THE YEAR - FORBIDDEN TRADE
Kadabra – Pure Ivory – Striking Sahbra
2019 Summary: 14 - 8-3-1 -- $1,077,685
Mark: 1:51
Owner: Determination, Montreal, QC
Breeder: Steve Stewart, Paris, KY
Trainer: Luc Blais
Driver: Bob McClure
Caretaker: Jean Noel Leblanc
---
OLDER TROTTING MARE - ATLANTA
Chapter Seven – Hemi Blue Chip – Cantab Hall
2019 Summary: 15 - 8-4-1 -- $871,391
Mark: 1:49.1
Owners: Crawford Farms Racing, Syracuse, NY; Brad Grant, Milton, ON; Howard Taylor, Philadelphia, PA
Breeder: Order By Stable, Boras, Sweden
Trainer: Ron Burke
Driver: Yannick Gingras
Caretaker: Alex Peralta
---
OLDER TROTTING HORSE - MUSICAL RHYTHM
Cantab Hall – Musical Victory – Valley Victory
2019 Summary: 17 - 7-5-2 -- $206,560
Mark: 1:50.4s
Owners: Santo Vena, Brampton, ON; Nunzio Vena, Bolton, ON; Claude Hamel, Ayer's Cliff, QC; Ben Baillargeon, Guelph, ON
Breeder: Brittany Farms, Versailles, KY
Trainer: Ben Baillargeon
Driver: Mario Baillargeon
Caretaker: Sara Baillargeon
---
PEOPLE AWARDS
---
O'BRIEN AWARD OF HORSEMANSHIP
Gilles Barrieau, Saint John, NB
Training Stats
97 Starts – 40 Wins – 20 Seconds – 14 Thirds -- $178,793 in purse earnings
Driving Stats
636 Starts – 151 Wins – 120 Seconds – 113 Thirds -- $435,470 in purse earnings
---
ARMSTRONG BREEDER OF THE YEAR
Al Libfeld (Pickering, ON) & Marvin Katz (Toronto, ON)
---
DRIVER OF THE YEAR
Louis-Philippe Roy, Guelph, ON
1860 starts – 293 wins – 256 seconds – 270 thirds -- $6,219,758 in purse earnings
---
TRAINER OF THE YEAR
Richard Moreau, Puslinch, ON
1921 starts – 285 wins – 272 seconds – 270 thirds -- $4,552,448 in purse earnings
---
FUTURE STAR AWARD
Dave Kelly, Rocky View County, AB
Training Stats
244 Starts – 51 Wins – 49 Seconds – 19 Thirds --  $274,927 in purse earnings
Driving Stats
592 Starts – 108 Wins – 98 Seconds – 80 Thirds -- $672,141 in purse earnings
---
---
ADDITIONAL AWARDS PRESENTED AT THE CEREMONY
---
THE CAM FELLA AWARD
Anthony MacDonald, Guelph, ON
---
OUTSTANDING GROOM AWARD
Rachel Dupuis, Rockwood, ON
---
MEDIA EXCELLENCE AWARDS
---
OUTSTANDING WRITTEN WORK
Four Feet & A Heartbeat
Written by Rachel Oenema
---
OUTSTANDING BROADCAST
Pepsi North America Cup Broadcast
Produced by Woodbine Entertainment
---
OUTSTANDING PHOTOGRAPHY
"Under The Spotlight"
Photo by Kyle Burton