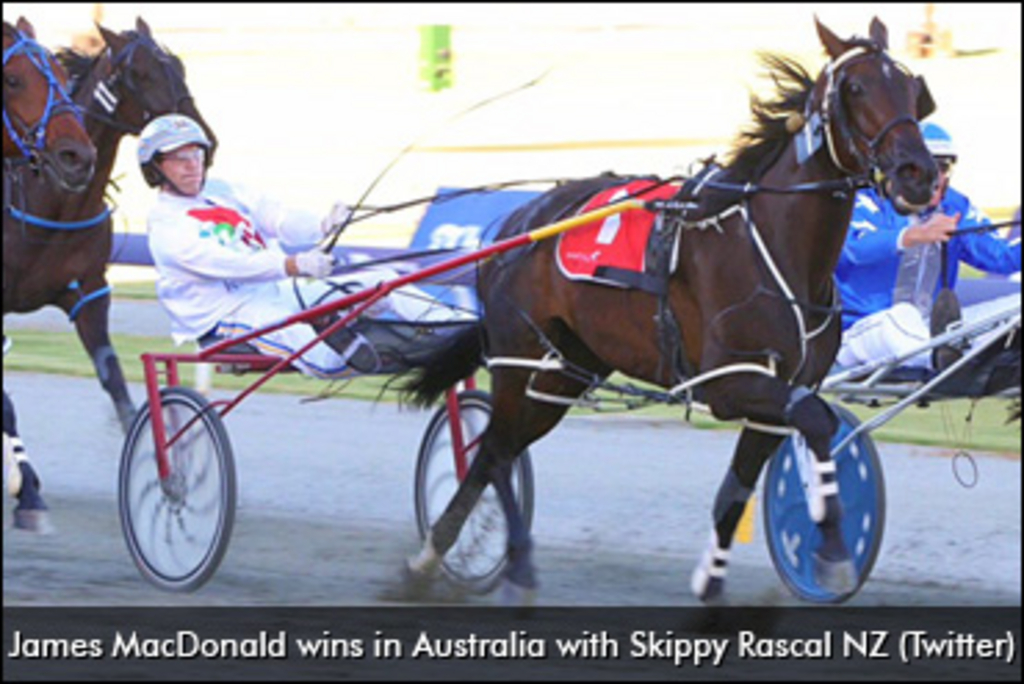 Published:
December 8, 2017 05:51 pm EST

With the eyes of the harness racing world on him this past summer, Canada's James MacDonald rose to the occasion and captured the 2017 World Driving Championship on home soil. On Friday (December 8), MacDonald made his mark on Australian harness racing with a win in a driving competition downunder.
MacDonald took out the third heat of the 2017 Perth International Driver Series at Gloucester Park in Perth on Friday night with a superb exhibition.
Drawn the pole with the $7.70 change Skippy Rascal, MacDonald didn't panic when he was crossed in the early battle for the lead and showed his great skill and patience when he extracted the horse from the pocket turning for home and hit the line strongly to win from the $4.50 favourite Simba Bromac.
American reinsman Marcus Miller was close up in third place with the $12.70 chance Wrappers Delight which had worked hard three-wide over the final 900 metres of the race and fought on strongly in the straight.
"It was an amazing buzz to win a race in Perth, not as good as the World Driving Championship but pretty close to it," an ebullient MacDonald said post-race.
"I have had an amazing stay in Perth and everybody involved in the Inter Dominion carnival has been so friendly and welcoming and the racing here is tight and exciting."
"Mick Radley and his staff here at Gloucester Park have done a superb job and the crowds have been great."
There were some 9,000 fans on-course on Friday night.
MacDonald enters the record books as the first Canadian reinsman to drive a winner at Gloucester Park.
American Pat Iovine is the only other Northern Hemisphere driver to win a race at Gloucester Park and he achieved the feat in May 1976 behind a horse called Main Morris.
MacDonald is the 1,854th individual to drive a winner in Perth in the 53,062 races held in the city since harness racing began in Western Australia in 1910.
The second of last night's two Drivers Series heats was taken out by the $114.50 chance Courage Tells which his driver Ryan Warwick got up in the last stride to down Johnny Disco $8.70 and Three Blind Mice $17.10.
With the $2.50 favourite Argyle Red finishing out of a place, the first three horses home paid a trifecta dividend of $14,559.
Local tipster Pat Harding, renowned for his tipping skill in terms of value selections, had selected Courage Tells as the winner on his Friday morning radio programme.
MacDonald finished sixth in the final leg of the Drivers Series on the $73.70 chance Jaxon Fella while Marcus Miller, sitting in a perfect position on the leaders back had his drive Ohoka Darcy go out of its gear and break just as he was about to make a winning move.
Local ace Gary Hall Jnr won the Drivers Series, sponsored by Sky Racing and Slater Gartrell Sports, with an overall points score total of 36 ahead of Ryan Warwick and Chris Lewis, who each finished with 32 points. Hall failed to win a heat but was placed in three of the four races. MacDonald finished fifth with 27 points and Miller was in 10th place with 19 points.
American reinswoman Hannah Miller drove the $17.50 chance Parisian Partygirl in the Retravision Invitation Lady Drivers Challenge, which was won by the $1.50 favourite Dior Mia More, driven by Kiara Davies. Miller finished in seventh place.
(with files from Australian Harness Racing)