Published:
December 4, 2017 01:55 pm EST
Lifetime Achievement Award honouree Ray Schnittker said, "If I had ten dollars for every person in this room that I had a drink with… I would be a billionaire!"
Over 200 horse people enjoyed the Monticello-Goshen USHWA chapter's 59th annual awards banquet at the Fountains at Wallkill Golf Club on Sunday (December 3). Those in attendance listened carefully as the Goshen Historic Track-based trainer /driver was thankful for all the friends and memories he has made throughout his many decades of success in the harness racing industry.
Having been a fixture around Goshen Historic Track and wherever top harness horses are raced, 'Rockin' Ray' and his Grand Circuit stable have amassed over $37 million in purse earnings since calling the Cradle of the Trotter home.
Of course Schnittker may be best known for his work with Deweycheatumnhowe, the $3 million dollar-winning Hambletonian champion, but this campaign his star three-year-old pacer Huntsville earned over a million dollars and won both the Meadowlands Pace and the Cane Pace at the Meadowlands Racetrack while battling with some of the best colts in the country.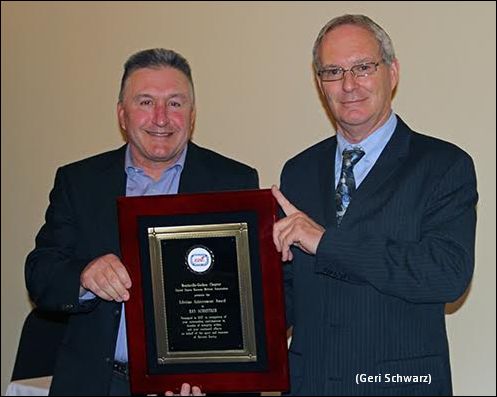 (L to R) Ray Schnittker and Shawn Wiles (Geri Schwarz Photo)
Dave Hanson, the driving force behind the development of the Morrisville State College's Equine Program and Standardbred yearling auction, received the chapter's Excelsior Award for his dedication and selfless contributions of time, talent and energy to the improvement and integrity of harness racing in the State of New York.
Now as the general manager of Leatherstocking Veterinary Services, Hanson noted that he "missed managing a farm while at Morrisville." In retrospect, however, Hanson said that teaching students at the equine institute was one of the highlights of his career as a breeding specialist and stallion manager.
Dr. Herbert 'Herbie' Burns, the affable vet that everyone calls their buddy, made the crowd roar with tales of his trials and tribulations and stories from yesteryear. It was easy to see why he was this year's John Gilmour Good Guy Award honouree.
Starting out as a trainer/driver at Pocono Downs, Dr. Burns graduated from U. Penn and then learned the ropes from local icon 'Doc' Gill. Over time, Dr. Burns continued to develop Pine Bush Equine into a state-of-the-art vet clinic, while simultaneously serving as the staff veterinarian for Blue Chip Farms.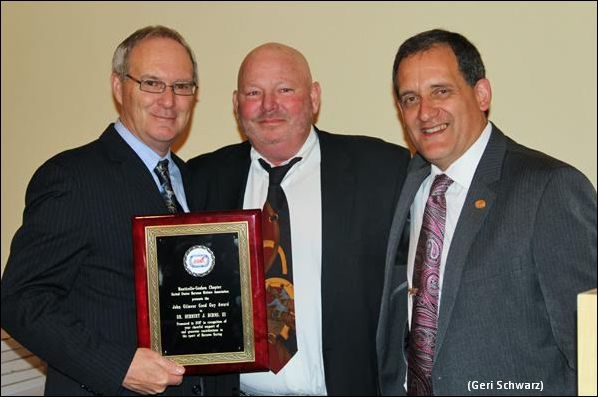 (L to R) Shawn Wiles, Dr. Herbie Burns and Chris Tully (Geri Schwarz Photo)
For decades, Stephen Crevani, the recipient of the Cradle of the Trotter Breeders Award, balanced a demanding career as a high-rise builder with his interest in breeding and racing harness horses.
Now that he is retired, the 75-year-old has been able to focus all of his attention on the horse business and is reaping greater rewards as a result. Crevani always has a small but sincere group of horses in training and handful of broodmares at the family farm in Bullville, New York. All of his horses bear the 'Bullville' moniker, and many compete at Goshen Historic Track with Crevani in the sulky.
Tim Masters was this year's recipient of the Amy Bull Crist Distinguished Service Award, presented for his hard work and dedication to improvements at Goshen Historic Track. The facility has undergone sequential renovation to the more than 100-year-old grandstand. Masters oversaw the replacement of all the seats and the floors and will address the steel beams and the girders next.
This year, amateur driver 'Yankee' Joe Lee has garnered 15 wins from 87 starts and has driven his mounts to over $87,000 in purse earnings. His current UDR of .281 is bolstered by an additional 11 seconds and 10 thirds, including copping the Billings Gold Final at Yonkers Raceway. In fact, in the last two years he has tripled the amount of wins had the previous two years, earning him the Amateur Driver of the Year Award honours.
Brandon Parker, son of Monticello Raceway's all-time leading driver, Billy 'Zeke' Parker Jr., enthusiastically received the Rising Star Award. 'Lil Zeke' has had logged an unparalleled 448 starts in his first year of driving. He recorded 42 wins, 56 seconds and 57 thirds, a UDR of .206 and earnings of $218,881 – his rocket-launch debut is probably a starts record for a rookie reinsman. Even more remarkable is the fact that Parker just got his 'P' license in May, and therefore accomplished this feat in just over six months of active driving.
Knowledgeable about simulcasting from the bottom up, Carole Macedonio has been a lead cashier, evening simulcast manager and been responsible for converting the handle figures into revenue for as long as anyone can remember. Long considered a 'lifer' at Monticello Raceway, she also administers and moderates the Monticello Raceway Memorabilia Facebook page, a popular destination for cyber-space nostalgia.
A long-tenured, devoted employee, there is no part of the wagering product that Macedonio is unfamiliar with or has not had some experience in helping manage. A backbone of the simulcasting department, Macedonio received the Award of Appreciation for her over three decades of service to Monticello Raceway.
The event marked another huge success for the Monticello-Goshen chapter of the United States Harness Writers Association that donates over $8,000 to industry causes annually, most notably the Harness Racing Museum & Hall of Fame, as well as Goshen Historic Track.
(USHWA)