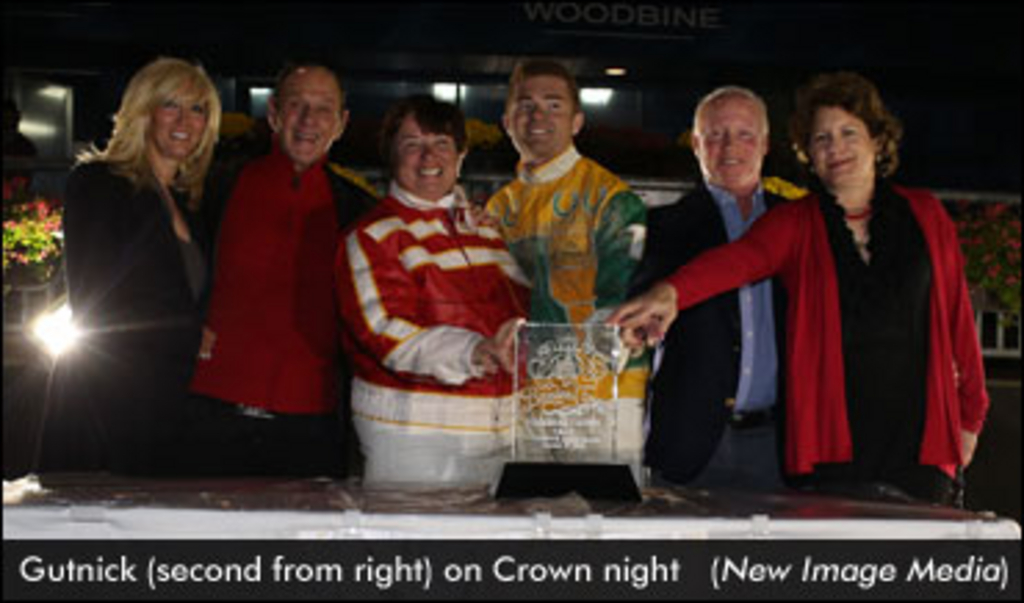 Published:
December 28, 2012 08:09 pm EST
Richard Gutnick, a self-described "30-year overnight success in racing" who campaigned the U.S. Harness Horse of the Year (Chapter Seven) and the richest Standardbred of 2012 (Market Share), has been named the Norman Woolworth Owner of the Year in balloting conducted by members of the U.S. Harness Writers Association.
New Jersey's White Birch Farm, the owner/breeder of the U.S. Pacer of the Year (Captaintreacherous) and a nursery that has sent out five $1 million winners, was elected Breeder of the Year.
Gutnick, a graduate of the University of Pennsylvania's Wharton School of Finance, certainly showed equine financial acumen during 2012, as Market Share, a $16,000 yearling, became only the fourth North American trotter to win more than $2 million U.S. in a season, while Chapter Seven (a $42,000 yearling) himself totalled seven figures in proving himself the leading trotter on the U.S. stage. Gutnick also has arranged prime stallion syndication deals for his two stars, figuring to earn him much more "yearling money" in the years ahead.
Neither trotter, though, may have made it to the top ranks of their classes without the patience of Gutnick and trainer Linda Toscano, herself named 2012 Trainer of the Year Wednesday. Both horses suffered medical setbacks that might have been aggravated if pushed too hard, but Gutnick and Toscano allowed the trotters to regain their top form at their own pace -- and the results speak for themselves. (And speaking of "speaking," Gutnick proved to be a cooperative and articulate spokesman and booster for the Standardbred sport in his "season in the sun.")
White Birch Farm, which also serves as a training center as well as a breeding farm in central New Jersey, was originally named Joe-Mar Farm after late founders Joe and Marie Parisi, their horses carrying the "JM" moniker in the front of their names. Today, Joe's son Michael is head of the busy establishment, and White Birch is the home of many champions, both during their racing days and (most relevant to this award) as a nursery.
Captaintreacherous is a son of the white-hot sire Somebeachsomewhere, but it is on the dam's side that the White Birch "touch" really shines through. The horse's dam is Worldly Treasure, she by World Order, who also produced Worldly Treasure's full sister Worldly Beauty, a $1.9 million U.S. winner on the racetrack -- all part of the White Birch equine "team." In all, White Birch lists five horses on their website's "Hall of Fame," each a racetrack millionaire -- and Captaintreacherous will join that list early in his three-year-old season if he is racing back to his Pacer of the Year form.
Wake Up Peter joined Captaintreacherous to give White Birch-breds a sweep of the two-year-old pacing colt Breeders Crown eliminations, and another White Birch graduate, two-year-old trotting filly Bee A Magician, was the dominant filly in Ontario and was third in her Breeders Crown.
Richard Gutnick and White Birch Farm will both be honoured on Sunday (March 3) at the Dan Patch Awards Banquet, the climatic event of Harness Congress VI weekend, to be held at the Westin Beach Resort and Spa in Fort Lauderdale, Florida. Further information about the banquet, the Congress, and related events is available at www.ushwa.org.
(USHWA)