Published:
December 13, 2021 09:57 am EST
United States Trotting Association president Russell Williams told attendees at the 62nd annual awards banquet of the Monticello-Goshen chapter of the U.S. Harness Writers Association (USHWA) that "The Jockey Club usually gives their Lifetime Achievement Award to individuals that are retiring. I'm just getting started!"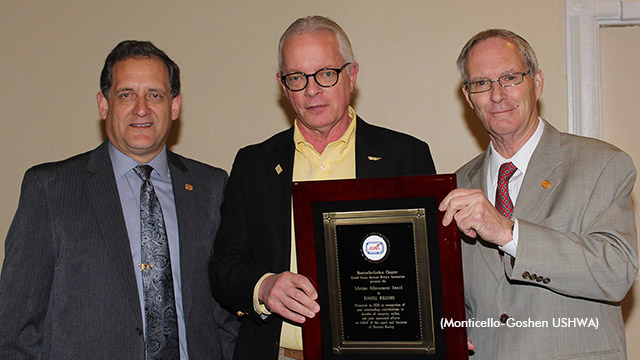 One hundred and fifty Standardbred industry enthusiasts joined the Harness Writers in presenting Williams with the chapter's highest honour, their Lifetime Achievement Award at the Wallkill Golf Club in Middletown, New York on Sunday evening (Dec. 12). While it was not Williams' first industry tribute, he also noted, "I appreciate this award and all the work the Monticello-Goshen chapter does to distinguish individual success in our sport."
Also the president and CEO of Hanover Shoe Farms, which enjoyed a record season in 2021, Williams admits there is still a lot of work to do on behalf of our industry and he is ready for the challenge and eager do his part.
In addition to a host of human honourees, the season's top horses around the Orange and Sullivan county racetracks were recognized for their accomplishments on the racetrack. The local Horse of the Year award was broken down into three categories: Pacing Horse of the Year, Epaulette A (trained by Laura Perino); Pacing Mare of the Year, Chasethecloudsway (Chris Petrelli); Trotter of the Year Chip Chip Conway (Gary Messenger).
Monticello Raceway's perennial top reinsman Mike Merton was presented with the Driver of the Year Award and Bo Sowers was recognized as the top conditioner with the Trainer of the Year Award. Candyce Conroy from the Ray Schnittker Stable received the Caretaker of the Year Award for her decade of service at Goshen Historic Track.
This year, in addition to the local horse awards, the Monticello-Goshen chapter honoured Joe Faraldo (John Manzi Leadership Award); Bob Miecuna (Excelsior Award); John McDermott (John Gilmour Good Guy Award); Eric Taddeo (Cradle of the Trotter Breeders Award); Eddie Glick (Amy Bull Crist Distinguished Service Award); John Hernan (Phil Pines Award); Marianna Monaco (Amateur Driver); McGwire Sowers (Rising Star); and Susanne McManus & Mike Rivera (Mighty M Awards of Appreciation).
(Monticello-Goshen Chapter of USHWA)