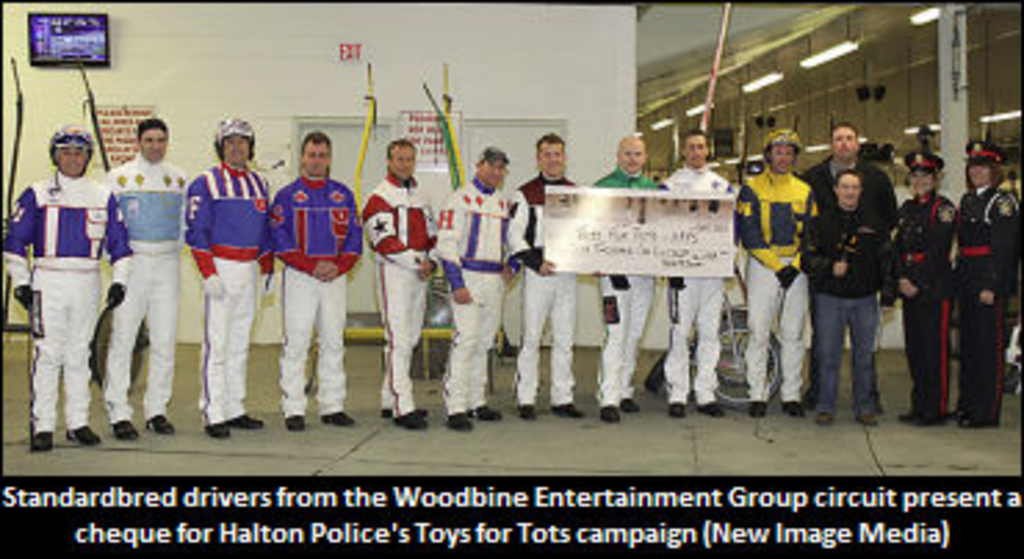 Published:
December 13, 2011 11:37 am EST
Drivers and trainers on the Woodbine Entertainment Group circuit are filling Santa's sleigh one win at a time in support of the Halton Police's Toys for Tots campaign to benefit the Salvation Army
.
The horsemen have contributed $6,197 to help 'bring the joy of Christmas to needy children.'
"It's a wonderful gesture by the trainers and drivers during the holiday season when so many families are in need," said WEG VP of Standardbred Racing Bruce Murray. "Horsepeople are always quick to step up, and this certainly helps children in the local community."
Jason Brewer, Chris Christoforou, Sylvain Filion, Jeff Gillis, Phil Hudon, Jody Jamieson, Paul MacDonell, Doug McNair, Anthony Montini, Richard Moreau, Tony O'Sullivan, Luc Ouellette, Mike Saftic and Randy Waples, along with Rick and Scott Zeron, donated their time, money and support to the annual campaign.
"I'm honoured to play a small part in a great cause that ensures deserving kids will enjoy a happy Christmas," said McNair.
The 21-year-old reinsman generously donated his entire night's winnings from Friday, December 2, which totalled $1,097.
Police Constables Maureen Andrew and Jody Wilson from Halton Regional Police Service were on hand to accept the contribution.
"This compassionate and selfless act on the part of the standardbred drivers is overwhelming. Their kind-hearted donations will ensure a happier Christmas for many local children," said Maureen Andrew, Police Constable Halton Police & Milton & District Campaign Co-ordinator for Toys for Tots campaign.
In 2010, the Halton Toys for Tots campaign experienced a record-breaking year, assisting over 3,000 Halton families while raising over $180,000 in toys and cash.
The goal for the 2011 campaign is to exceed last year's number. Woodbine Entertainment Group and the Central Ontario Standardbred Association helped kick off this year's campaign with cheques to support Toys for Tots.
"The Milton community is growing exponentially and the Halton Regional Police Service Toys for Tots program is gratified and honoured that the Woodbine Entertainment Group, standardbred racing community, COSA and Mohawk Racetrack are such strong community partners," said Police Const. Andrew. "I would like to especially thank Wendy Loiselle and Jane Holmes (from WEG) for their leadership. On behalf of the needy children and their families, we wholeheartedly thank you."
(WEG)