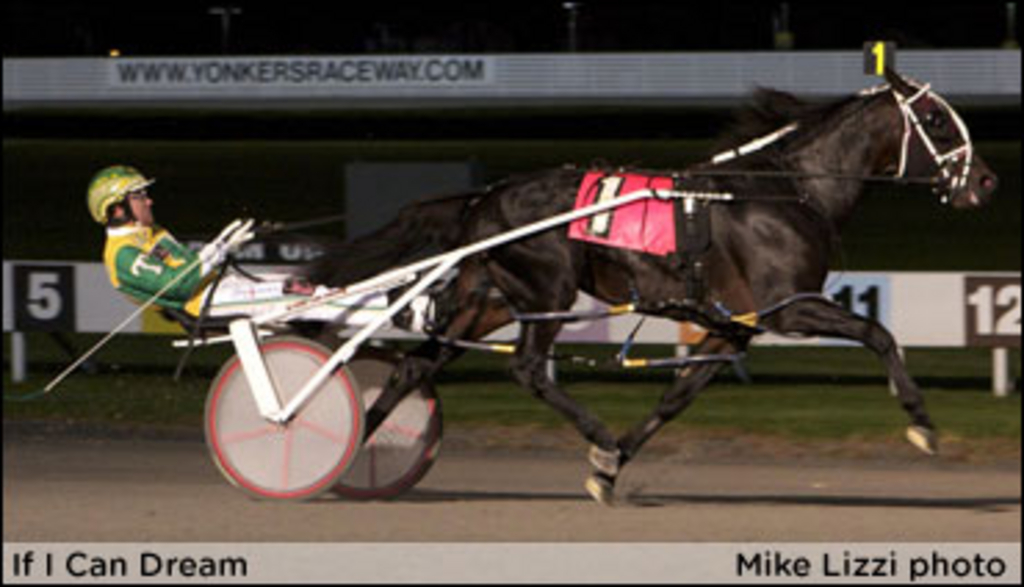 Published:
November 7, 2009 11:41 pm EST

Favourite If I Can Dream put forth a soft half and put away a hard challenge, winning Yonkers Raceway's $542,060 Messenger Stakes Saturday night
in dominating fashion.
Tim Tetrick drove the three-year-old homebred son of Western Hanover in the 54th edition of this race, final jewel of the Pacing Triple Crown.
Leaving from post position No. 3, If I Can Dream stepped around Hypnotic Blue Chip (John Campbell), grabbing the baton just after a :27.4 opening quarter-mile. He then rated a :57-second intermission before a visitor paid a call.
Clear Vision (Dave Miller) pulled from fourth, prompting the pace to the tune of a :27.2 third quarter. As the five other entrants were being out-paced, the leader eventually showed the pursuer the back of his hoof.
If I Can Dream owned a length-and-a-quarter lead into lane before widening to three lengths at the wire in 1:52.2. Straight Shooting (Yannick Gingras), joined at the wagering waist with the winner, was third. Hypnotic Blue Chip and Doubleshotascotch (Jim Morrill, Jr.) completed the cashers, with Hail Storm (Jordan Stratton) and Fireintheshark (Jason Bartlett) having to settle for the joy of the chase.
If I Can Dream, the primary portion of the pari-mutuel entry, returned $2.30 for his 11th win in 20 seasonal starts. There was no place or show wagering. The exacta paid $7.40, with the triple (Hypnotic Blue Chip third for wagering purposes) returning $13.80. If I Can Dream's 2009 bankroll increased to $1,631,129 U.S. (second to Well Said among pacers) for owner Bulletproof Enterprises and trainer Tracy Brainard.
Among his other resume hghlights was the $600,000 Breeders Crown at Woodbine two weeks ago and the $421,850 Art Rooney Pace at Yonkers in mid-June.
"He's just been very sharp all season," Tetrick aaid. "I was helped out tonight by some soft early fractions, but when I asked him to dig in, he did."
Driver Miller was bridesmaid in this event for a second consecutive season, having battled Harness Horse of the Year Somebeachsomewhere with Shadow Play in the epic '08 edition.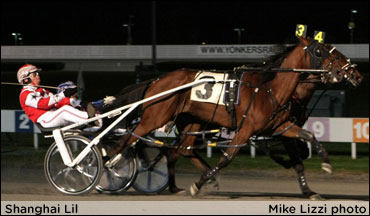 Saturday night's companion event, the $364,430 Lady Maud Pace, was won by the three-year-old filly Shanghai Lil. That one left hard from gate, forcing 1-5 favourite Yellow Diamond (Jim Morrill, Jr.) three-wide early.
Shanghai Lil, a 5-1 proposition driven by Mike Lachance, sat on that one's back before winning by a nose in 1:53.3. The time was a Yonkers Raceway stakes record for this event. Perfectionsist (Dan Dube) was third, beaten five lengths.
The winner, a daughter of Jennas Beach Boy trained by Peter Foley, returned $12.60 (second choice) for her fifth win in 20 '09 tries. Shanghai Lil's seasonal earnings are now approaching a half-million dollars for All Star Racing. The ezacta paid $22.20, with the triple returning $97.
"I figured I couldn't come first-up and beat the filly [Yellow Diamond], " Lachance said. "I drew eight inside of her [Posts 3 and 4, respectively], and I wanted to use it to my advantage.
"I don't know if the cooler weather, but she's as good now as she's been all season," Lachance said.
Saturday night's $40,000 Open Handicap Pace was won by Giddy Up Lucky (Jordan Stratton, $8) in 1:52.3.
(Yonkers Raceway)