Published:
November 30, 2010 11:26 am EST
When Brad Kramer decided to move from the racing scene in Michigan and move to New York State he knew he was taking a chance. He was always among the leading drivers in his home state and his move east was without much
power.
He brought with him a talent for catch-driving and nearly 7,000 career wins. As far as horses, he brought five with him, and they really lacked power.
"I wanted to do like so many others from the Midwest have done, and that's go east where the bigger purses are bigger and the future seems brighter than it is back home," Kramer was quoted as saying. "I knew I would have some trouble getting started though it's always that way when you go somewhere where you are not known. "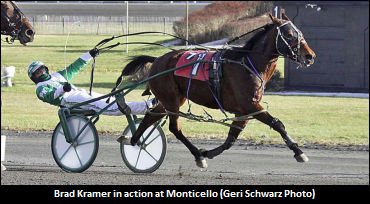 And Kramer's assessment was correct. He moved his outfit to Mark Ford's training centre in Middletown, New York and thought he'd make Monticello Raceway his home base.
As he assessed, Kramer started off slowly, and with each passing week his talent became more known. He won a few races in the first few weeks, and as the local trainers began to see that he had talent in the sulky he started to pick up catch drives.
"I always did well on the racetrack," said Kramer, "and I knew if I persevered I'd become known and hopefully begin to pick up catch drives and get some momentum on the east coast."
During the past week Kramer added a half dozen wins to his local total, and on the Monday, November 29 card he was down to drive in nine of the 13 races. Though he didn't have many live mounts, when the curtain came down on that Monday card Kramer had two wins, two seconds, and two thirds. Both of his victories were for trainer Anthony Regina. Kramer won the seventh race with Blissful Doll in 1:58:4 and then came back to win the ninth with My Miracle in 2:00.
Kramer will drive in seven races on Monticello's Tuesday, November 30th program.
"I'm really appreciative that [I'm] now getting some work because I've been used to driving a lot and it's been kinda hard for me to sit on the sidelines and watch," Kramer said. "Hopefully now I'm on my way."
With Monticello Raceway closed on the weekends, Kramer has also been driving at Saratoga Raceway, where he's done fairly well for the amount of starts he's had.
"I've had a little luck at Saratoga over the past month," he said. "They'll be closing soon for a while, and though I know it would be hard to get much work at Yonkers (Raceway) right now, I'd sure like to race there on a regular basis. But then again, who wouldn't?"
(Monticello)