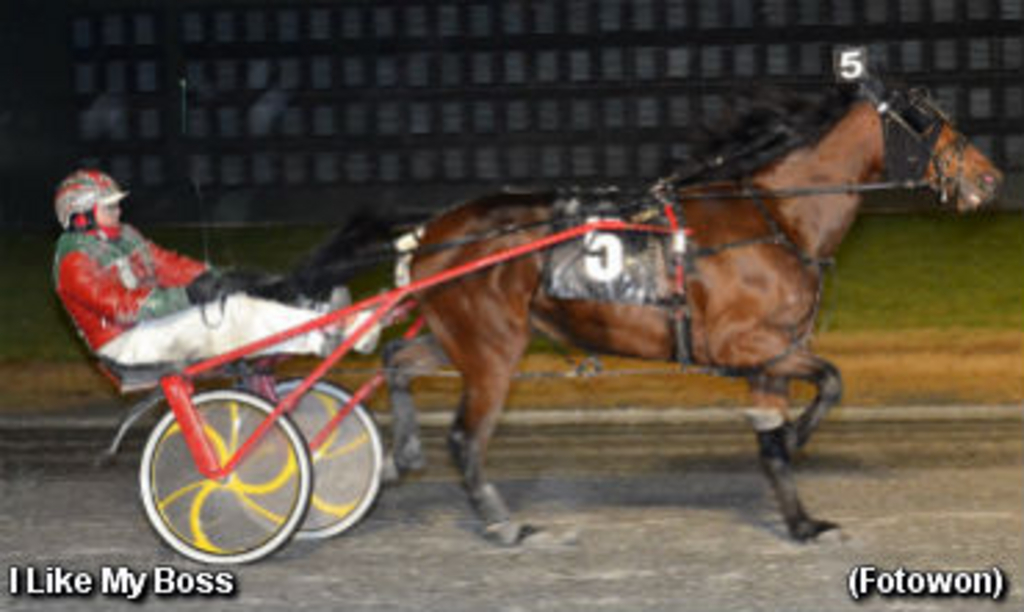 Published:
November 26, 2013 09:51 pm EST
I Like My Boss was perfect in the preliminary legs of the Delaware Standardbred Breeders Fund Stake at Dover Downs, and it was more of the same in Tuesday's $100,000 final for two-year-old trotting colts and geldings.
Jonathan Roberts mapped out the winning trip for the undefeated son of Don Boss Vita-Wild One, who stopped the clock in a career-best clocking of 1:59.1 over an 'off' track. Roberts moved I Like My Boss into the lead at the half and had no trouble the rest of the mile. Boston BNZ was 1-1/2 lengths back in second. Whichwayrightrleft took home third prize.
Trainer Robert Shahan co-owns and bred the career winner of $70,000 with M J Parsons, Jr. and Ashley Parsons.
In a $20,000 DSBF consolation trot, Odessa, rallied to a 2:05.3 score for the team of driver Kim Vincent and trainer Melissa Olsen. Streets Of Gold was next best, with Whitesville Prince rounding out the top three finishers.
It was a maiden-breaking win for the son of Crown Prince Gar-Current Yield, who now boasts a 1-1-3 record from seven trips to the track. The career winner of $24,096 is owned by Bart Cavanagh, Sr. of Media, Pennsylvania.
Corey Callahan, who has won the track driving title the last four seasons, was a winning machine during Tuesday's 15-race card. Callahan found his way to victory lane seven times thanks to wins with Bikini Beach (1:56.3), Striking Wave (1:56.2), Justherighttouch (1:57.2), Roman Conqueror N (1:55.1), Sound The Belle (2:00), JK Lullabye (1:56) and Hillcrest Suites (1:55.3).
The seven-win performance was helped lift Callahan's win total to 49 at Dover Downs this season.
Dover will be dark on American Thanksgiving, Thursday, November 28.
(With files from Dover Downs)