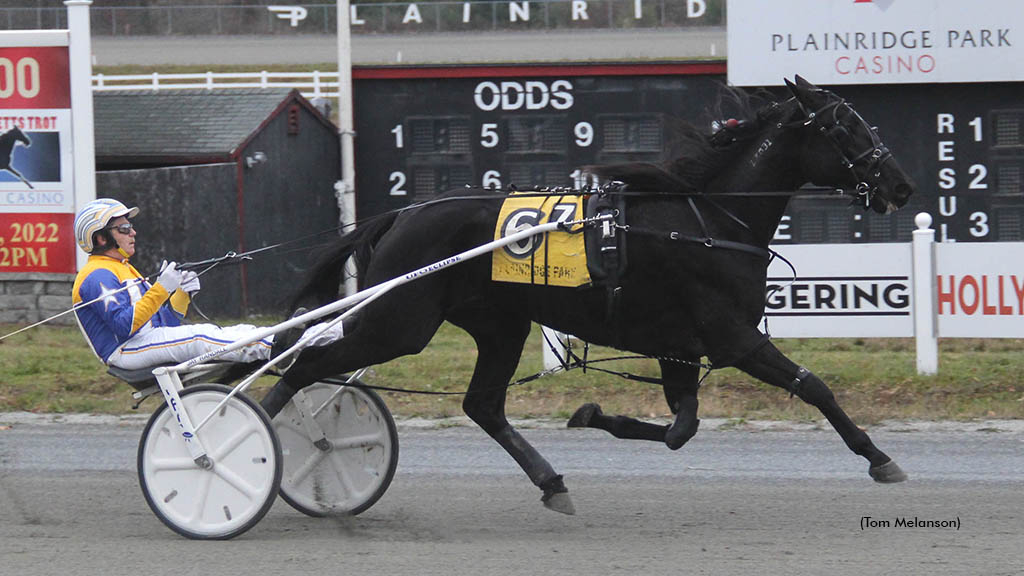 Published:
November 25, 2022 09:39 pm EST
The final day of the live harness racing season took place at Plainridge Park on Friday (Nov. 25) and two horsemen who have topped the charts for most of the meet garnered honours in their respective categories. 
Bruce Ranger won the dash driving title for the second year in a row after winning 163 races and $1,995,897 in purses, which fell just short of his record earnings of $2,009,011 recorded last year. Ranger finished 18 wins ahead of the second place Kevin Switzer Jr., who had 145 wins and $1,797,852. Jay Randall was third with 100 wins and $1,484,062 in purses. 
Two other drivers who crossed the $1 million threshold in earnings were Nick Graffam ($1,317,325) and Drew Monti ($1,165,582). That is only the second time five drivers hit that mark in a single season at Plainridge. 
On the training side, Jimmy Nickerson won his second straight conditioning title and fourth out of the last five years, and his numbers this year were record breaking. His 92 wins were the most ever by a trainer at Plainridge and he is also the first trainer to ever go over the $1 million mark in earnings for a single meet, posting the gaudy total of $1,191,610 at the end of business Friday.
Elisha Lafreniere finished second with 89 wins, which was the second most training wins ever at Plainridge, and $906,530 in purses. Melissa Beckwith finished third with 54 wins and $680,625 put in the bank. 
Randall may have finished third for the meet, but he was on fire Friday as he won four races on the card – including a natural hat trick in races seven, eight and nine – that pushed him to that century win mark. His top score came with Angel Nation (pictured above), who won the $20,000 feature trot.
Randall put Angel Nation right on the point and led the whole race by two lengths. After going :27.3, :56.4 and 1:26 heading into the last turn, Angel Nation stretched out to a four-length advantage in the lane and won easily in 1:55.2.
The victory was the second straight for Angel Nation ($3.20) and eighth of the year. The lion's share of the purse pushed the gelding's earnings to $117,400 this year for owners William Hartt and Meilissa Beckwith, who also trains the winner. 
Randall also won with Explosive Ridge (1:58.1, $3.60), Quick Shot (1:54, $5.40) and Life Well Lived (1:55.4, $4). 
The Wicked Hi-5 pentafecta in the ninth race had a $5,680 carryover with a force out on the final day of racing. The total pool ended up being $15,571 and the winning combination of 5-2-1-4-8 returned $1,045.56 for the 20-cent wager. 
(Standardbred Owners of Massachusetts)