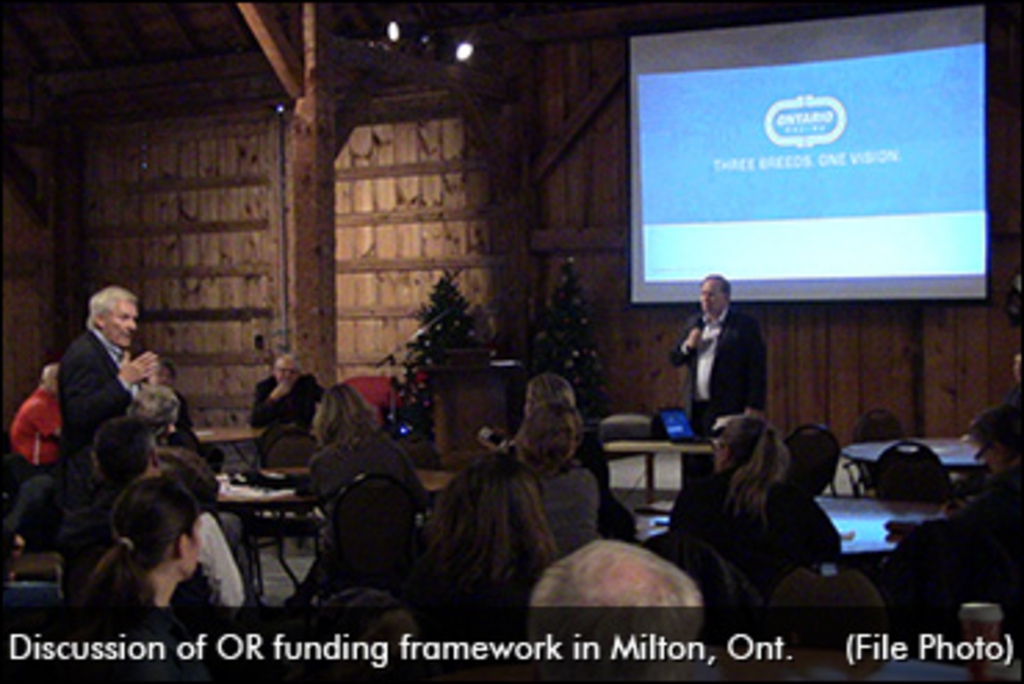 Published:
November 22, 2016 08:04 pm EST
The seventh and final consultation session regarding the proposed long-term funding framework for Ontario's horse racing industry took place on Tuesday (Nov. 22) in Milton, Ont.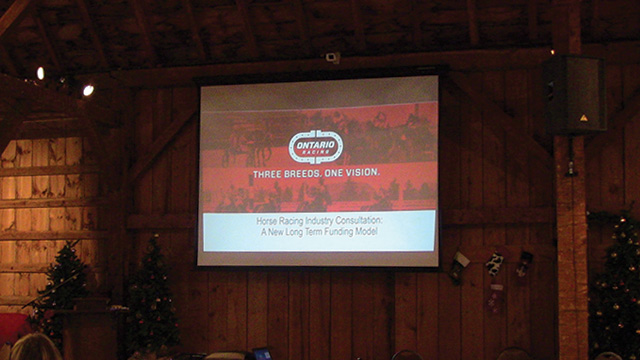 A gathering of 100-plus people attended the session orchestrated by Ontario Racing at the Country Heritage Park's Gambrel Barn. OR's executive director Rob Cook discussed the framework while Woodbine Entertainment Group's executive vice-president of racing, Jamie Martin spoke to the current Standardbred Alliance and its strengths and weaknesses.
"The strength is that a customer at the OTB in Windsor can make a bet, cash that ticket anywhere in the province -- including online -- and can be rewarded for his play right across the province," noted Martin, stating that was something not possible before. He also stated that the customer was getting "inconsistent OTB operations" noting that a track like Georgian Downs wasn't open everyday for simulcasting but now they are and generating more revenue through wagering.
"We also agreed to fix race days because the one real measurement within TPAs that we're required to follow is a number of race dates...not that we're looking to drop race days but there have been some proposals from the horse community of consolidating race days at the Alliance tracks to improve the purse levels at those tracks," said Martin. "We're really locked into a schedule of purses and race dates for about four or five years, which I would say is a weakness with how we can operate."
The status of the enhanced HIP program was an issue raised by both thoroughbred and standardbred participants, with each considering that program crucial going forward. According to Cook, the current $93.4-million amount does not include the approximate $7 million provided by OMAFRA for the HIP program and he's received no confirmation yet from that arm of government if that will continue. The suggestion was made to reinforce the necessity for such incentives through the feedback channels.
Purse levels were also discussed in a variety of formats. From other sessions, the notion that the $93.4 million being considered is a number that hasn't been indexed to inflation. Cook noted that OR is aware of this. Others wondered how racing can increase that number, with Cook noting that racing must look to grow purses through increasing handle and also with new future product offerings in concert with an integrated OLG.
That comment spurred a question regarding marketing and promoting racing, and whose court this ball falls into.
"It's a great question; right now there are lots of people trying to do that," said Cook, mentioning efforts from OLG, racetracks, OR and other groups all doing something. "Clearly that needs to be better organized, co-ordinated...funds need to be directed to where we can get the most outcome....that's work that needs to be done. Whether it's part of this Alliance or whether it's the industry as a whole coming together and figuring out how to make that happen.
"The interesting thing in all the consultations we've had with lots of people, the word 'customer' gets mentioned about twice. Clearly we need to focus back on customers and bettors and the growth of wagering."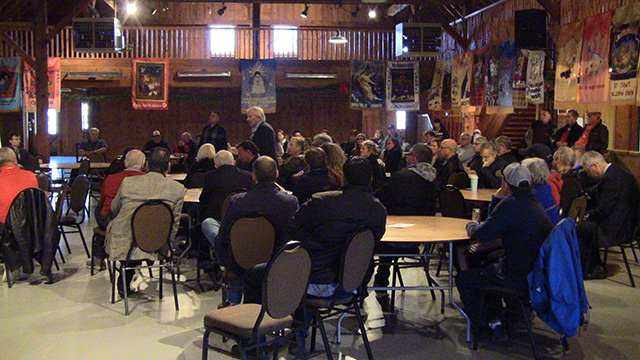 Audience members from the session gave their own feedback on making that happen. One industry participant stressed the need for OLG to take a strong role in making horse racing one of its most prized products. Another came forward with a multi-track handicapping contest idea designed to get fans out and active at the smaller, regional tracks.
OLG's Cal Bricker spoke to the two products that were offered within the last year: the Triple Crown scratch game and the Fire Horse online game, which he categorized as 'awareness products' and recognized that there wasn't any significant revenue generated from those offerings. Bricker also explained that other issues prevented more substantial integrated products being released.
"One of the issues we were facing was we had this modernization agenda going on at OLG and putting products out to the marketplace, we were really in a tough position in terms of what spaces we could actually operate in. We weren't able to be in a position to tie a service provider's hands in terms of the kinds of things we'd like to be able to do in the future. So that really limited us."
Bricker noted that in the last few weeks OLG has received more clarity on the lottery side of things and so OLG is now looking for opportunities in that space right now with products that will not just create awareness but enhance the money available to the horse racing industry. He was hopeful that something would be offered within the 2017 calendar year.
Cook mentioned during his framework overview that the horse racing industry could possibly see this framework implemented earlier than 2021 if that was the will and consensus of the industry -- possibly as early as 2019. While some within the session would appreciate the certainty provided by the framework, some wondered why there was such a rush to have this framework put into place.
Dr. Paul Branton spoke on behalf of the Horse People's Alliance of Ontario, and questioned why there was this pressure to approve a funding model that wouldn't kick in for essentially another four-plus years when the industry could possibly make better decisions if they had access to different and more constructive information.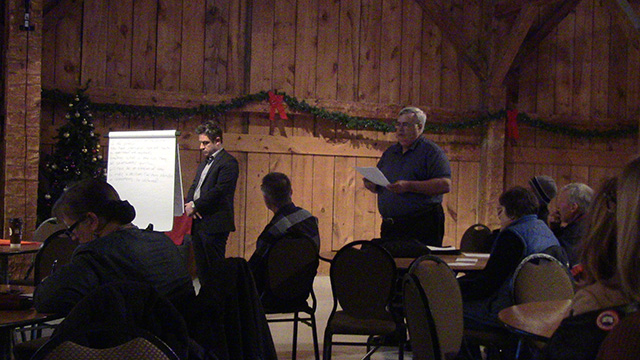 Branton also mentioned the issue of transparency, as this information referenced and requested isn't currently available.
"We need to know how big the pot is that we're working with, so we can grow on that."
Cook agreed that all organizations want to see more transparency going forward. He noted that OR will post as much of that information on its website as possible. He also noted that the timeline is a government timeline and not something constructed by OR. He also reiterated that the OR board does not control this process and that the framework being discussed will essentially lead to an agreement between OR and government, but it will ultimately need to be signed off at the government level.
"There's no board being created at OR that's going to run this process in a short number of weeks."
Cook did say that OR governance is a discussion that's currently taking place internally, and that industry reach-out would take place through the constituent groups of OR.
"The goal isn't that we want to be secretive or that we want to reach an outcome that the industry wouldn't be supportive of," noted Cook. "I'll take that comment back...that's not part of the funding [discussion] but I'll take that back to OR."
How would a change in government impact OR? "Good question," said Cook. "Who knows? What does a change in government mean for the $93.4 million? Is it going to be there still or is it going to be gone, we don't know."
Cook continued that OR's intent is to go forward "irrespective of who is in government, and try to represent the industry."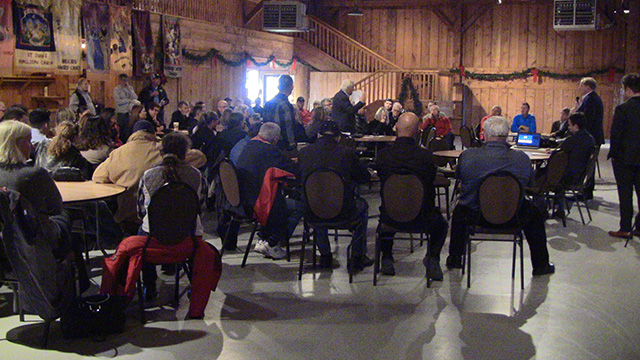 One of the final comments of the day spoke to industry representation, with one standardbred horseman stating that the rural and outlying segments of the industry aren't properly represented by the former OHRIA/current OR board. Cook noted that the constituent level of the OR board is based currently on organizations but it might not stay this way.
"This is a problem area we have," said Cook speaking to the multitude of standardbred horseperson's groups in the province, "we understand that. I don't know how we're going to deal with it but we're interested in people coming forward saying they have a group that would like to be involved. As we work governance through we're going to have to somehow figure a way to accommodate them. The intention is not to leave major pieces of the industry out."
Representatives from OR told Trot Insider that they expect the initial report of feedback to be released in early December.
---
This framework, subject to government approval, will be presented to the industry for feedback. If approved, this framework will provide the industry as a whole – from owners, trainers and breeders to racetrack operators – with the certainty they need to make investments in their businesses.
OR's primary objective, to this point, has been to engage directly with the Ontario Lottery and Gaming Corp. and the government to provide input to the development of a road map to sustainable funding for the industry. Now, OR's focus will shift towards engagement with the industry as a whole to garner feedback on this proposed framework.
This proposed framework is based on key principles including:
A new racetrack alliance: all Ontario racetracks that conduct live racing will be invited to create a new alliance. It is proposed that Woodbine Entertainment Group (WEG) will serve as the administrator of this new alliance.

Longer-term, predictable funding: Ontario's horse racing industry can invest in their businesses beyond 2021.

Ongoing accountability and transparency: decision-making based on evidence and agreed upon success indicators.

Industry leadership: racetrack business plans, race dates, purse levels will be aligned across racetracks for a coordinated approach. Ontario Racing will play a key industry leadership role in the future.
Widespread 'in person' conversations with the industry about these principles will continue across Ontario. Sessions will take place in every region of the province that has horse racing.
Ontario Racing encourages all interested parties to submit their feedback about the future of the industry by accessing its online consultation portal here. The portal includes a series of questions and the option to attach a word document, for those who would like to share additional thoughts. The proposed long-term funding framework was outlined in a webinar, hosted on October 19, and can be viewed here.
Ontario Racing will collate feedback from the industry, and this perspective will inform recommendations to government.
(With files from Ontario Racing)