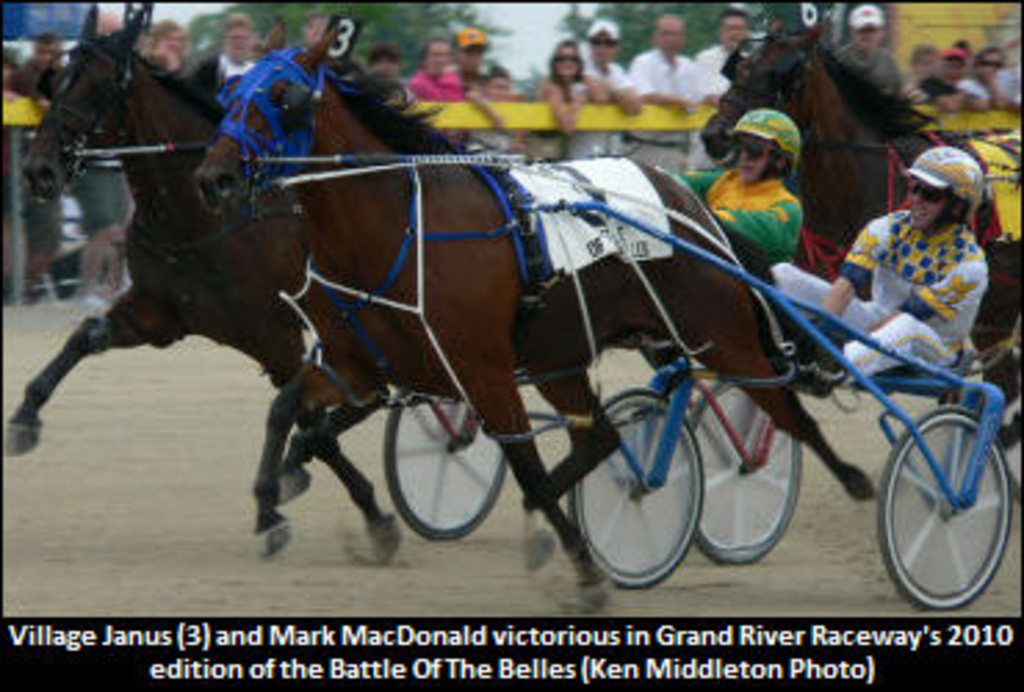 Published:
November 22, 2011 11:39 am EST
With the 2011 Ontario Sires Stakes season having come to a close earlier this month, trainer Rod Therres has sent Village Janus out west to contest this weekend's eliminations for the Northlands Filly Pace for three-year-old distaffers, and new conditioner Kelly Hoerdt has told Trot Insider that he couldn't be happier with the new addition to his barn
.
Village Janus, a winner of $144,618 this season and $277,318 in lifetime purses, has raced 29 times in her career. All of her starts have come in Ontario to this point. Although he has yet to hit the track with the filly, Hoerdt told Trot Insider that Village Janus look great despite her recent ship.
"She looks great," Hoerdt said. "Her ears are up and she's happy and alert. The flight didn't take a toll on her."
The box for Northlands Park's Northlands Filly Pace will close tomorrow (Wednesday, November 23) at 9:00 a.m. Hoerdt told Trot Insider that he wasn't too sure what Therres' exact plans were for the filly.
"She's probably just here for the filly pace, but I'm not too sure what Rod has planned for her beyond that," Hoerdt explained. "I'm just glad to have her in the barn right now and am looking forward to getting her out on the track this weekend."
On Monday, November 21, Northlands Park's communications arm reported that Therres has taken over full ownership of Village Janus, as he has parted ways with co-owner Larry Schmidt in regard to the lass.
"Larry and I have parted ways on good terms," Therres told Northlands. "We're both very happy with all she's done in the last two years. It's funny... both seasons she started out four for four and we thought we were going to make a ton, but she just couldn't handle the summer heat in Ontario."
Northlands also reported that Therres is planning on racing Village Janus between Alberta and British Columbia for the foreseeable future, with thoughts of pointing her towards the Miss Valentine Stakes, an event for four-year-old mares, at Fraser Downs in February.
Therres last competed at Northlands in the 2008 edition of the Western Canada Pacing Derby --- a fourth place finish with Royal Morn to Neal Diamonique.
The $75,000 final of the Northlands Filly Pace is scheduled to be raced Saturday, December 3 at Northlands.
(With files from Northlands)