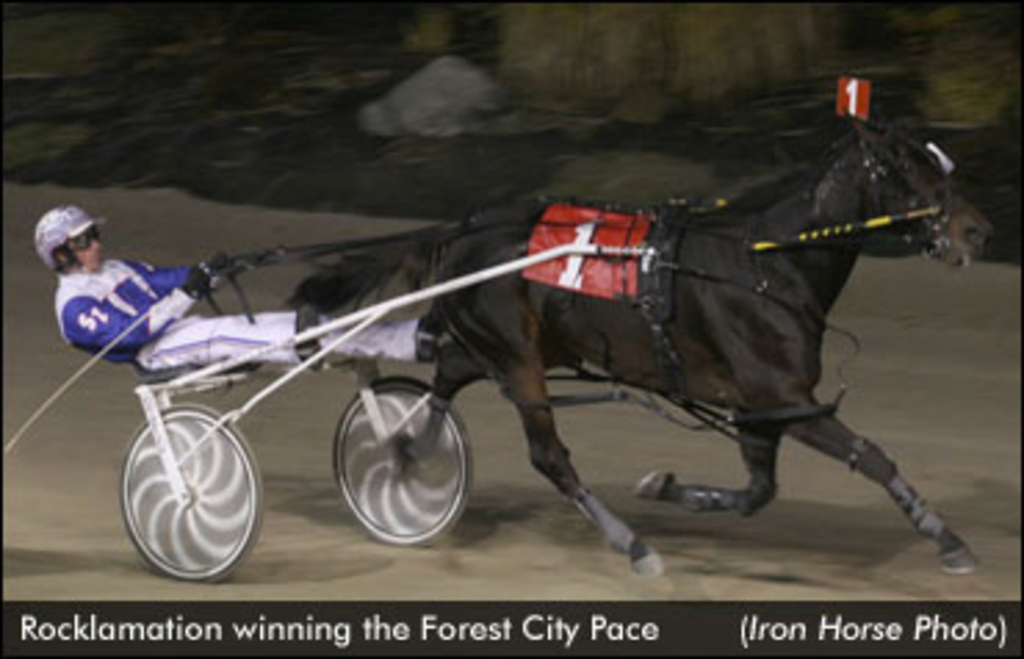 Published:
November 17, 2012 11:13 pm EST
Heavy 1-4 favourite Rocklamation held off her Ron Burke stablemate Camille to win Western Fair Raceway's $200,000 Forest City Pace on Saturday night with Scott Zeron in the sulky.
With the inside post advantage, Milton Stakes champion Rocklamation and Zeron grabbed the early lead with Ticket To Rock (Jody Jamieson) rolling up alongside from post six. Rocklamation gave way to the early challenger before moving back out for the re-take during the :27.3 opening panel.
Rocklamation quickly cleared to command and led the field to the half in :57 while Camille (Brett Miller) advanced first over from fourth with Waasmula (Randy Waples) and the other Burke starter, Ginger And Fred (Robert Shepherd), following her cover.
The eliminaton winners battled on top through three-quarters in 1:25 and into the stretch, but Rocklamation prevailed in a new stakes record of 1:53.2. Camille settled for second one and a quarter lengths behind with Ticket To Rock following in third. Modern Cinderella (Trevor Henry) edged out the wide rallying Ginger And Fred for fourth.
Both Rocklamation and Camille had turned in track record-setting victories for aged pacing mares in their eliminations last weekend with Camille posting the fastest mile in 1:52.4. Tonight, Rocklamation's winning time lowered the stakes record by one full second, which was set last year by Voelz Hanover.
"The race unfolded the way I thought it was going to," said Zeron in the winner's circle. "I thought Jody was going to press for the front. She's a really big horse and they were going top speed into that first turn -- it's a hard left -- and I was just making sure I got through it on my own. I released Jody and obviously I wanted to cut that mile so I removed on him and we were able to get some soft fractions. It was a fight right until the end though."
The four-year-old Rocknroll Hanover mare is owned by Our Horse Cents Stables and Jerry Silva of New York along with Florida's Stable 45. The win was her eighth in 26 seasonal starts and pushed her earnings to $765,439 this year and $1,193,315 lifetime.
Saturday's undercard featured four Middlesex County Series Finals with purses ranging from $54,200 to $63,400. The series is for Ontario-sired trotters and pacers that are four years old and younger and non-winners of $10,000 lifetime as of midnight September 1, 2012. The top eight money-winners from two preliminary legs advanced to Saturday's finals.
Legal Herb kicked off the series action with a wide-open score in the horse and gelding trot division for driver Mark Williams and trainer William Kirkpatrick.
With three horses making early breaks including favourite Cracker Zack (Randy Waples), Legal Herb inherited the pocket spot before sweeping to command at the half and then opening up eight lengths on his rivals for the 2:00.1 triumph. Impressive (Daniel Potvin) and Brenwaycayne (Gary Rivest) rounded out the top three finishers.
Michigan's Pamela Loomis owns and bred the three-year-old son of Here Comes Herbie, who won his opening leg division on Nov. 3 and was a close second to Cracker Zack in round two on Nov. 10. He is now two-for-six in his debut season.
Kendra Hanover pulled off a sweep of the fillies and mares trotting series with a 2:00.2 winning effort in rein to trainer Paul Walker, who shares ownership of the sophomore Kadabra filly with Barry Klages of Owen Sound, Ont.
The 3-4 favourite advanced first over from fourth after the first quarter and wore down the pacesetter and eventual breaker Dancing Coed (Mark Pezzarello) for the one and a half length victory. Strawberry Wine (Jody Jamieson) followed in second and early trailer Silly Dreams (Robert Shepherd) finished third.
Unraced as a freshman, Kendra Hanover is now four-for-six in her career.
Driven by Alfie Carroll, the popular Greg Horn-trained St Lads Zoom Zoom went wire-to-wire to win the following final for pacing horses and geldings by five lengths in 1:55.3.
The three-year-old Apaches Fame gelding, who was a first leg winner on Oct. 30 and scratched sick from the Nov. 6 leg, defeated The Big Bite (Jody Jamieson) and Victorydaze Wilwin (Mark Etsell) to notch his seventh win in eight starts.
St Lads Zoom Zoom is owned by breeder St Lads Farm of Ruscom Station, Ont. and Michigan's Diane Stephenson.
Stonebridge Secret provided Canada's leading driver Trevor Henry with his sixth victory on the card when she captured the final Middlesex County Series trophy in the fillies and mares pacing division.
The 3-5 favourite advanced first over from third after the opening panel and battled with the pacesetting Amazing Step (Denis St. Pierre) until drawing clear in the stretch for the 1:59.3 triumph. A Million Thanks (Randy Waples) and Dazzle N Delight (Lorne House) came on for second and third.
Trained by Wayne Preszcator for the Secret Weapon Stables of Waterloo, Ont., the three-year-old daughter of Stonebridge Regal has now won three times in 16 career starts. In series action, she won her second leg division on Nov. 5 and was a runner-up the week prior.
To view Saturday's harness racing results, click on the following link: Saturday Results - Western Fair Raceway.