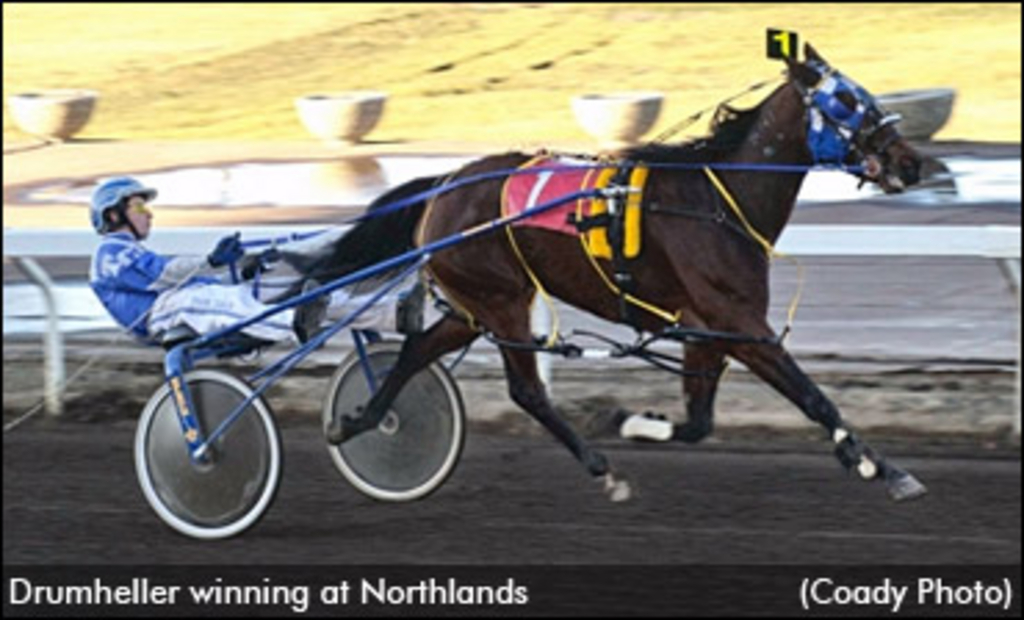 Published:
November 15, 2011 10:19 am EST
Two new faces - one longtime horseman and one up and coming driver from a well-known harness racing family - are quickly making their presence felt at Edmonton's Northlands Park
Manitoba native Greg Manning is now calling Edmonton home. The 46-year-old horseman decided to make the move this Fall and he's brought plenty of horsepower with him. "I've brought some nice horses with me," he says. "Drumheller, Albertas Dragon and Steal The Diamonds are all nice animals that should compete well here."
Manning, who's been in the harness business for most of his life, has raced in Alberta before. "I was here in the 80's working with Al Goertzen and doing some driving - around that time Al would have had Master Image in the Nat Christie," he says.
That stay would not be permanent as Manning would move on Ontario, in the 90's, becoming second trainer for the Joe Stutzman Stable.
"Stutzman would be trainer of the year in 1994 and I would be looking after the track work and every-day-stuff," he explains. "There were some really nice horses in our barn at the time including [millionaires] Ball And Chain and Impeccable Image."
Manning would go on to California for work with trainer Gilbert Garcia Herrera, in 1998, before returning to Manitoba, in 2000, for racing there and in the neighboring province of Saskatchewan.
"I've had some luck there, but it was time to make the move," he says. "We sold the farm this past summer and decided to set up shop here in Alberta. My main owners, Keith and Brett Earle, along with Don Ransom, have been very supportive of the move. So far it's been good"
How about this Albertas Dragon winning by over 20 lengths at Northlands a few weeks back?
"She's been a pleasant surprise," says Manning. "We purchased her for $7,500 in September. I made a shoeing change and let her hopples out a few inches. She's got no money on her card so we're hoping for big things from her going forward."
Drumheller, under Manning, now has three wins in three starts here, this Fall, including his latest eight-length romp for a new mark of 1:55.1 and now Steal The Diamonds is on the seen after stints south of the border at tracks like the Meadowlands and Chester.
"Steal The Diamonds is here for the Western Canada Pacing Derby... if he's good enough," he says. "And we'll find that out soon enough I'm sure."
Young Cullen is here to drive
At nineteen years of age Travis Cullen is the youngest pilot here in Alberta and he's quickly making a name for himself. The son of Ron and Jodie and brother to Ashleigh has always wanted to drive horses.
"Ever since I was little my goal in life was to become a driver," says Cullen. "When I was about twelve my Dad bought me my first driving suit. It was a set of Roger Mayotte silks that were being auctioned off. I still go with the blue, grey, white pattern today."
Young Cullen became a licensed driver in the summer of 2010. His first driving win would come aboard former Alberta pacer Random Desire in a mares Open Pace, at Saskatchewan's Marquis Downs, in September of the same year. Cullen would then pick up some work and some drives at Ontario's Flamboro Downs, in February and March of this year, before returning home to Manitoba for summer racing.
Travis now finds himself busy, here at Northlands, driving on race days and throughout the week working with his uncle Greg Manning. When asked if he'd be interested in picking up a little more work in the sulky, on race days, Travis was quick to say that he is 'open for business'. "For sure! I'm here to work; I'm here to drive and I'm here to stay."
Live harness racing returns to Northlands this Friday evening with a 6:00 p.m. start time and continue throughout the weekend with Saturday and Sunday matinee's beginning at 1:00 p.m.
(Northlands Park)