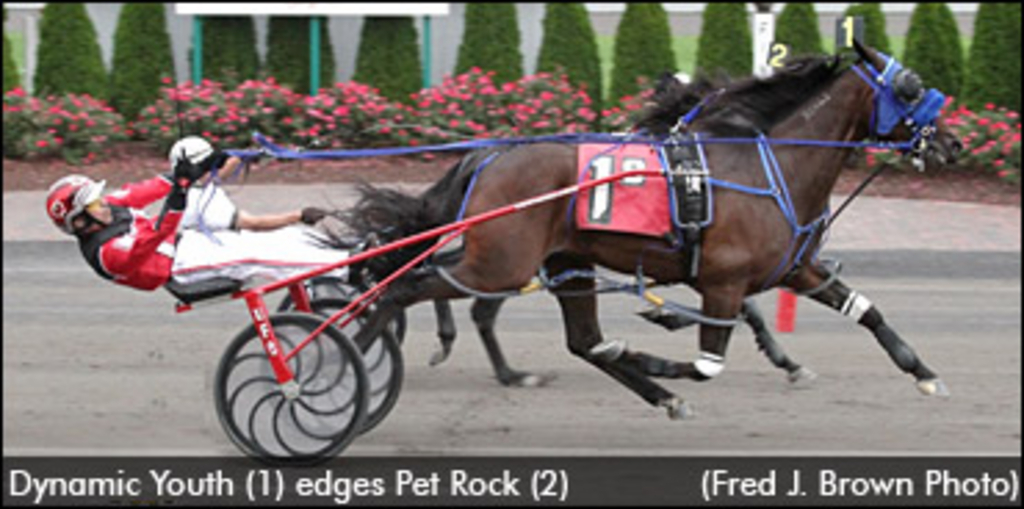 Published:
November 14, 2012 07:22 pm EST

Andrew McCarthy has come close to winning several big races with Dynamic Youth. He hopes Friday is the night he gets to bring the horse to the winner's circle.
Dynamic Youth is among eight three-year-old male pacers entered in Friday's $215,000 Windy City Stakes at Maywood Park in Chicago. He will start from post four with McCarthy handling the driving for trainer Aaron Lambert and owner J And T Silva Stables, Kenneth Tucci and C And G Racing Stable.
In his two most recent starts, Dynamic Youth finished second in the $260,000 American-National Stakes and second in the $250,000 Monument Circle, both with McCarthy at the lines. Earlier this year, the two finished second in the $587,315 Confederation Cup.
"I'd love to get one of these races with him," McCarthy said with a laugh. "He's just been a little unlucky, but he's still making pretty good money.
"He's beautiful to drive. He can be a little bit tricky if you get him in a spot with horses around; he can want to take a hold of you. But usually you just take him off (the gate) and he'll follow cover pretty good."
Dynamic Youth does have one major stakes victory to his credit – a Triple Crown jewel, in fact – having won the $322,716 Cane Pace at Tioga Downs on Sept. 3 with George Brennan in the sulky. The triumph came nine days after McCarthy was sidelined by a broken ankle suffered in a racing accident at his home track of Mohegan Sun at Pocono Downs. He missed five weeks of action because of the injury.
"When he won the Cane Pace, when Georgie drove him there at Tioga, I think he proved that he's as good as any of them," said McCarthy, who races primarily at Pocono Downs and returns home to his native Australia during the track's offseason. "We had taken him up to Canada for the Confederation Cup and he raced really good there. He just got unlucky; we got the eight hole in the final, otherwise I think he would have won that race too."
For the year, Dynamic Youth has won six of 17 races and earned $544,299. He is a son of Bettors Delight and the first foal out of the mare Always True. He sold for $85,000 under the name Altdelete Hanover at the Standardbred Horse Sale.
McCarthy has driven the gelding nine times, posting three wins and five second-place finishes. The duo was sixth in the Art Rooney Pace at Yonkers Raceway when Dynamic Youth went off stride behind the gate.
"Earlier on in the year he had gate speed, but we had a few troubles with him and he made a break one night at Yonkers, so we took him off," McCarthy said. "I still think he's got a little bit of gate speed, but he seems to like to have a target. He races pretty good from behind; he likes picking them off."
In the Monument Circle at Indiana Downs, Dynamic Youth was ninth at the halfway point before finishing a quarter-length behind Bettors Edge in 1:49.3. In the American-National at Balmoral Park, he was sixth at the half, got the lead in the stretch and yielded to Our Lucky Chip in 1:52.3.
"He's been racing pretty good," McCarthy said. "In the Monument Circle he had to come from a long way back and ended up like fifth over. He went a pretty good race there to come from as far back as he did.
"I was probably a little bit disappointed with him in the American-National. He kind of got lost when he got to the front; it's a big, long stretch. I think he'll be pretty good in (the Windy City) because he does love a half-mile track."
The field for the Windy City is listed below:
$215,000 Windy City Pace
1. Hurrikane Kingcole
2. Pet Rock
3. A Rocknroll Dance
4. Dynamic Youth
5. Easy Again
6. Lucky Jet
7. Mcerlean
8. E Z Noah
---
This story courtesy of Harness Racing Communications, a division of the U.S. Trotting Association. For more information, visit www.ustrotting.com.