Published:
October 5, 2021 09:30 pm EDT
Let It Ride Stables' Shabby Chic ($2.60, Tim Tetrick) remained unbeaten and was a dominant 1:55.2 winner in the $100,000 Delaware Standardbred Breeders Fund (DSBF) stakes for two-year-old pacing fillies Tuesday (Oct. 5) at Harrington Raceway.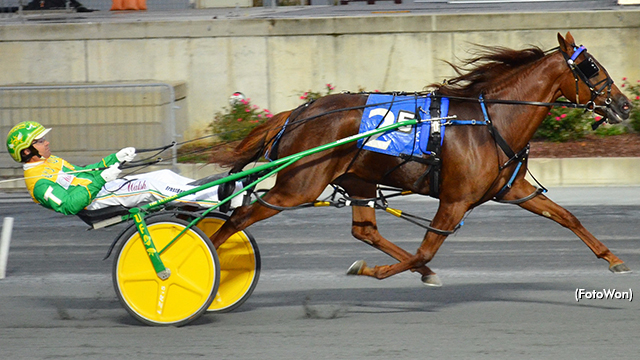 The Badlands Hanover filly improved to five-for-five in her career for trainer Mike Hall and boosted her lifetime bankroll to $79,000 in her wire-to-wire win from post 2 over Bank The Win and Gaitway Gal. Shabby Chic rebuffed the first-over Gaitway Gal near three-quarters and was a three-length winner.
In the $15,000 DSBF filly pace consolation, Jeff Clark's Smokeys Passion ($12, Eric Davis) prevailed in 1:57.4 over Tahoe and Donnas The Best. The Roddys Bags Again filly recorded her maiden win.
Two horses on the card extended win streaks to four. Mark Salerno's Montys Play ($3.20, Montrell Teague) notched his fourth-straight win for trainer Chuck Crissman in 1:53.4 in a $9,900 pace for $17,500 claiming pacers. The six-year-old Shadow Play gelding and former Harrington horse of the meet, made his customary first-over charge to the front and drew away for his fifth win of the year.
Meanwhile, Nanticoke Racing, Josh Parker, Steve Messick and Kevin Evans' A Delightful Act N ($2.10, Art Stafford Jr.) improved to four-for-four since arriving from New Zealand with a 1:54.3 win in a $13,200 conditioned pace. The five-year-old Bettors Delight mare is trained by co-owner Parker.
Wednesday's program features two more $100,000 DSBF final events as two-year-old trotters will go postward in the second and fourth races on the 15-race program.
Post time is 4:30 p.m. (EDT).
(Harrington Raceway)