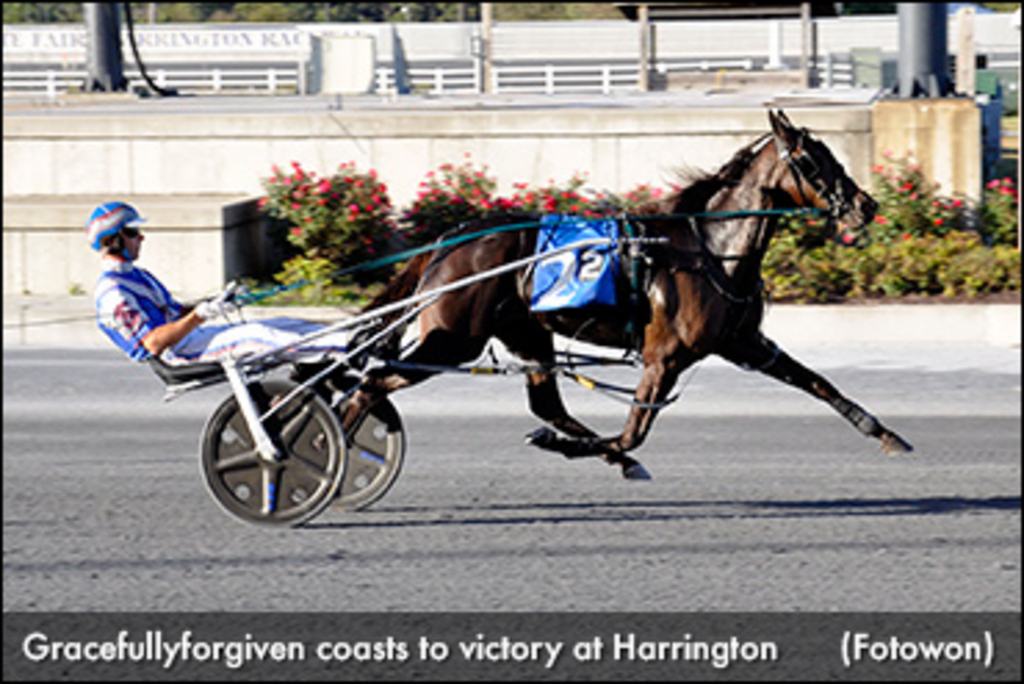 Published:
October 4, 2017 09:00 pm EDT
Four $100,000 Delaware Standardbred Breeders Fund (DSBF) two-year-old finals, which showcased Delaware's top sired horses, were contested Wednesday (October 4) at Harrington Raceway on a beautiful fall day. While five horses entered the finals unbeaten, only two remained unblemished when the dust settled on the 13-race program.
Jeff and David Clark's Gracefullyforgiven ($2.60, Art Stafford, Jr.) won the pacing filly final and remained unbeaten in four starts with a 1:56.3 open-length score over Ibetyoucanwiggle and Pedal Power. The Roddys Bags Again filly set all the fractions and was a decisive victor for her co-owner and trainer Jeff Clark.
The filly trotting final went to Serendipity Stable's Star Sapphire ($19.00, Russell Foster), who was a 2:01.3 winner over Deja Vu Blue and Vandalous. From the first crop of Anders Bluestone, it was the first career win in three starts Star Sapphire, who is trained by Tui Stone.
Andrew Glassmeyer's Bosston Cruiser ($2.60, Jonathan Roberts) was a 2:01 winner in the male trotting final, with a narrow win over Brother Kenny and Sky Marshal. The Glassmeyer trainee held off a late charge from Brother Kenny to the wire in a photo finish. Bosston Cruiser, a son of Don Boss Vita, remained unbeaten in four starts.
Foster piloted another winner when owner-trainer George Leager's Slick Tony ($6.40) was a 1:55 winner in the final for male pacing colts. The No Spin Zone colt sustained a giant first-over move and held off a hard charge by Evolution Tour to the wire. Transitioning Joy was the pacesetter and finished third.
There were two $20,000 DSBF consolation events, both won by Clyde Francis trainees for owner George Teague, Jr. and driver Montrell Teague. Nozy Neighbor ($6.00) won the pacing filly consolation in 1:59.3, while Mingo ($3.00) prevailed in the colts and geldings consolation in 1:57.2.
Celebrity Pegasus ($4, Art Stafford Jr.) won the overnight feature, a $15,000 Open Trot in 1:56.1 for owners Ken Wood, Bill Ditmar, Steve Iaquinta and Minisink Farms. Celebrity Pegasus is trained by Eric Ell.
(Harrington Raceway)