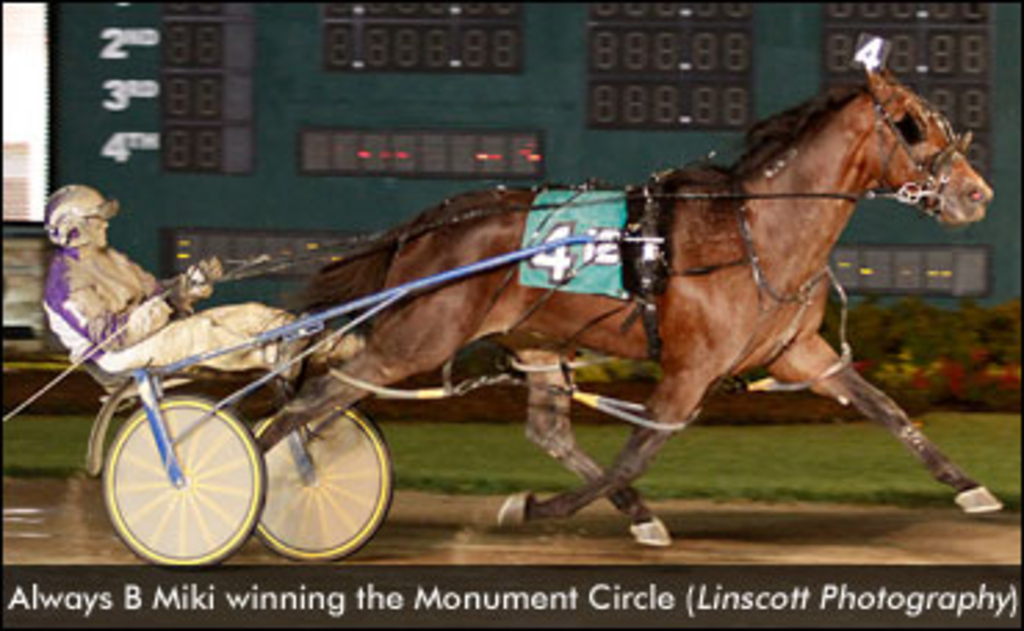 Published:
October 31, 2014 08:01 pm EDT

Indiana Sires Stakes champion Always B Miki ($5) returned to Hoosier Park on Friday to tackle the sport's top three-year-old pacing colts and geldings in the $275,000 Monument Circle during a stakes-filled Friday night card of harness racing.
David Miller drove the Joe Holloway trainee, who earned his fourth win in a row.
Inside starter Limelight Beach grabbed the lead early on with post nine starter Big Boy Dreams firing up into second and eventually clearing to command past the speedy :26-second opening panel. His lead was short-lived though as Always B Miki, who got away mid-pack, marched by before hitting the half-mile mark in :56.2 with Somewhere In L A left outside uncovered. Always B Miki raced to three-quarters in 1:25.4 while Somewhere In L A moved up within striking distance coming off the final turn. However, Always B Miki dug in down the lane and drew three lengths clear for the 1:52 triumph. Limelight Beach closed well to place while Somewhere In L A edged out second over Lets Drink On It in a photo for show. Slight favourite JK Endofanera finished fifth.
"The trip didn't work out exactly like I thought it would," Miller noted in the winner's circle. "I was hoping to get some cover, but I knew I had to move down the backside or I was going to get locked in. I was worried with the wind and things that he might not be able to hold them off, but he raced huge. When I asked him to go around the last turn he felt strong. He was able to hold his speed and he dug in all the way to the wire, that mile really impressed me tonight."
The Always A Virgin-Artstopper colt now has 11 wins and four second-place finishes in 18 sophomore starts and seasonal earnings of more than $782,000 for his connections from the Bluewood Stable, Val Dor Farms and Roll The Dice Stable.
Somestarsomewhere ($13.20) prevailed over Capital Account and Lord Of Misrule in the $50,000 consolation in 1:54.4. Ron Pierce drove the Somebeachsomewhere-Lovely Assistant colt for Burke Racing Stable LLC, Weaver Bruscemi LLC, Michelle Yanek, and Lawrence Karr.
With half of the starters in the field from his stable, trainer Ron Burke dominated the $211,500 Hoosier Park Pacing Derby and swept the top four spots.
The late-closing Bettors Edge ($12.60) led the Burke brigade across the wire in a photo finish, edging by track record holder Sweet Lou, Clear Vision and Foiled Again for the quarter-length triumph in 1:53 flat.
Thinking Out Loud emerged between horses with the lead into the first turn over the early leaver Night Pro with Foiled Again in pursuit and Sweet Lou hot on his heels. Foiled Again cleared to command past the :26.3 first quarter then Sweet Lou surged by and continued on to the half in :58. Meanwhile, favourite Clear Vision advanced up into second and pressured his leading stablemate to three-quarters in 1:26.1. Sweet Lou maintained the leading role into the stretch with Foiled Again slipping up the inside and Clear Vision still looming outside, but it was Bettors Edge who prevailed further out as he closed off cover with :25.4 final quarter speed.
Last week's Invitational winner at Hoosier, Bettors Edge now boasts back-to-back wins in Indiana with Matt Kakaley driving.
"I have been leaving quite a bit with him lately and tonight I wanted to change it up a bit," Kakaley noted after the victory. "With the weather too, the front end was not the place to be. It ended up working out really well for us, but I was a little worried around the last turn because they kind of got away from us. I was able to move him out to the center of the track and he was strong all the way to the wire. He was really game tonight."
The son of Bettors Delight out of Spring Wind has won eight of his 28 starts during his five-year-old campaign while earning over $678,000 of his million-dollar-plus bankroll. The pacing gelding is owned by Burke Racing Stable LLC, Weaver Bruscemi LLC and M1 Stable LLC.
Three-year-old trotting colt E L Titan ($12.20) held off divisional heavyweight Father Patrick and survived a lengthy judges' inquiry to be declared the winner of the $230,000 Carl Erskine Trot.
Riina Rekila trains E L Titan for Finland owner and breeder Erkki Laakkonen while Ron Pierce was the winning driver.
The Jimmy Takter-trained and driven Odds On Amethyst hustled off the gate from post four and put up a :27.1 opening quarter while his stablemate Father Patrick inherited the pocket spot as Hillustrious broke stride. Down the backstretch, E L Titan advanced from third and cleared to command past the :59.2 half-mile mark with Father Patrick tipping out and Il Sogno Dream second over. E L Titan held command as they raced by the third quarter mark in 1:30 and was able to keep Father Patrick at bay down the stretch for the three-quarter-length triumph in 1:57.2. Il Sogno Dream finished back in third.
Following the race, the racing judges launched an inquiry on the winner examining possible interference to the runner-up in the stretch in addition to an inquiry on the third-place finisher regarding an incident in the backstretch. However, judges ruled there was "insufficient evidence" on both cases and the top three finishers were deemed official.
"It was a spontaneous decision coming out of the first turn to move to the front," Pierce said after the victory. "With the slow quarter I had to move to stay out of trouble so once I did I just sent him to the front. I had to use him pretty hard to get there, but he was strong tonight."
E L Titan has now won three of his seven seasonal starts while banking over $380,000. The Galt Stakes winner, who was scratched from the Yonkers Trot eliminations, was a runner-up to Father Patrick in the American National Stakes and Canadian Trotting Classic earlier this fall.
"I raced him in Chicago a few weeks ago and he was loaded," Pierce continued. "I felt then if I would have been closer to Father Patrick I could have beat him that night. Tonight, coming around the last turn he still felt good and I knew we had enough to hold [Father Patrick] off even having to use him so hard early in the race."
Delivering on her pari-mutuel promise, popular three-year-old trotting filly Shake It Cerry ($3.60) powered home off cover to capture the $193,000 Moni Maker.
Driven by Ron Pierce, Shake It Cerry earned her seventh straight stakes win in 1:57 flat over a track rated "good" with light rain in the area while her stablemate Lifetime Pursuit and Yannick Gingras finished second for trainer Jimmy Takter.
Riveting Rosie left from post four and led the field of fillies through a :27.2 opening quarter before Lifetime Pursuit leap-frogged around her at the :59.2 half-mile mark. Lifetime Pursuit trotted on to three-quarters in 1:29.4 and maintained the lead into the stretch, but Shake It Cerry rallied off the cover of Cee Bee Yes and drew clear for her 13th win of the season on Halloween night. Lifetime Pursuit stayed for second while Cee Bee Yes finished third.
"I've been racing her on the front for most of her starts this year, but I did race her off the pace last year some," Pierce noted after the victory. "Obviously with the factors tonight, I didn't want to be on the front so I knew if I just floated her out of there and put her somewhere close she would do the rest. Tonight, that was like a training mile for her, she was that good tonight."
Solveigs Racing Partners's homebred Donato Hanover-Solveig filly now has earned over $920,000 in 15 sophomore starts.
The Hoosier Park princess, Colors A Virgin ($7), continued her own winning streak in the $176,500 Nadia Lobell for three-year-old pacing fillies.
Jugette and Indiana Sires Stakes champion filly Colors A Virgin, was driven by Trace Tetrick for trainer Brian Brown and owner/breeder Emerald Highlands Farm.
Leaving widest of all from post nine, Katie Said fired across the track to establish the lead over favourite Precocious Beauty through a sizzling :26.2 opening panel. She then took a second quarter breather and reached the half in :58.3 while Colors A Virgin was flushed first up from third. Colors A Virgin quickly moved up alongside the leader and they paced together around the final turn and past three-quarters in 1:28.2. Down the stretch, Colors A Virgin overpowered the pacesetter and drew off to secure her sixth straight victory in 1:55 flat. Gallie Bythe Beach followed the winner's cover to place, finishing two and a quarter lengths behind, and Weeper closed well from the backfield to show.
Colors A Virgin, a daughter of Always A Virgin and Full Color, is now 12-for-16 with nearly $473,000 earned on the year.
(With quotes from Hoosier Park)