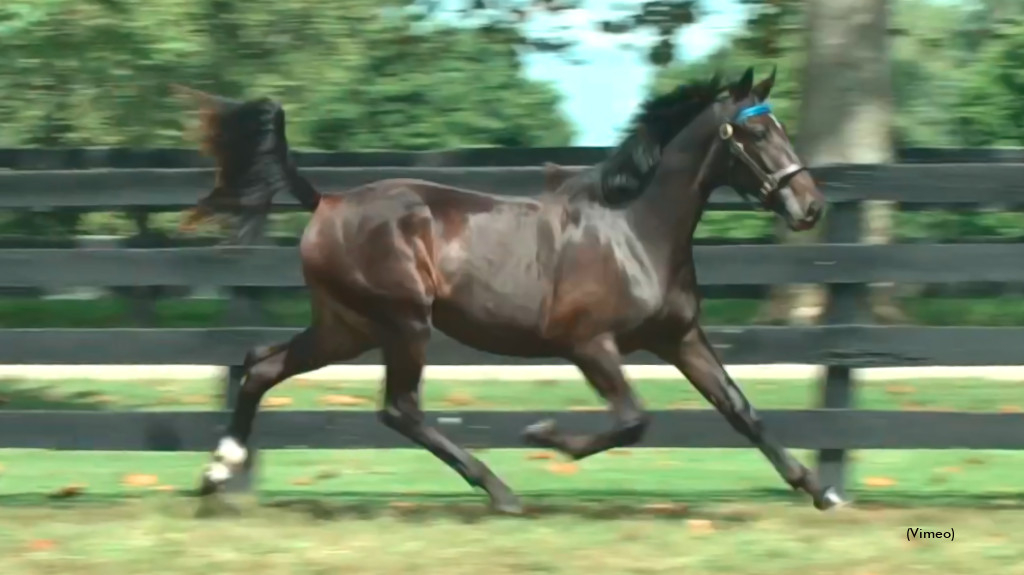 Published:
October 3, 2022 11:59 pm EDT
The opening session of the 2022 Lexington Selected Yearling Sale kicked off Monday evening in Kentucky, and it was the Chapter Seven-Jolene Jolene filly Epoch who was the topper thanks to a whopping price tag of $725,000.
Selling as Hip 57, Epoch was purchased by Diamond Creek Farm LLC of Georgetown, KY.  Hunterton Sales Agency consigned the three-quarter sister to the O'Brien Award-winning and Dan Patch Award-winning filly, Venerable (1:52 - $1,270,858).
"She was on a very short list of fillies that we were interested in," Diamond Creek Farm owner Adam Bowden told the USTA. "Upgrading our trotting mares all the time is a challenge, and she certainly fit the bill, pedigree and physically. We loved the other fillies out of the mare. With the success she's had as a broodmare, it seems crazy that we wouldn't have been interested. We did our due diligence, and she checked every box for us. There wasn't anything I didn't like.
"To be honest, the fact she was a Chapter Seven was a huge selling point for us. I just think he's a super sire. The success that Venerable has had being a Walner, the same sire line, if (Epoch) is half as good as Venerable is, we'll be in great shape."
Hip 70 Vic Zelenskyy was purchased for $550,000 from the Hunterton Sales Agency consignment by Marcus Melander of New Egypt, NJ.  The son of Greenshoe is the first colt out of the freakishly-fast Mission Brief, who is a 100 percent producer.  Her first two fillies were the Father Patrick miss, Adirondack (1:52.1) and the Walner lass, Jaya Bae (1:53.2).
Hip 80 Youbet Hanover also fetched a final bid of $550,000.  The Bettors Delight filly, who was consigned by Hanover Shoe Farms Inc., was purchased by Determination of Montreal, Que.  She's the first foal out of Youaremycandygirl (1:48.2 - $1,647,229). 
Hip 63 Awaiting was a $525,000 purchase by Kenneth Jacobs of Baldwinsville, NY.  The Walner-Lonely Lady filly, who was consigned by Hunterton Sales Agency Inc., is a full-sister to Walner Payton (1:54.1 - $315,700).
Hip 74 Stardust Volo also commanded a final bid of $525,000.  The Muscle Hill-Sterling Volo lass, who was consigned by Kentuckiana Farms, was purchased by Greg Luther of Blacklick, OH.  She's a full-sister to Lily Stride (1:50.2 - $717,762).
In total, 122 yearlings went through the ring on opening night for total sales of $23,067,000, a Lexington record.  The average price over the course of the evening was $189,074.  Eighty-nine trotters were sold on Monday evening, but it was pacing fillies that proved to be the hottest tickets.  Just 12 went through the ring, but the average price to pay for a filly was a staggering $237,333.
Last year's sale saw 115 yearlings go through the ring on opening night for total sales of $18,540,000.  That translated into an average sales price of $161,217.  This year's gross came in at a 24.4 percent increase over 2021 while the average was up 17.3 percent.
IMPORTANT LINKS