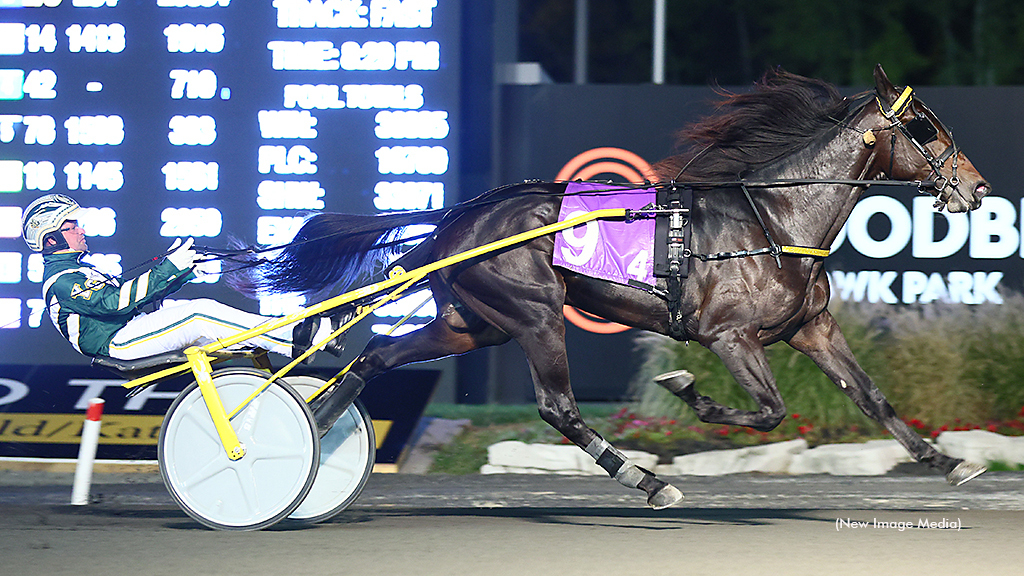 Published:
October 27, 2022 05:04 pm EDT
Ron Burke was forced to miss several big races on Celebrity Bambino's schedule because of the colt's battle with sickness, but the trainer is hopeful his highly regarded prospect will make up for it the rest of the season.
Celebrity Bambino's first opportunity arrives in Friday's $810,000 Breeders Crown for two-year-old male trotters at Woodbine Mohawk Park. The colt, who won one of the event's two elimination races last week, drew post four for the final and is 9-2 on the morning line with Yannick Gingras in the sulky.
Purchased for $120,000 at last fall's Lexington Selected Yearling Sale, Celebrity Bambino is a son of Muscle Hill-Celebrity Ruth from the family of Breeders Crown champions Master Lavec and Housethatruthbuilt. He won his Crown elimination by 2-3/4 lengths over Oh Well in 1:53.2.
"It's what we've expected all along from him," said Burke. "We've had big hopes. He was great starting out and then he got sick and couldn't get over it. It was a lot of patience for me to skip a lot of races I didn't want to skip, but it was all to prep him for this week and the Valley Victory.
"I think he's the real deal. I've thought it all along training down."
Celebrity Bambino, who was scratched sick from the Peter Haughton Memorial final on Aug. 6, has hit the board in seven of eight races, winning three. He has earned $126,932 for owners Burke Racing Stable, J&T Silva Stables, Knox Services and Phil Collura.
The colt enters the Breeders Crown final off back-to-back wins.
"He's such a nice horse," said Gingras. "He was my favourite training down. I absolutely loved him. I thought he had the potential to do this and a whole lot more. I thought he was a top, top horse. He got sick there and Ronnie did the right thing. All credit goes to Ronnie, he gave him the time he needed and the horse is back."
Added Burke, "He's ready. I'd be very surprised if he throws in a bad performance."
Oh Well, who won the Mohawk Million on Sept. 24 at Mohawk, is the 3-1 favourite in Friday's final despite starting from post nine. Tim Tetrick will be in the sulky for trainer Marcus Melander. The Muscle Hill-Fine Tuned Lady colt has finished no worse than second in all seven of his starts this season, winning four and earning $866,567 for owner SRF Stable.
"I'm very happy with him," said Melander. "He had a four-week layoff, so he should improve a lot with that start. He will be a lot sharper. [Post nine] isn't ideal, but he's a strong horse and I think he can overcome it."
Melander also will send out Peter Haughton Memorial champ Kilmister, who is 5-1 from post five with driver Brian Sears. Kilmister received a bye directly to the Breeders Crown final as the result of his "Win and You're In" victory in the Haughton.
A son of Chapter Seven-Treviso, Kilmister enters Friday's race off a fifth-place finish in an Oct. 7 division of the International Stallion Stakes at the Red Mile in which he went off stride at the start. For the season, has won five of eight races and earned $301,875 for owner Courant Inc.
"The gate goes very slow sometimes at the Red Mile and he just got very excited," said Melander. "He had been there for almost two months, so it was good for him to get home [in New Jersey]. He's a lot more relaxed at home.
"He's feeling good. We're just going to go straight to the final. He feels sharp enough. [Post five] is perfect. It couldn't have been better. I didn't really want one or two with him because he can be a little excited behind the gate. The five-hole is perfect."
Gaines Hanover won the other Breeders Crown elimination in 1:53, a track record for a two-year-old gelding, by 2-3/4 lengths over The Gruffalo. He is the 7-2 second choice from post one with Louis Philippe Roy driving for trainer Richard Moreau.
The son of Cantab Hall-Gatka Hanover has won three of seven races, including a Champlain Stakes division on Sept. 15 at Mohawk, and earned $88,851 for owner Gestion J Y Blais Inc.
"I was surprised," Moreau said of Gaines Hanover's elim effort. "I like the horse, don't get me wrong, but it's getting late in the season and there are bigger, stronger horses. He is kind of medium sized. But he for sure did what he had to do, and he made my day.
"I'm happy for those [owners] in Montreal because they've always been in the business, they own their own farm and every year they have a young horse coming up. They deserve this."
All four Breeders Crown finals for two-year-olds will be contested Friday at Mohawk. Racing begins at 7 p.m. (EDT) with the Crown fields going behind the gate in races six through nine. The finals for horses three years old and up are Saturday, also starting at 7 p.m.
To view the complete entries for this weekend's Breeders Crown finals, click one of the following links:
(USTA)